Oct. 2 Wei-Yin Chen pregame interview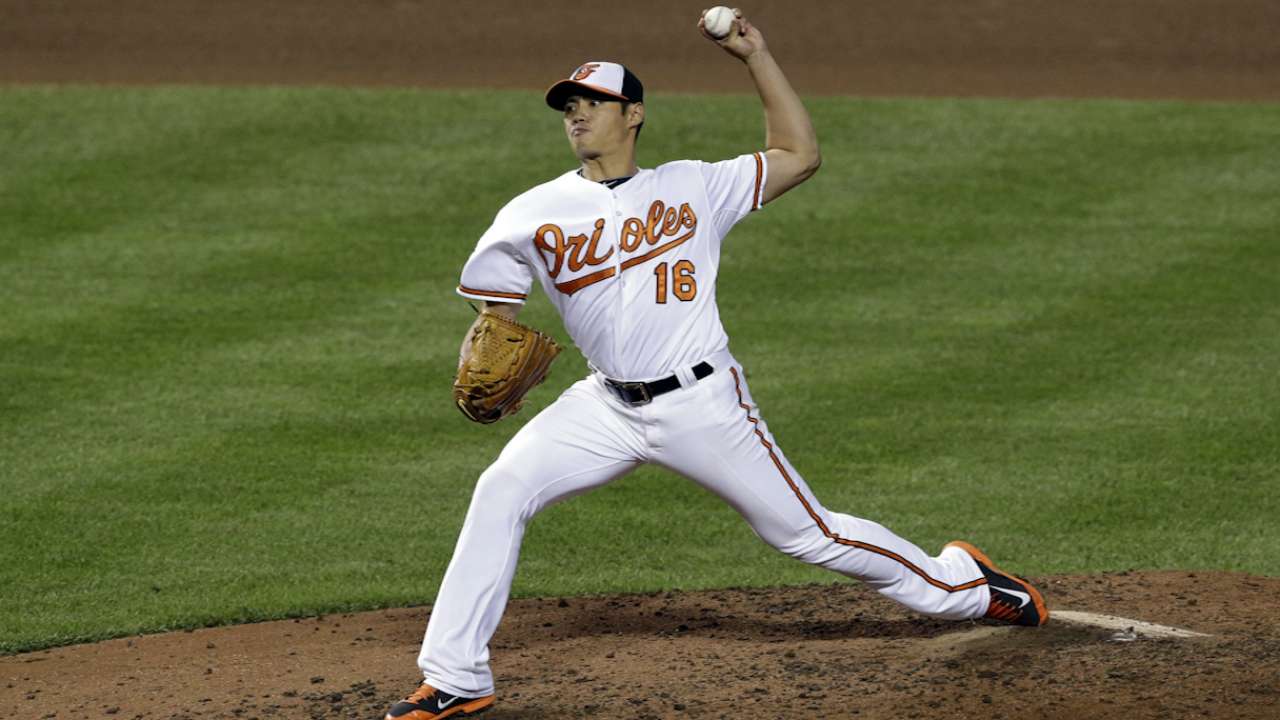 Q: How important is having postseason experience for you? The fact that you've been here before?
WEI-YIN CHEN: I don't think it matters really that much. Of course you have experience playing in playoff, you will know how the crowds would be and how the environment would be again. But still I keep doing the same thing as I was doing in the season, so it really doesn't change that much for me.
Q: When you pitched in 2012, it was obviously a very big deal in your homeland, pitching in the playoffs. Is it still that way? Have they gotten used to it or is it still a huge buzz back home?
WEI-YIN CHEN: Well, back in 2012, I really didn't pay attention to how big it is back in my homeland, but I heard something from media and from my families. And this year, of course, I don't know how big it will be there, but still I hope they will enjoy all the Major League games and we will get more fans out of Taiwan.
Q: When you talk to people back home, what's the number one question they ask about the Orioles?
WEI-YIN CHEN: Well, before I came here, the Orioles haven't been in playoff for a certain amount of time, so some people would ask me, Are you guys going to be in the playoffs?
And I said, I don't know. But as player, of course, we want to be in playoffs, so I will play my ass out to try to get us there! (Laughter.)
Q: What do you feel like has been the biggest key to your success this season, especially as the team has expanded it's lead late in the year toward the division title?
WEI-YIN CHEN: I think we just have a great team here, and we also have a lot of great new acquisitions, like Ubaldo, Nelson, and and Delmon, and they are doing great in the season.
Because we have a great lineup, as a pitcher, I don't worry about too much. I focus on my part of the game. I'm just trying to get hitters out, that's all I'm trying to do out there. So I think we have a really great team out here.
Q: Buck was trying to keep the routine of the players as normal as possible. Tomorrow, you're making the start. Obviously the enormity is not what you go through during the regular season. How will you be able to combat that as you go through the routine tomorrow?
WEI-YIN CHEN: Well, I think tomorrow when I get up to the mound, I will be all sweating and nervous, just like I am now. But still, as Buck said, we should try to stay calm and do whatever we did in the season, whatever you did to get you here.
So I will just try to stay calm and focus on my part again. Try to get hitters out and not thinking about too much things. I don't want to think about anything that I wouldn't do in the season and that's how I'm trying to stay focused.
Q: The Detroit Tiger lineup is a heavily hitting lineup that has hit better against left-handers, rather than right handers, obviously. Talk about the challenges of that lineup.
WEI-YIN CHEN: I've been watching some videos of the Tigers' hitters and, yes, they do have a lot of great right-handed hitters. So at first, when I think about it, I thought maybe I should be, like, extra careful with them. But after that, I think, well, we're a good team, too.
So I think I will just try to focus on my part again and try to get them out, because it's baseball. The game is not ended until it ends. So as long as I do well, I think I have the chance to get them out. So I don't want to think about that too much.
Q: This year Matt Wieters got hurt early and you had to pitch to two different catchers, and you had a new coach as well. What were the challenges to not pitching to Matt Wieters and having a new coach?
WEI-YIN CHEN: Yes, of course it was a challenge at first, because Matt Wieters is a great catcher. He knows the Major League hitters so well. So in the past, I was following his lead to pitch my game, and now when he got injured, I have to try to learn about how to think about what I'm going to throw, where I'm going to throw.
So during the course of the season, I have learned a lot because I have to do my homework by myself. And also with the new pitching coach, Dave, he has been working with other Asian pitchers, also, so he knows about how much we throw back in Asia.
So he told me I should have a plan, how to get through the season and don't tire yourself. You gotta keep something for you until September and October.
So with this season I think I learned a lot from him. And also by doing my homework by myself I also learned a lot.
Q: Wei-Yin, did you grow up watching Major League Baseball's October playoffs? And if so, which ones do you remember?
WEI-YIN CHEN: When I was young, actually we don't have that many broadcasts of Major League Baseball games in Taiwan, so when I really get to know Major League Baseball is after I already came here and play in the Major League.
But during the years, I know that the Major League Baseball is a great game, and I was always wanted to play in the playoffs, and here I am. So I just wanted to pitch a good game out there.