Chen draws heavy-hitting Game 2 assignment
O's lefty to face Tigers lineup full of righties, but won't change approach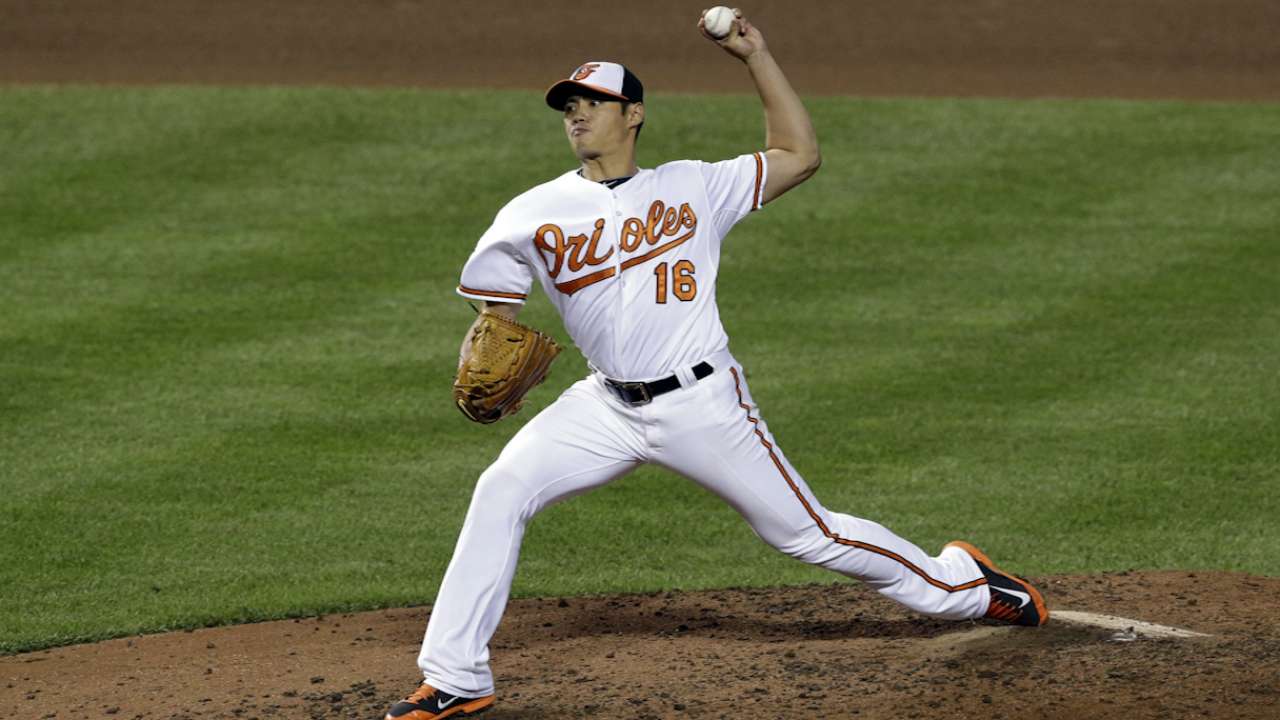 BALTIMORE -- Wei-Yin Chen has an opportunity to give the Orioles a stranglehold in the American League Division Series but first there's the unenviable task of trying to tame a Tigers lineup that is notoriously tough against lefties when Game 2 gets underway on Friday (noon ET on TBS).
Chen was one of the most consistent left-handers in the AL this season, but he's also the kind of pitcher that Detroit typically fares well against. When it comes to hitting lefties, the Tigers have one of the best lineups in baseball.
Baltimore's 29-year-old starter is well aware of the numbers, but he isn't about to change his approach following a season in which he posted a career high 16 wins and a 3.54 ERA in 31 starts.
"I've been watching some videos of the Tigers' hitters, and yes, they do have a lot of great right-handed hitters," Chen said through an interpreter prior to Baltimore's 12-3 victory on Thursday night. "So at first, when I think about it, I thought maybe I should be extra careful with them. But after that, I think, 'Well, we're a good team, too.'
"So I think I will just try to focus on my part again and try to get them out, because it's baseball. The game [has] not ended until it ends. So as long as I do well, I think I have the chance to get them out. So I don't want to think about that too much."
Chen was relatively effective vs. righties throughout a successful 2014 campaign, but he does have a tendency to allow those type of players to hit for more power. Of the 23 home runs allowed by Chen this season, all but three were hit by a righty. Overall, right-handed hitters had a .266 average with a .301 on-base percentage and a .746 OPS against Chen.
That could pose some issues against a Detroit lineup that has a tendency to put up big numbers against lefties. The Tigers finished the regular season ranked first in the Major Leagues with a .285 average vs. left-handers. They also ranked second in OPS (.789), third in homers (46) and 10th in runs scored (191).
Detroit's lineup for Game 1 featured six right-handed hitters and two switch-hitters, with catcher Alex Avila being the only pure lefty. The Tigers likely will have a similar starting nine vs. Chen.
Chen has faced Detroit before, but his two previous career starts (six earned runs in 11 innings for a 4.91 ERA) date back to 2012, when he was in his rookie season. The Tigers have since turned over their lineup, and the only players that remain from the games Chen appeared in are Avila and Miguel Cabrera.
"I will just try to stay calm and focus on my part again," Chen said. "Try to get hitters out and not thinking about too much things. I don't want to think about anything that I wouldn't do in the season, and that's how I'm trying to stay focused."
Orioles manager Buck Showalter played coy earlier this week and didn't officially announce Chen as his Game 2 starter until Thursday afternoon. He likely would have waited even longer, but he joked during news conference prior to Game 1 that he was told a decision had to be made.
Even with Detroit's impressive numbers against lefties, the selection of Chen for Game 2 hardly came as a surprise. The native of Taiwan finished his season by allowing three earned runs or fewer in all but one of his final nine outings. He spent the year as an interchangeable ace alongside right-hander Chris Tillman and in 31 starts he struck out an average of 6.6 batters per nine innings compared to 1.7 walks.
Chen already has some postseason experience under his belt. He rose to the occasion during the 2012 ALDS by allowing just one earned run over 6 1/3 innings against the Yankees. That track record could help him settle in, but Chen doesn't want to focus on it too much.
"I don't think it matters really that much," Chen said. "Of course you have experience playing in playoffs, you will know how the crowds would be and how the environment would be again. But still I keep doing the same thing as I was doing in the season, so it really doesn't change that much for me."
Gregor Chisholm is a reporter for MLB.com. Read his blog, North of the Border, and follow him on Twitter @gregorMLB. This story was not subject to the approval of Major League Baseball or its clubs.