MLB.com Columnist
Mike Bauman
No wrong choice for Nationals in Game 1
Williams goes with Strasburg, but Zimmermann and Fister were worthy candidates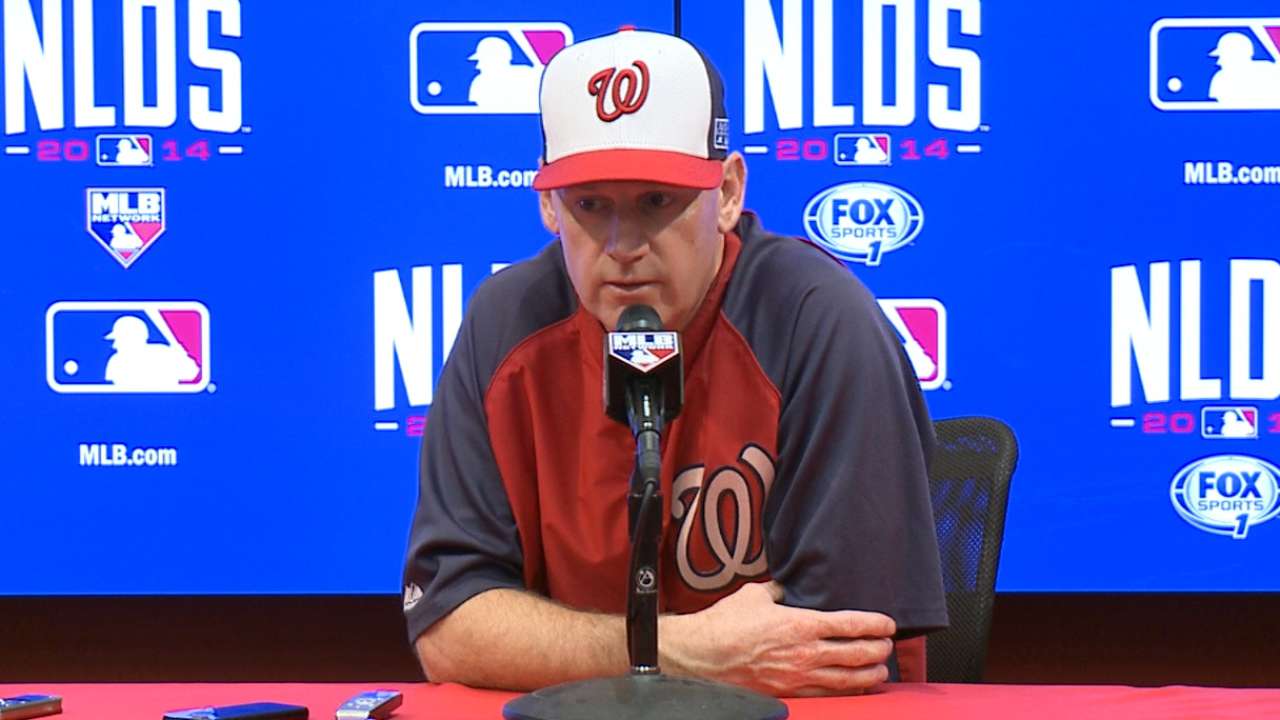 WASHINGTON -- On the issue of naming a Game 1 starter for the National League Division Series, there was not an incorrect decision for Matt Williams to make. The manager of the Nationals went with Stephen Strasburg to start against the Giants on Friday (3 p.m. ET on FOX Sports 1). Williams announced Thursday that Jordan Zimmermann will start Game 2 on Saturday (5:30 p.m. on FOX Sports 1), followed by Doug Fister in Game 3 on Monday (time TBD on MLB Network).
Without even mentioning the other two members of Washington's regular-season rotation -- Gio Gonzalez and Tanner Roark -- the picture becomes clear: This is a rotation with both quality and quantity. Other teams search desperately for top-of-the-rotation starters. The Nats appear to have a list of them.
Strasburg was perhaps the conventional choice. But he was far from the only viable option.
Strasburg was 14-11 with a 3.14 ERA and tied for the NL lead in strikeouts with 242. Zimmermann was 14-5 with a 2.66 ERA and a 1.07 WHIP. And in terms of momentum, Zimmermann threw a no-hitter against the Marlins on Sunday in his final regular-season start. Fister was 16-6 with a 2.41 ERA, and he was praised by other members of the rotation for providing valuable veteran leadership.
Roark is the pitcher most likely to be moved to the bullpen for the postseason, and he was 15-10 with a 2.85 ERA and a 1.09 WHIP. Gonzalez did some of his best work in September, giving up only six earned runs in his last four starts. The best possible news going into the postseason for the Nationals is that their entire rotation was working at peak efficiency at the end of the regular season.
Asked about Strasburg being "the guy," Williams responded:
"Well, I don't know if you can argue that all of the guys weren't 'the guys' over the last month. The last 13 [games] have been 13 in a row with a sub [2.00] ERA from a starting-pitching staff. So how can you argue?"
Still, Strasburg is the choice for the NLDS opener. If the competition was fierce, Williams had his reasons for this selection.
"Over the last month, everybody has been really good," Williams said. "They've pitched really well. Stephen in particular has gotten stronger as this month has gone on. His fastball velocity has ticked up each month during the course of the season, and we all forget about the fact that he had some surgery last offseason [to remove bone chips from his right elbow] and it took him some time to get back to where he really wanted to be. And I think he's proven that over the last four to six weeks that he feels good. His location has been good. He's healthy and strong, and he's looking forward to this opportunity.
"I think he pitches well here. He certainly has earned the opportunity to go out there and pitch. Every game is important, of course, so Game 1 is important, but so is Game 2 and Game 3, and our guys are itching to go. Stephen is going to get the nod, and he's excited about that."
Strasburg didn't give up a run in his last three starts, covering 20 innings. Over those three starts, he allowed 10 hits, walked three and struck out 19.
Strasburg was obviously happy about Williams' decision, but he understood that there was plenty of competition for the honor.
"I think it wasn't an easy decision by any means, but I think that's a testament to the guys we have in the rotation," Strasburg said. "I think every single one of them is extremely talented."
The dynamic of a rotation succeeding individually and encouraging each other in the interests of collective success is happily in place for the Nats.
"Yeah, I think they feed off each other," Williams said. "I think there's good, friendly competition. If one guy steps out there and does a great job, the guys that follow him want to repeat that. I know that Stephen has referenced it, and so has Zimm, that they have learned things from Doug, being the first-year guy over here -- the pace at which he works, how he goes about it. All of those things are important.
"And I think when they get to the point in the season where they're collectively jelled, then they take pride in what they do as a group. We've seen that over the last month. It's been really, really good."
Williams made the correct choice for his Game 1 starter. Then again, there wasn't a wrong choice in sight. Pitching this good is supposed to win, especially in October.
Mike Bauman is a national columnist for MLB.com. This story was not subject to the approval of Major League Baseball or its clubs.