Tigers-Orioles Game 1 ALDS lineups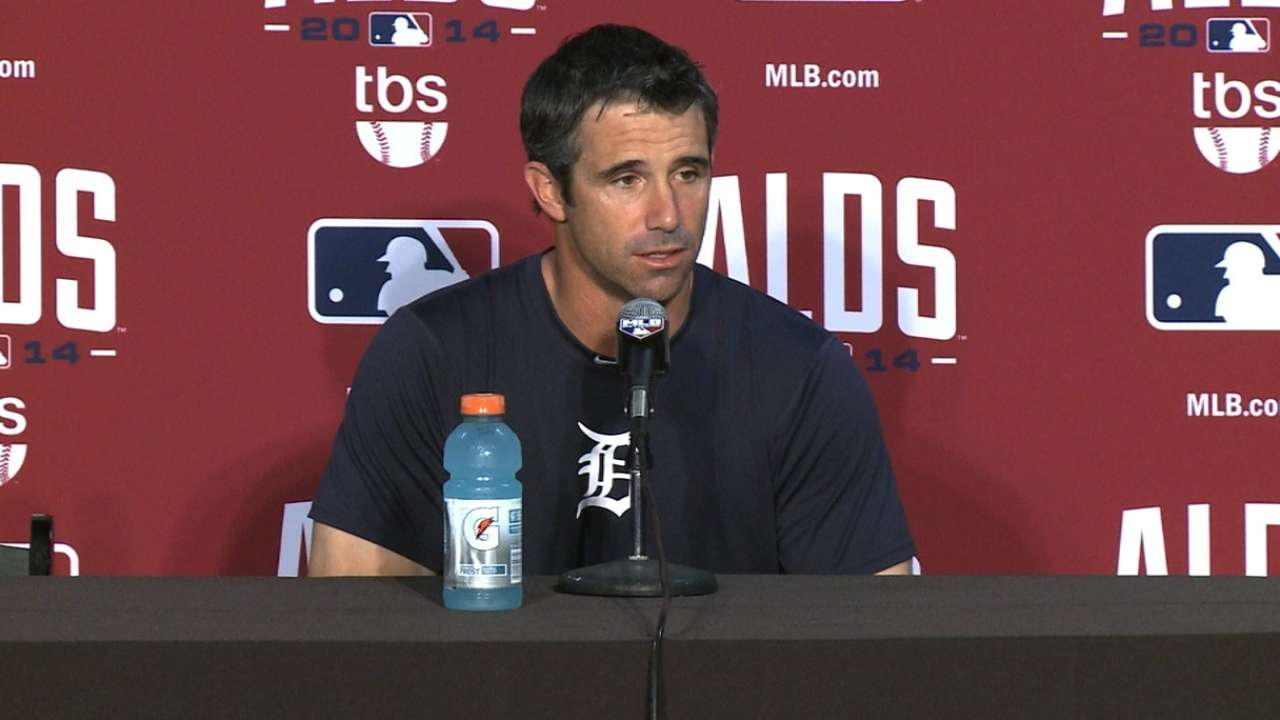 Here are the starting lineups for Thursday's American League Division Series Game 1 (5:30 p.m. ET on TBS) between the Tigers and Orioles at Oriole Park at Camden Yards:
ORIOLES
The Orioles locked up their first division title since 1997 with plenty of time to spare, and now they'll have to turn things up a notch once again versus the defending AL Cy Young Award winner in Max Scherzer. To do that, they'll come at him with their powerful lineup that finished the year sixth in the league in runs (705), first in homers (211) and second in slugging percentage (.422).
A glaring omission in Baltimore's everyday lineup has been slugger Chris Davis -- serving a 25-game suspension -- but Steve Pearce (batting .315 with five homers and 12 RBIs in the last four weeks) has been terrific filling in at first base. With the right-handed Scherzer on the mound, Baltimore is going with Nelson Cruz (1.262 OPS in 26 career at-bats against Scherzer) at designated hitter over Delmon Young (.583 OPS in 12 at-bats), and Alejandro De Aza takes over in left field.
Ryan Flaherty -- a lefty like De Aza -- gets the nod at third base over Kelly Johnson.
1. Nick Markakis, RF
2. Alejandro De Aza, LF
3. Adam Jones, CF
4. Nelson Cruz, DH
5. Steve Pearce, 1B
6. J.J. Hardy, SS
7. Ryan Flaherty, 3B
8. Nick Hundley, C
9. Jonathan Schoop, 2B
TIGERS
The most notable thing about the Tigers' Game 1 lineup against Chris Tillman and the Orioles is that Rajai Davis is in it.
After leaving Saturday's game with a sprain near his groin, there was a chance that the speedy outfielder may miss some time during the playoffs. But he's in his normal spot in the lineup -- batting ninth and playing center field -- giving the Tigers an all-important speed component against Baltimore.
The rest of Detroit's lineup is as expected -- highlighted by arguably the most formidable 3-4 combination in baseball in Miguel Cabrera and Victor Martinez, hitting a combined .391 in their career against Tillman -- with Andrew Romine getting the nod at shortstop. Tillman, making his first postseason appearance, faced Detroit once this year and held the Tigers to five hits and one run in 8 1/3 innings for a victory.
1. Ian Kinsler, 2B
2. Torii Hunter, RF
3. Miguel Cabrera, 1B
4. Victor Martinez, DH
5. J.D. Martinez, LF
6. Alex Avila, C
7. Alex Castellanos, 3B
8. Austin Romine, SS
9. Rajai Davis, CF
Joey Nowak is a reporter for MLB.com. Follow him on Twitter at @joeynowak. This story was not subject to the approval of Major League Baseball or its clubs.