Pestano, Navarro make Angels' Division Series roster
Sidearmer makes it over lefty Thatcher; Halos pick contact hitter over Boesch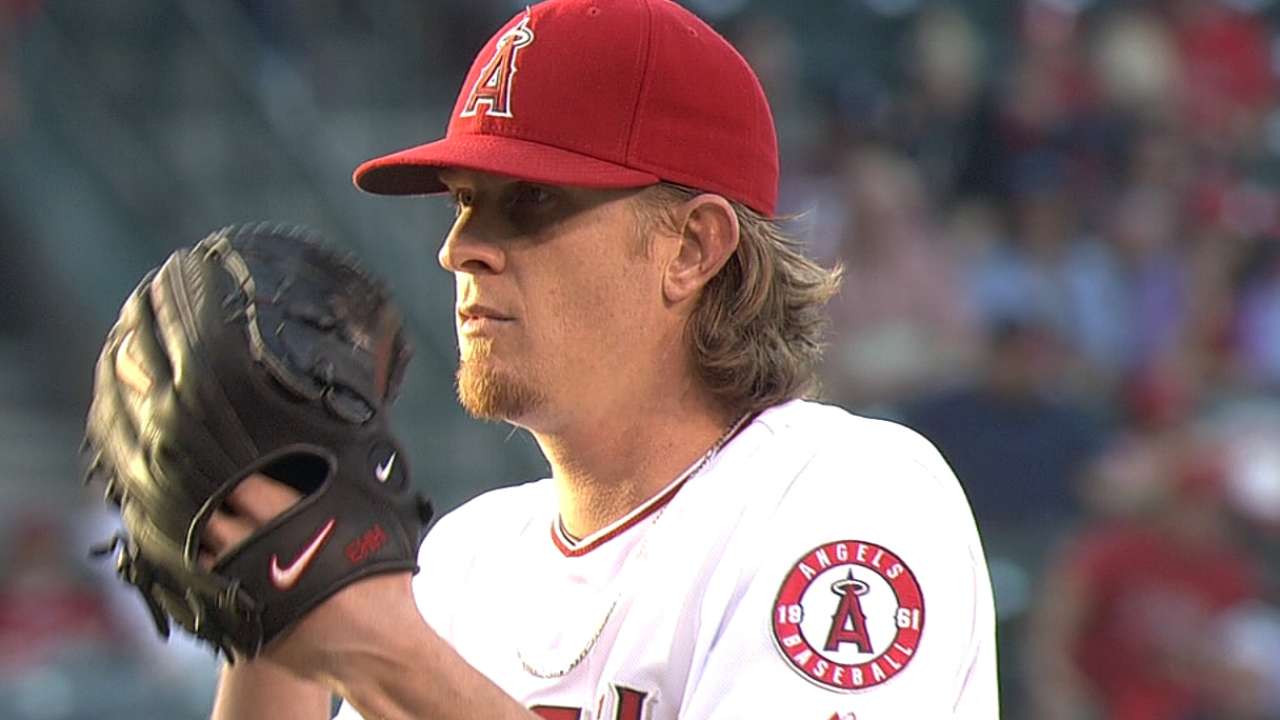 ANAHEIM -- The Angels announced their roster for the American League Division Series on Thursday, with Vinnie Pestano cracking the final spot of their bullpen and Efren Navarro making it as a reserve.
Pestano, a sidearmer who can be used as a specialist against right-handed batters, made it over lefty specialist Joe Thatcher, who struggled since coming back from a left ankle sprain. Navarro, a contact hitter who plays first base and the corner-outfield spots, made it over fellow left-handed hitter Brennan Boesch, who provides more of a power element.
"He's going to put the ball in play," Angels manager Mike Scioscia said of Navarro. "I think that would play more than the one thing that Brennan does. He's got big power, but for this first go round, I think we might need that coverage with that effort to bring out the defensive side, too."
John McDonald, the 40-year-old infielder used all season as a late-game defensive replacement at third base, didn't make the roster because Gordon Beckham can be used in the same role. Neither did speedy outfielder Tony Campana, since the Angels' 12-man pitching staff doesn't allow space on the bench for a pinch-runner.
Another player left off was veteran left-hander Wade LeBlanc, who finished the season with 17 2/3 consecutive scoreless innings.
The Angels' starting position players remain the same, with Chris Iannetta catching, Albert Pujols at first base, Howie Kendrick at second, David Freese at third, Erick Aybar at shortstop, Josh Hamilton in left field, Mike Trout in center and Kole Calhoun in right.
Navarro and the right-handed-hitting C.J. Cron will platoon at designated hitter, with Cron starting Game 1 against Royals lefty Jason Vargas. Hank Conger is the backup catcher, Beckham is the backup infielder and Collin Cowgill is a backup outfielder who can also be used as a pinch-runner.
The Angels will go with a three-man rotation, with Jered Weaver in Game 1, Matt Shoemaker in Game 2 and C.J. Wilson in Game 3. That leaves Hector Santiago, the only southpaw in the bullpen, in a role of either providing length in relief or matching up against lefties.
Closer Huston Street, setup man Joe Smith and seventh-inning reliever Kevin Jepsen solidify the back end of the 'pen, with Jason Grilli, Fernando Salas, Mike Morin, Cory Rasmus and Pestano rounding it out. Rasmus, used as a starter in Garrett Richards' spot down the stretch, can provide up to four innings of relief.
Postseason rosters can be changed between series, so the Angels can make adjustments if they reach the AL Championship Series.
Scioscia knows he'll have to rely heavily on his bullpen.
"Our bullpen is throwing the ball as well as any bullpen in our league at this point," Scioscia said, "and you're going to want to get some of those guys in at certain points."
PITCHERS (12)
Jason Grilli
Kevin Jepsen
Mike Morin
Vinnie Pestano
Cory Rasmus
Fernando Salas
Hector Santiago
Matt Shoemaker
Joe Smith
Huston Street
Jered Weaver
C.J. Wilson
CATCHERS (2)
Hank Conger
Chris Iannetta
INFIELDERS (7)
Erick Aybar
Gordon Beckham
C.J. Cron
David Freese
Howie Kendrick
Efren Navarro
Albert Pujols
OUTFIELDERS (4)
Kole Calhoun
Collin Cowgill
Josh Hamilton
Mike Trout
Alden Gonzalez is a reporter for MLB.com. Read his blog, Gonzo and "The Show" and follow him on Twitter @Alden_Gonzalez. This story was not subject to the approval of Major League Baseball or its clubs.