Royals add Vargas, Collins to roster for ALDS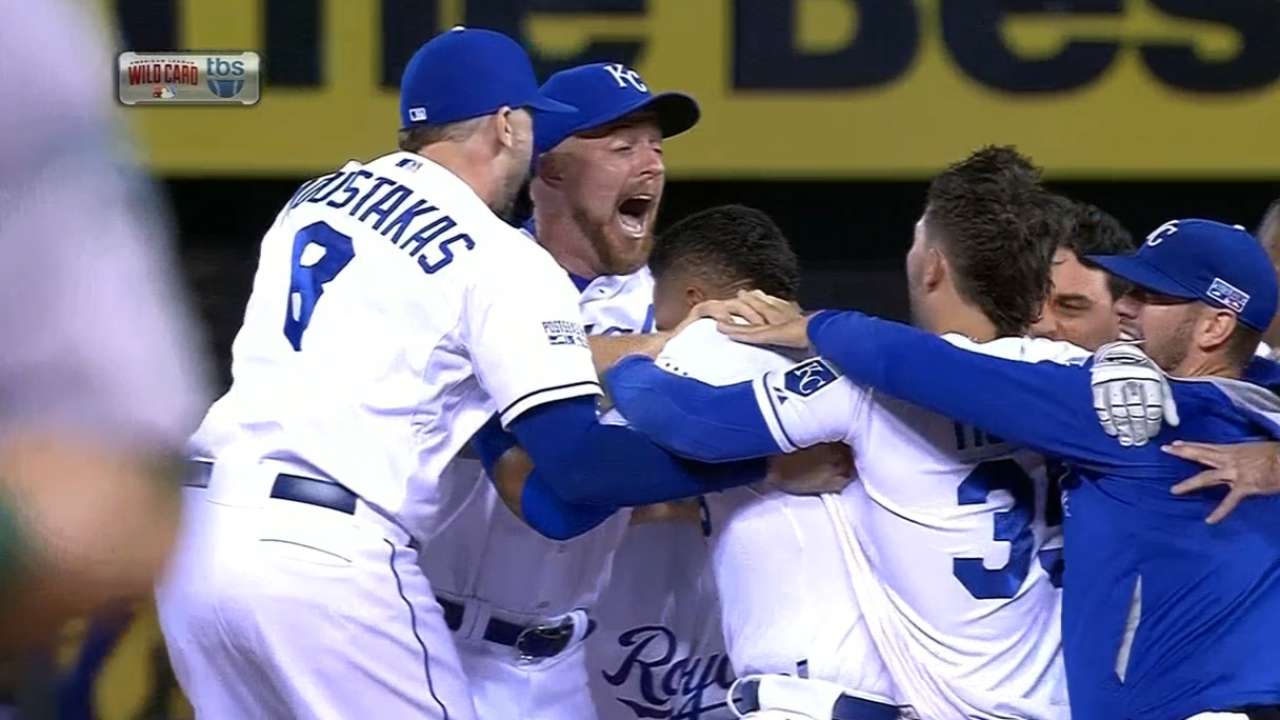 ANAHEIM -- Pitchers Jason Vargas and Tim Collins were added to the Royals' playoff roster for the American League Division Series, and outfielder Raul Ibanez and infielder Jayson Nix were taken off.
Those were the changes from the Wild Card roster announced by the Royals prior to Thursday night's ALDS opener against the Angels.
The roster has 11 pitchers, including Vargas, Yordano Ventura and James Shields -- who will start Games 1, 2 and 3, in that order -- and regular-season starters Jeremy Guthrie and Danny Duffy. Manager Ned Yost indicated on Wednesday that Duffy likely would be in the bullpen for this series.
Relievers are the back-end trio of Kelvin Herrera, Wade Davis and Greg Holland, usually used for innings seven, eight and nine, respectively, plus Collins, Brandon Finnegan and Jason Frasor.
Collins, a left-hander and a bullpen regular in the three previous seasons, spent much of this season at Triple-A Omaha after struggling early. He was picked over two other left-handers, the oft-used Francisley Bueno and the veteran Scott Downs.
"We like the way Collins has been throwing here lately. We like his curveball and his changeup," Yost said. "When we sent him down, it was to work on his fastball command. He came back commanding his fastball, throwing his curveball for strikes, and really good changeups. So we like Timmy in situations where there are switch-hitters; if they pinch-hit a righty for a lefty. We like Timmy's changeup in those situations, so that's why we did it."
Left off again was Aaron Crow, who pitched in 67 games this season with a 6-1 record and 4.12 ERA.
"Yeah, he pitched a lot for us, but we just felt at the end of the year, he really struggled throwing strikes, and this time of year, you've got to have a pretty good idea what you're going to get when you call on a reliever," Yost said. "Jason Frasor is a veteran guy that throws strikes to go along with Herrera and the back-end guys. The guys we're talking about are guys that are going to get us through the fifth and sixth inning to our back-end guys. So between Finnegan, Collins and Frasor, we feel like we can do that."
The two catchers are regular Salvador Perez and backup Erik Kratz.
The six infielders are first baseman Eric Hosmer, second baseman Omar Infante, shortstop Alcides Escobar, third baseman Mike Moustakas, designated hitter Billy Butler and backup Christian Colon.
Behind left fielder Alex Gordon, center fielder Lorenzo Cain and right fielder Nori Aoki are backups Jarrod Dyson, Josh Willingham and Terrance Gore. That's six outfielders in all, although Willingham is primarily a pinch-hitter and Gore a pinch-runner.
Gore, considered a valuable weapon as a late-inning basestealing threat, was taken over the veteran Ibanez, primarily a pinch-hitter who was used in that role just four times in September and went hitless.
Yost said that he and his staff wrestled with the Ibanez decision until mid-morning Thursday.
"It's hard," Yost said. "We had to add two pitchers. So that meant two position players off the Wild Card roster couldn't make it."
The only player in the lineup that Yost is likely to pull for a pinch-hitter is the left-handed Moustakas. Ibanez is also left-handed, so the right-handed Willingham was kept in case the Angels used lefty reliever Hector Santiago against Moustakas.
Colon, who recovered from a broken fingertip just before the playoffs, was kept over Nix.
"Christian can play anywhere on the field, but we like Nix's defense at third a little bit better," Yost said. "Then if it came back around, we like Christian's bat and we'd probably pinch-hit Chris. But we knew that he's a winning‑type player. The thing about him is, there is nothing really fancy or anything that stands out in his game, but he's a very solid, consistent performer."
The 25-man roster can be changed for each postseason series.
PITCHERS (11)
Tim Collins
Wade Davis
Danny Duffy
Brandon Finnegan
Jason Frasor
Jeremy Guthrie
Kelvin Herrera
Greg Holland
James Shields
Jason Vargas
Yordano Ventura
CATCHERS (2)
Erik Kratz
Salvador Perez
INFIELDERS (6)
Billy Butler
Christian Colon
Alcides Escobar
Eric Hosmer
Omar Infante
Mike Moustakas
OUTFIELDERS (6)
Nori Aoki
Lorenzo Cain
Jarrod Dyson
Alex Gordon
Terrance Gore
Josh Willingham
Dick Kaegel is a reporter for MLB.com. This story was not subject to the approval of Major League Baseball or its clubs.