McClendon impressed by Miller's strong stretch run
Shortstop overcame rocky first half to become steady bat in Mariners lineup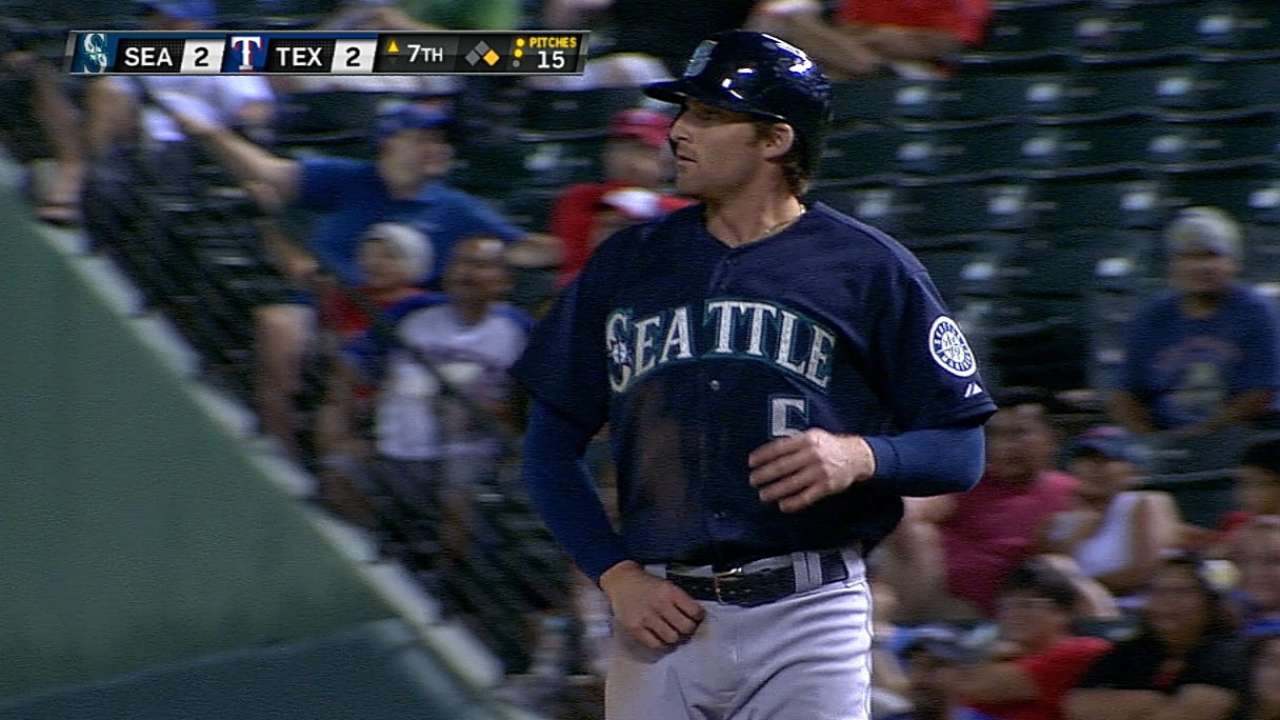 SEATTLE -- Here's a trivia question sure to stump even the most hardcore Mariners fans: What two Seattle players had the highest slugging percentages after the All-Star break this year?
If you're going with Robinson Cano, Kyle Seager or Logan Morrison, try again. And while some might correctly come up with Dustin Ackley, whose strong second half put him at a team-leading .476 slugging percentage after the break, most would be hard-pressed to identify shortstop Brad Miller at No. 2 with his .464 mark.
Miller nearly worked his way off the roster with a rough start to his first full season in the Majors. He was hitting .151 two months in, with an equally woeful .230 on-base percentage and .247 slugging percentage as of May 27. And even after a strong June, he was still batting just .199 on Aug. 7, before things finally started clicking.
After losing his starting job for a time to rookie Chris Taylor, Miller rebounded well enough to earn back the majority of the starts at short in the final six weeks. He hit .314 in September to raise his final average to .221 with 10 home runs and 36 RBIs in 367 at-bats.
While it wasn't the cumulative output Miller and the Mariners hoped for, the recovery and finish left manager Lloyd McClendon intrigued again by the aggressive and potent bat wielded by the 24-year-old when he's squared away.
While McClendon said he would like to have an everyday shortstop coming out of Spring Training next year, he admits there is no clear favorite between Miller and Taylor after watching the two split time, with both playing well down the stretch.
"That's a great question and I don't know if I really have the answer right now," McClendon said. "I thought Taylor played extremely well defensively. I'm still intrigued about what Miller is capable of doing from an offensive standpoint. I guess to answer your question, yeah, it's probably wide open."
McClendon does feel Miller has other options besides shortstop, however. While Willie Bloomquist is expected to be recovered from microfracture knee surgery by spring and has one more year on his contract, Miller might be a younger version of Bloomquist. Miller has the athletic ability to compete in the outfield as well.
"I think in terms of Taylor, he's probably a pure shortstop," McClendon said. "With Miller, he's intriguing because of the bat. He has the ability to play the outfield, to play a little third, first, second. He's a very interesting guy and I think there'll be a lot of discussion over whether he becomes that super utility guy."
Miller has never played in the outfield other than in a handful of games on a regional All-Star team in Florida as a teenager, but he did some pregame work with outfield coach Andy Van Slyke late this season and drew rave reviews.
"[Van Slyke] said he was a natural," said McClendon. "An absolute natural. With the workouts he had, he really impressed. He has the ability to turn and go to the ball without looking at it. Obviously, we know his arm plays. His speed plays. He's made for the outfield because he runs wild as [heck]. He can't hurt anybody out there. So we'll see. It's interesting."
No matter what the Mariners decide, they'll find a willing worker in Miller, who maintained a positive approach even through his first-half struggles in 2014.
"I learned a ton about myself, about how the league works and everything," said the 2011 second-round Draft pick. "I'm continuing to learn."
Miller said his problems were never mental, just some mechanical issues he needed to straighten back out at the plate.
"I think I just got out of whack," he said. "I tried to do some things that weren't me. I wouldn't say I was pressing. We all try. We all really care. People were telling me to keep my head up. I felt like my head was always up, I was going to battle and working hard. I had to realize, 'OK, this is my style. This is me.' Sometimes it's easier said than done to really trust in what you've been doing. But I just had to get back to trusting myself, so that's definitely a big takeaway from the year."
McClendon likes to say that every player fails at some point, and the key is how they get back up off the mat and learn from those struggles. For Miller, the trial by fire was intense in his first full season as a starter, but his recovery speaks volumes.
"I put myself in a pretty big hole," he said. "I look at the end of the year and I'm like, 'Shoot, I saw .150 at one point.' We're in the big leagues and this isn't life or death, we're getting to play a game. But for a baseball player, we love this. This is our life. And when you look on the scoreboard and see .150, that's about as close to the bottom as you can get. So yeah, I think it's a process, definitely.
"Seeing these guys, seeing Cano -- he's been doing this for 10 years. Obviously, he came in and hit the ground running, but it was a process for him, too. Guys don't just show up and be Miguel Cabrera. It's definitely a process and a journey and I just kind of take that in stride and wear it as some armor. Hey, I was at .150 and I battled back and was able to contribute. So that's huge."
Greg Johns is a reporter for MLB.com. Follow him on Twitter @GregJohnsMLB as well as his Mariners Musings blog. This story was not subject to the approval of Major League Baseball or its clubs.