Oct. 2 Stephen Strasburg workout day interview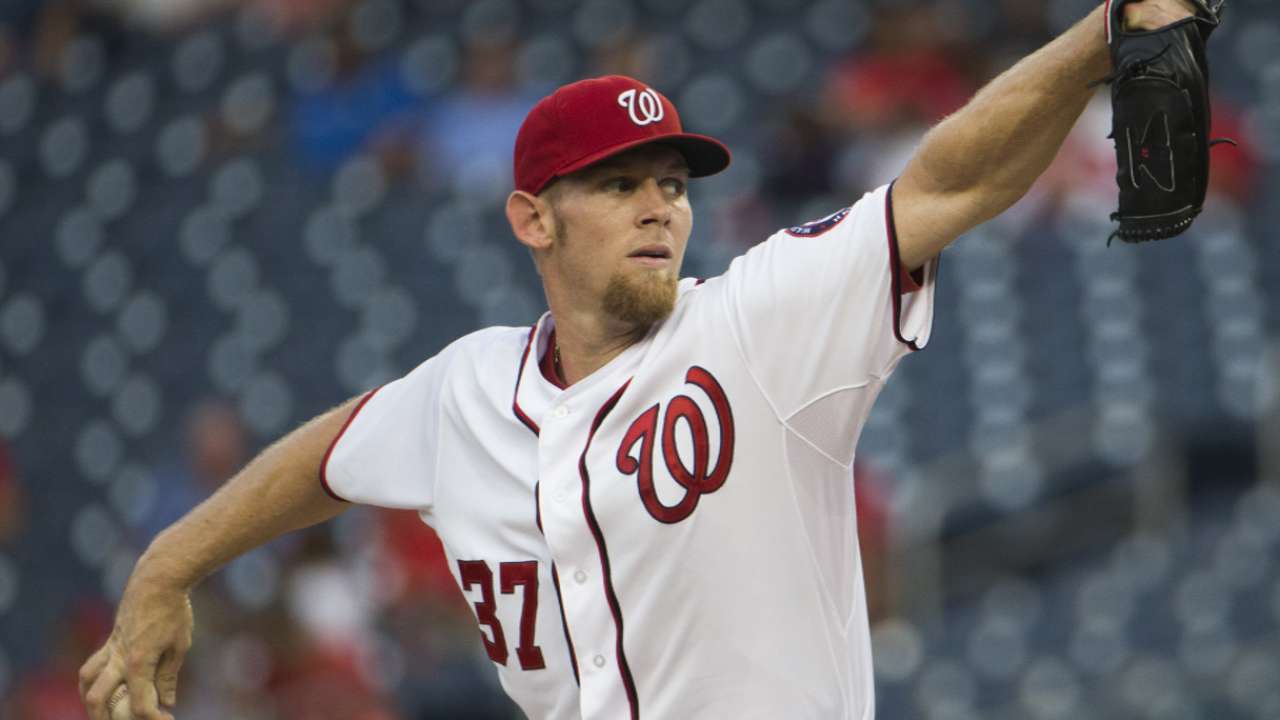 Q: What was your reaction when Matt Williams told you you were going to be the Game 1 starter?
STEPHEN STRASBURG: You know, I was excited. I think it wasn't an easy decision by any means, but I think that's a testament to the guys we have in the rotation. I think every single one of them is extremely talented. It's going to take all 25 guys to get this job done.
Q: It looks like you're going to be facing Jake Peavy, someone that you kind of grew up watching in San Diego. Talk about what that's going to be like. Do you know him at all or have you had a chance to meet him over the years?
STEPHEN STRASBURG: Yeah, I've met him a few times. He's a great guy, a great competitor. And obviously growing up in San Diego, I got a chance to see him do some special things for the Padres.
It's a tremendous opportunity, and I think I'm just excited for getting a chance to pitch in the postseason. It doesn't really matter who I'm facing.
Q: As you came up as a pitcher, even growing up, where did starting a postseason game fall in your mind as far as things you wanted to do and things you would get excited about?
STEPHEN STRASBURG: You know, I think growing up, I just wanted to see how far I could take the ability God has given me, and I just told myself I wanted to work extremely hard every day, and just go out there and compete and enjoy the ride, enjoy the ups and downs. There's not too many guys in this game that can say that they've pitched in the postseason and have pitched in the playoffs, so I'm just very thankful for the chance.
Q: I know you worked real hard with Steve McCatty this season on a lot of different things. Do you feel like you have made some improvements in your game since Spring Training?
STEPHEN STRASBURG: Yeah, I think, like I said earlier, there's going to be highs and lows throughout the course of the year, and I've kind of come to accept that. I think the one thing I can control is going out there and competing and committing to every pitch that I throw. We've got a great group of guys playing behind me, and I think if I just go out there and do my job, let them go out there and win the game.
Q: Did you anticipate this start being any different than a normal regular season start? Do you prepare for it any differently? Do you approach the way that you're attacking hitters any differently, given the magnitude of it?
STEPHEN STRASBURG: You know, just talking to guys who have been in this position before, obviously this is brand new for me. They all say it's just still the same game. You've still got to go out there and focus on the things that you can control, and that's making sure that before you throw each pitch, that you're locked in and you know what you want to do with it. This game is funny, so you've just really got to keep your composure and you've got to keep dialing.
Q: If there's one thing that you could pinpoint for your success through the second half of the season in particular, what would that be?
STEPHEN STRASBURG: I don't know. I mean, I just feel like I've gotten stronger physically as the season went on. I think it's just a testament to the program that I had, working with Coach Philbin and working with Cat in between, and just trying to keep improving, keep things moving in the right direction.
Q: Since the start here against the Giants, you've been on a real roll. Was there anything you took out of that start here against them particularly or any decisive change you made after that one?
STEPHEN STRASBURG: I wouldn't say there was anything in particular. I think if I go out there and just compete, I'm going to be okay. I can sleep well at night. I can't really worry about whether I'm missing a spot or one side. It's nice to recognize that, but I can't really go out there and beat a dead horse with it. I have to pitch to my strengths and make them adjust to my game.
Q: By not playing in the 2012 postseason for the Nationals, has it made you more appreciative and more thankful for this opportunity?
STEPHEN STRASBURG: I mean, I don't know. I mean, I've been asked that question so many times, and I try not to look back on what it was like two years ago. I'm just trying to live in the present, and I'm excited for getting the chance now.
Q: Talk about how Doug has helped you. Do you kind of feed off each other to build the staff and make it a complete staff?
STEPHEN STRASBURG: Yeah, I think it's been great the last couple years to get a chance to play with these guys. They all come from very different backgrounds, and having Doug come in here with his playoff experience and get a chance to kind of bounce some ideas off of him has really helped my game. And obviously with what Tanner has done throughout the course of the year, I mean, it's been huge.
I think we've got everybody clicking on all cylinders right now, and we've just got to try to keep it going.
Q: Matt said your velocity has gone up every month this year. He sort of volunteered that. He thought you had gotten stronger since your surgery last year. Any truth to that? Did it feel that way to you, that you got stronger as the season went along?
STEPHEN STRASBURG: Yeah, I mean, there's some games where your velocity is down, some games where your velocity is up. I think the biggest thing is just going out there and trying to make good pitches. It doesn't really matter how hard it's coming out, you've just got to execute.