Braun has cryotherapy performed on right hand
Brewers optimistic procedure will relieve right fielder's nerve pain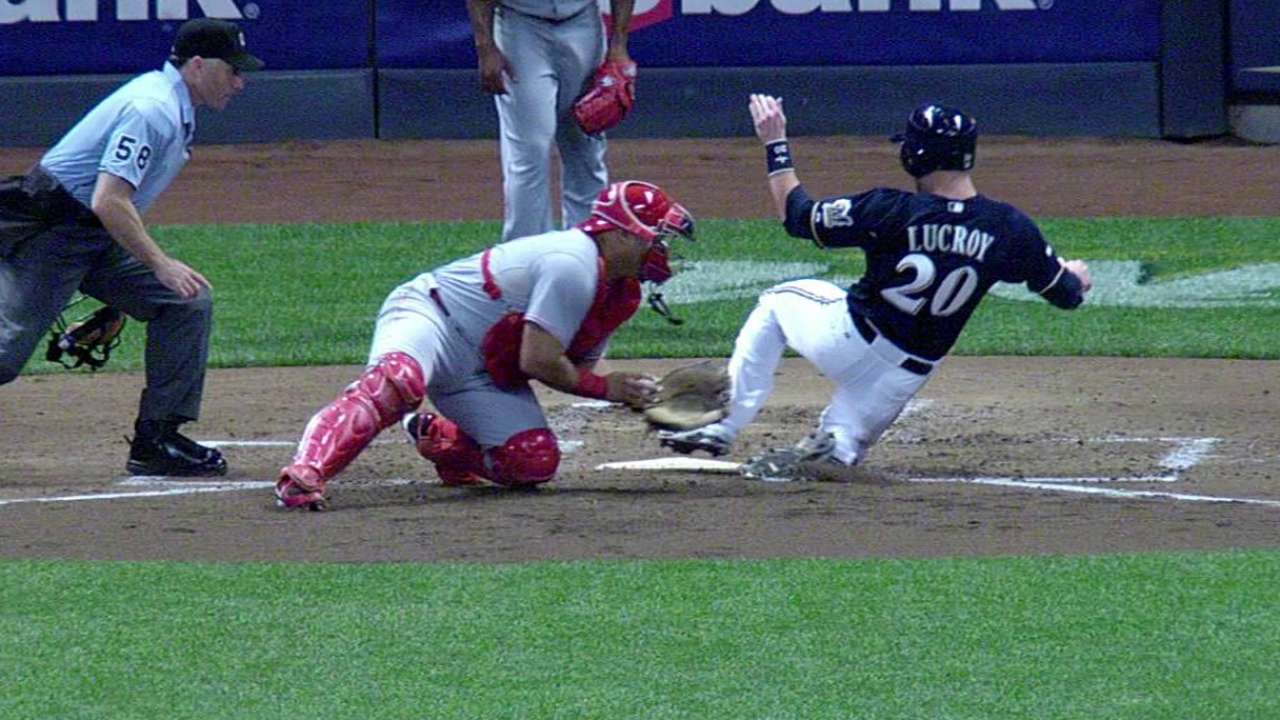 MILWAUKEE -- The Brewers and right fielder Ryan Braun expressed optimism about the surgical procedure both sides hope will relieve Braun from the painful nerve issue that compromised his production for the past two seasons.
Braun underwent a cryotherapy procedure on his right hand Thursday morning at the Kerlan-Jobe Orthopaedic Clinic in Los Angeles. A specialist, Dr. Vernon Williams, inserted a needle at the base of Braun's right thumb to essentially freeze a troublesome nerve that forced Braun to alter his mechanics, rendering him to swing, as Braun put it, "one-handed."
"This is a technique they have done with other athletes, but not with a baseball player," Brewers assistant general manager Gord Ash said. "So I wouldn't call it experimental, but we are obviously breaking some new ground here."
Asked to assess the procedure's likelihood of success, Ash said, "I don't think anybody can tell us that."
Braun will meet again with Dr. Williams on Monday. If there is no adverse reaction to the treatment, Braun will begin swinging a bat to determine the effect of the procedure on his swing and his pain tolerance.
The Brewers and Braun spent the past two years examining solutions -- everything from rest to physically padding the area to a variety of surgical options, one of which would have removed completely the troublesome nerve. Braun viewed that option as extremely risky, and characterized Thursday's procedure as much less so.
"Originally, this was considered when we were in L.A. [in late August, when the Brewers swept the Dodgers], but we didn't like the sounds of doing something that experts weren't certain about during the season," Ash said. "So that's why we waited until after the season. Everybody is optimistic. Hopefully this works, but I can't really tell you."
Is there a Plan B if cryotherapy doesn't work?
"No, there really isn't a Plan B," Ash said.
Much rides on finding a fix. Braun won the National League MVP Award in 2011, when he admittedly took a banned substance to speed his recovery from an injury he has declined to disclose. After winning an appeal of a 50-game suspension, Braun finished runner-up to the Giants' Buster Posey for 2012 NL MVP honors.
But Braun has not been the same since then. With his thumb hurting, his slugging percentage slipped to a career-low .498 in 61 games in 2013 before he was suspended for the Brewers' final 65 games. In 2014, Braun played 135 games and posted career-lows across the board, with a .266 batting average, .324 on-base percentage, .453 slugging percentage and .777 OPS.
Braun will earn $12 million in 2015 before a five-year, $105 million extension kicks in beginning with the 2016 season.
"I've kind of known [that he would have an offseason procedure] the whole time, but based on where the team was at, I thought I had a chance to succeed and hopefully find a way to get through it," Braun said before departing for the season. "It's not like I can't play. I can play. I think the longer I've dealt with it I've learned to deal with it. The pain, physically, is not so much the issue -- it's the body's reaction to not being able to use the top hand in my swing for the majority of the year.
"It impacts my bat speed, it impacts my bat path, it impacts everything I'm trying to do as a hitter. And then mentally, knowing where I'm at physically is difficult, too. I have to change my swing, I have to start my swing earlier, I have to do a lot of things that I'm not used to doing.
"None of these things are an excuse. We play a results-oriented game, and at the end of the day, I didn't perform up to the level I expected to perform, regardless of where I'm at physically."
Brewers reliever Brandon Kintzler also underwent left knee surgery this week to correct an issue that dated to last season. Ash said the procedure went as expected.
Adam McCalvy is a reporter for MLB.com. Read his blog, Brew Beat, and follow him on Twitter at @AdamMcCalvy. This story was not subject to the approval of Major League Baseball or its clubs.