Davis included on Tigers' Division Series roster
Outfielder in Game 1 lineup; Anibal, Lobstein to pitch out of bullpen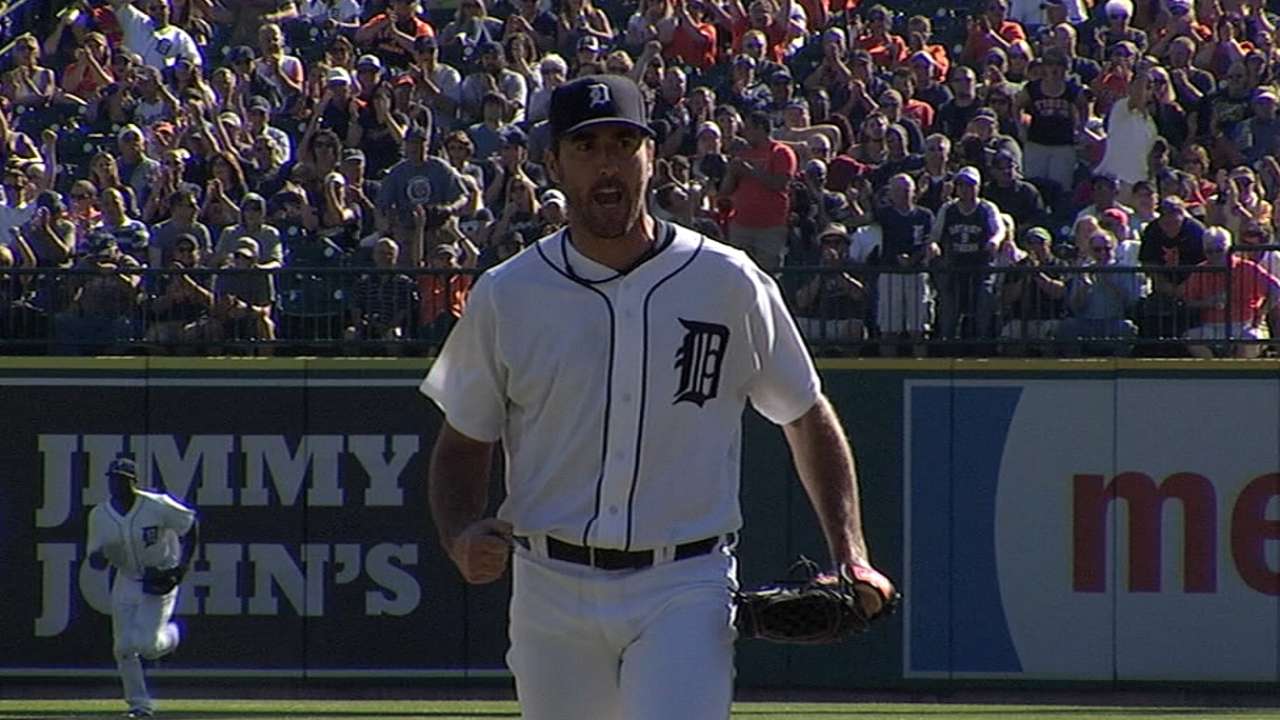 BALTIMORE -- Rajai Davis isn't only on the Tigers' roster for the American League Division Series, he's in the lineup for tonight's series opener against the Orioles at Camden Yards.
It was a major development for the Tigers that didn't come about until Thursday morning as the 10 a.m. ET deadline for series rosters loomed.
Davis has been dealing with a sprained pelvic ligament that forced him out of Saturday's game against the Twins. He took batting practice, did some light running and long-tossed, but he didn't try to accelerate and risk aggravating his injury.
"We came in at 8:30 this morning and he got his treatment," manager Brad Ausmus said, "and then went and did a bunch of agility drills, sprints and he said he was good to go."
From there, the decision whether Davis could start Game 1 came down to a direct question.
"I asked him point blank, 'First of all, can you play nine innings?' He said, 'Yes,'" Ausmus said. "I said, 'Do you feel like you can steal a base?' He said, 'Yes.' And he didn't hesitate."
It was the best of the three possible scenarios Ausmus was facing. The worst-case scenario was Davis being nowhere close to playing, in which case he wouldn't have been on the roster at all. The middle ground was the trickiest scenario.
"If you're in a situation where he's on the roster and he comes back in a game or two, now you probably need an extra body," Ausmus said.
That extra body would've been outfielder Tyler Collins, who could have made the team at the expense of a seventh reliever.
The final roster didn't come together, Ausmus said, until about 15 minutes before Thursday's deadline.
The fact that the Tigers need just four starters for the postseason effectively gave them an extra spot on their 25-man roster to use for a position player. So the Tigers will carry September callup Hernan Perez as an extra infielder, giving them depth if Don Kelly starts in the outfield. Perez made last year's playoff roster as a late-inning pinch-runner, a role he'll likely reprise.
Though Perez was not on the active roster as of Aug. 31, he was eligible for the postseason roster as an injury replacement. Detroit's six players on the 60-day disabled list gave the Tigers the ability to add players, so long as they were with the organization as of Aug. 31.
A decision the Tigers needed to make involved their much-scrutinized bullpen, which will include two converted starters. While Anibal Sanchez transitions from past playoff starter to postseason reliever, so will Kyle Lobstein move to a relief role. Lobstein filled Sanchez's rotation spot in September while Sanchez was on the disabled list with a right pectoral muscle strain.
Sanchez enters his third postseason with a 2.95 ERA in six career playoff starts. He won Game 1 of last year's AL Championship Series against the Red Sox at Fenway Park, delivering six no-hit innings with six walks and 12 strikeouts.
Lobstein gives the Tigers two left-handed relievers, but despite a .217 average (10-for-46) by opposing left-handed hitters in his 39 1/3 Major League innings, he's more likely to be used as a long reliever than a lefty specialist.
"He certainly can go long [relief]," Ausmus said of Lobstein, "but it doesn't mean we wouldn't use him as a [situational] left-hander. They don't have a ton of left-handers."
Lobstein made the roster over fellow left-hander Blaine Hardy, as well as right-hander Jim Johnson, the former Orioles closer who signed with the Tigers in August. Both Hardy and Johnson struggled down the stretch.
Hardy, Ausmus said, was the guy on the bubble.
"He was an option," he said, "and actually if we went 12 pitchers, he would've been the guy. "You know, [the Orioles are] very similar to us in terms that they don't have many left-handed hitters, and a guy like Sanchez is probably as good as any of our lefties, maybe better than our lefties against left-handed hitters. I want to say they're hitting low .200s off Sanchie. They're hitting lower than righties, I believe."
Left-handed hitters are batting .219 (62-for-283) off Sanchez with a .562 OPS this year, compared with .241 (46-for-191) and .651 from right-handed batters.
PITCHERS (11)
Al Alburquerque
Joba Chamberlain
Phil Coke
Kyle Lobstein
Joe Nathan
Rick Porcello
David Price
Anibal Sanchez
Max Scherzer
Joakim Soria
Justin Verlander
CATCHERS (2)
Alex Avila
Bryan Holaday
INFIELDERS (6)
Miguel Cabrera
Nick Castellanos
Ian Kinsler
Hernan Perez
Andrew Romine
Eugenio Suarez
OUTFIELDERS (5)
Ezequiel Carrera
Rajai Davis
Torii Hunter
Don Kelly
J.D. Martinez
DESIGNATED HITTER (1)
Victor Martinez
Jason Beck is a reporter for MLB.com. Read Beck's Blog and follow him on Twitter @beckjason. This story was not subject to the approval of Major League Baseball or its clubs.