MLB.com Columnist
Barry M. Bloom
Ichiro eyes place to reach 3,000 hits
With 156 to go, outfielder needs big league home next season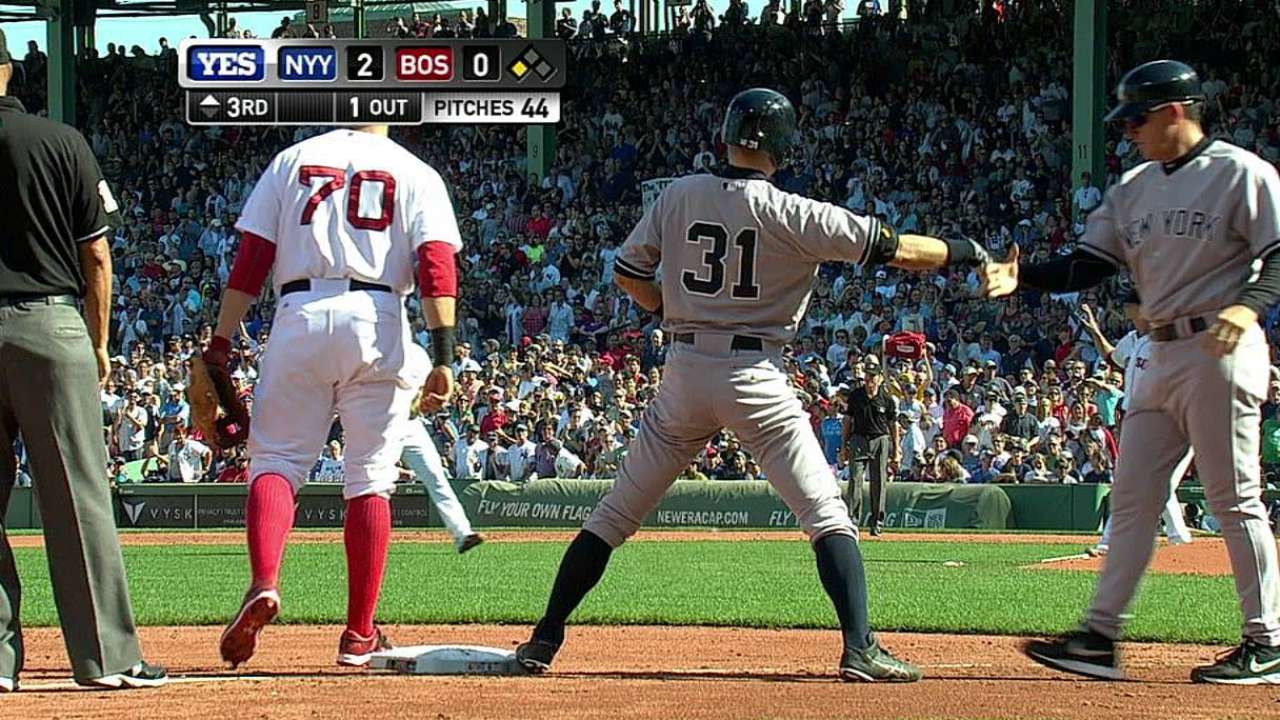 NEW YORK -- Ichiro Suzuki just finished his 14th Major League season only 156 hits shy of the cherished 3,000-hit mark. Even though he wants to play baseball again next year, he's not sure which big league team is going to give him the opportunity.
Ichiro could remain with the Yankees, who used him in 143 games this year as a role player -- left-handed hitter vs. right-handed pitcher, late-inning defensive replacement in the outfield. In that way, he has adapted to an assignment that would have been unheard of a few short years ago.
"I've been able to experience many, many things here and they're all good things," he said through an interpreter last weekend in Boston as Derek Jeter closed out his career and the Yanks finished the season. "I played many positions. I had to prepare myself because I didn't know if I was in the lineup. I was a defensive replacement in a 10-0 game. That was like going back to the days when I was young. You could almost say it was like I was being trained again. I did a lot of things that I can take the positive from."
Ichiro batted high in the lineup and lower in the lineup, wherever manager Joe Girardi deemed fit to place him, batting a very respectable .284. In the last two games of the season Girardi placed the soon-to-be 41-year-old Ichiro back in his old leadoff spot. As fate would have it, Ichiro tripled in two runs with one out in the third inning on Sunday just before Jeter knocked him in on a high chop single to third base. It was Ichiro's last hit of the season and the last of Jeter's 20-year career.
"I told Ishi earlier to hit a triple, so he hit a triple," Jeter quipped after it was all over on Sunday. "I was just happy that I ended my career with a hit."
If Ichiro doesn't play again, he'll be eligible in five years for the National Baseball Hall of Fame's Class of 2020 and could be enshrined along with Jeter, a certain first-ballot electee that same year. Ichiro also seems destined for Cooperstown, N.Y., and a plaque in the museum he has privately visited many times over the years.
Ichiro has a profound respect for baseball history and his place in it. During his professional career, Ichiro has 4,122 hits -- 2,844 in the U.S. and 1,278 playing for the Orix BlueWave in Japan. No question, he is the premier Nippon Professional Baseball position player to sign in the Major Leagues and play for many years just as well over here. No one else is even close.
The universe of teams that might be interested in Ichiro is small. New Padres general manager A.J. Preller is an admirer, and Ichiro might be a fit with the Padres, who are beginning to rebuild along international lines.
Would he like to play in San Diego?
"I don't think there are too many people who dislike San Diego," Ichiro said.
Under different circumstances, Ichiro might have been able to return to Seattle where he played 11 1/2 years, amassing 10 consecutive seasons of 200 hits or more, including a record 262 in 2004. But as he grew older and his skills began to diminish, Ichiro refused to make the adjustments with the Mariners that he later did in New York.
Ichiro asked to be traded, and on July 23, 2012, general manager Jack Zduriencik swapped him to the Yankees for pitchers Danny Farquhar and D.J. Mitchell, the latter never playing for the Mariners.
It was the Yankees, who signed him to a two-year deal as a free agent after the 2012 season worth $13 million -- $6.5 million a season. He's heading toward free agency again, and if the Yankees re-sign him, it would seem reasonable for them to do so for a lot less money, perhaps less than half the previous amount.
Would Ichiro want to come back to the Yankees?
"As of this day, I can't say one way or another," Ichiro responded.
To be sure, Ichiro is durable and in tremendous shape. He still fluidly runs the bases stealing 15 of them this year and scoring 42 times. Defensively, he is graceful playing both corner outfield positions, and with a season-long elbow injury suffered by Carlos Beltran and Jacoby Ellsbury's hamstring strain at the end, played a lot more than anyone expected for the second year in a row.
But here's the rub: His hit totals and plate appearances have deteriorated over the course of the years and his 102 hits in 385 plate appearance this past season were both by far career lows. At his current pace, he'll need a least one more full season and part of another to reach 3,000 Major League hits.
So that begs the big question: Is there a team out there willing to give him a chance to do it?
Barry M. Bloom is a national reporter for MLB.com and writes an MLBlog, Boomskie on Baseball. Follow @boomskie on Twitter. This story was not subject to the approval of Major League Baseball or its clubs.