Position-by-position breakdown for Giants-Nats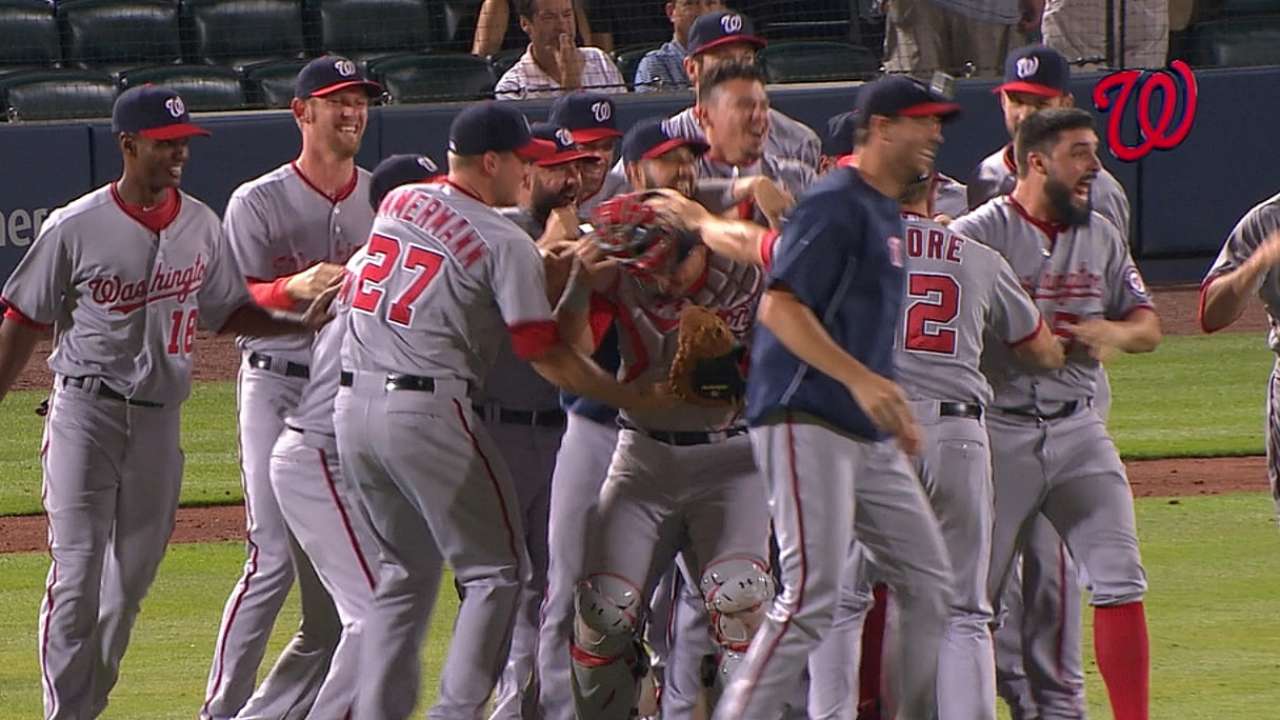 The Giants took the first step toward a third World Series title in five years on Wednesday night, traveling to PNC Park and pummeling the Pirates, 8-0, in the National League Wild Card Game.
Their next challenge awaits in Washington, where the Nationals are going for their first championship in their second postseason appearance, after earning the NL's top seed by going 96-66. The teams will square off on Friday at Nationals Park in Game 1 of their NL Division Series at 3:07 p.m. ET on Fox Sports 1.
Under first-year manager Matt Williams, a former Giants star, the Nats took five of seven in their season series against San Francisco, including three of four at AT&T Park in June. Here's a look at how the clubs stack up, position by position.
CATCHER
Wilson Ramos suffered a fractured left hamate bone in the Nats' season opener, missed more than a month, then was slow to regain his power. He enjoyed his best season throwing out basestealers (38 percent), but a rough September dragged his overall batting line down to .267/.299/.399. The Giants' Buster Posey had no such issues, crushing the ball in the second half (.354/.403/.575). The former NL MVP Award winner racked up a 5.7 WAR, per FanGraphs.com, second among Major League catchers. Advantage: Giants
FIRST BASE
Brandon Belt gave the Giants a boost when he came off his third disabled-list stint of the season in mid-September, and he enters this series 10 for his last 24, with three extra-base hits and five walks, including the NL Wild Card Game. Adam LaRoche has been at the top of his game as well, with seven home runs, 22 RBIs and a .539 slugging percentage in September. He also put together a nice bounce-back year overall for the Nats, hitting .259/.362/.455 with 26 homers. Plus, Washington has the option of using Ryan Zimmerman, recently back from a hamstring injury, at first against a tough lefty like Madison Bumgarner. Advantage: Nationals
SECOND BASE
Both teams feature midseason replacements here. The Giants turned to 23-year-old rookie Joe Panik in late June and saw him hit .305, though the left-handed batter actually did most of his damage against lefties (.373). The Nationals, needing to fill a hole in the infield with Zimmerman injured, acquired veteran Asdrubal Cabrera from the Indians at the non-waiver Trade Deadline. Cabrera, a switch-hitter moving over from shortstop, hit almost evenly from both sides of the plate this year (.696 OPS vs. RHP, .689 vs. LHP). He offers experience and more pop, while Panik is the better hitter for average and better defender. Advantage: Giants
THIRD BASE
San Francisco's Pablo Sandoval has two All-Star Game appearances, two World Series championships, the famous nickname and the strong track record over seven Major League seasons. Washington's Anthony Rendon has none of that, but he quietly became one of the best players in baseball this season, finishing fourth among position players with a 6.6 WAR as he shifted to third in place of Zimmerman. Rendon did it all for the Nats, getting on base (.351 OBP), hitting for power (66 extra-base hits, .473 SLG) and running the bases (17-for-20 in steal attempts), while playing two positions (third and second) and grading out well in every advanced defensive metric. Advantage: Nationals
SHORTSTOP
There's a lot more to the Giants' Brandon Crawford than his .246/.324/.389 overall line, as his bat came to life in September (.365/.388/.541) -- not to mention Wednesday's huge grand slam in the NL Wild Card Game -- and his defense shines. But the Nats' Ian Desmond also has been solid defensively, and he possesses a blend of power and speed that's rare for the position. His 24 homers and 24 stolen bases this year made him only the fourth shortstop in history to post three 20-20 seasons. Desmond led all big league shortstops in homers and RBIs (91) and finished third in WAR (4.1). Advantage: Nationals
LEFT FIELD
Injuries to Michael Morse and Angel Pagan have forced the Giants to scramble a bit in their outfield, especially in left. Travis Ishikawa, normally a first baseman, has started four of the team's last five games there, though Morse (left oblique) could be healthy enough to make the NLDS roster. Washington has no such issues. Bryce Harper missed time early this year with a thumb injury but came back to hit .288/.359/.454 with 11 home runs in the second half. Advantage: Nationals
CENTER FIELD
Gregor Blanco got off to a slow start but gave the Giants a huge lift down the stretch when injuries ravaged the outfield. He hit .296/.365/.449 in the second half and recently settled into the leadoff spot. Denard Span held down that job all year for the Nats, setting a club record for hits (184) and personal bests in doubles (39) and steals (31) while playing his usual stellar defense. A catalyst for the Washington offense, Span also turned it up after the All-Star break, batting .346/.403/.459. Advantage: Nationals
RIGHT FIELD
This series features a matchup of two of the game's more productive right fielders, especially with the bat. Jayson Werth was a steady force in the middle of Washington's lineup, hitting .292/.394/.455, while Hunter Pence did the same for San Francisco, at .277/.332/.445. They finished sixth and seventh, respectively, among big league right fielders in WAR. What gives Werth the edge is his OBP and torrid second half (.922 OPS), while Pence finished 4-for-54 before going 1-for-4 with a walk on Wednesday. Advantage: Nationals
BENCH
Neither of these teams received much production from its pinch-hitters this season, and the Nats actually ranked last in the NL in average (.144), slugging (.234) and OPS (.478) in that category. But while late-season injuries further diminished Bruce Bochy's options, Williams could have a trump card. If Zimmerman doesn't start, he's an overqualified pinch-hitter. And if he does, it pushes Cabrera, Harper or LaRoche into that role. Rookie Matt Duffy, 6-for-15 with six RBIs as a pinch-hitter, could be key for San Francisco. Advantage: Nationals
STARTING ROTATION
Nats starters led the Majors in ERA (3.04), FIP (3.24), WHIP (1.14) and opponents' OPS (.657), while finishing a close second in strikeout-to-walk ratio (4.1). Their regular rotation posted a 1.95 ERA in 24 September outings, and in their final turn, the four likely members of the postseason staff combined for 31 scoreless innings, capped by Jordan Zimmermann's no-hitter on Sunday. The Giants have the added disadvantage of burning Bumgarner in the NL Wild Card Game, making their ace unavailable until Game 3 of the NLDS. Advantage: Nationals
BULLPEN
These clubs finished almost dead even in relief ERA, with Washington second in the Majors (3.00) and San Francisco third (3.01). The Giants struggled more down the stretch, but they still boast a solid group that includes former closer Sergio Romo (2.10 ERA, .183 opponents' average since July 1), battle-tested lefties Jeremy Affeldt and Javier Lopez and rookie flamethrower Hunter Strickland (7 IP, 0 R, 9 K). The Nats, however, truly rounded into form late in the year after acquiring veteran lefty Matt Thornton (11 1/3 IP, 0 R) to complement steady setup man Tyler Clippard. As a bonus, Williams likely will have the luxury of bolstering that group with fifth starter Tanner Roark (2.85 ERA), who excelled in a relief role last year. Advantage: Nationals
CLOSER
Both Santiago Casilla and Drew Storen got a shot to take over the closer's role, and both took full advantage. Storen, who blew the save in Game 5 of the 2012 NLDS against the Cardinals, reclaimed the job from Rafael Soriano in early September and didn't let go, converting all 10 chances without allowing a run. He sports a 1.19 ERA since returning from the Minors in August 2013. Casilla replaced Romo at the end of June, locking down 17 of 18 opportunities while posting a 2.42 ERA and holding batters to a .165 average. He also didn't allow a hit or a walk over his final six innings of the regular season. Advantage: Push
Andrew Simon is a reporter for MLB.com. Follow him on Twitter @AndrewSimonMLB. This story was not subject to the approval of Major League Baseball or its clubs.