Bucs don't pout after rout, reflect fondly on season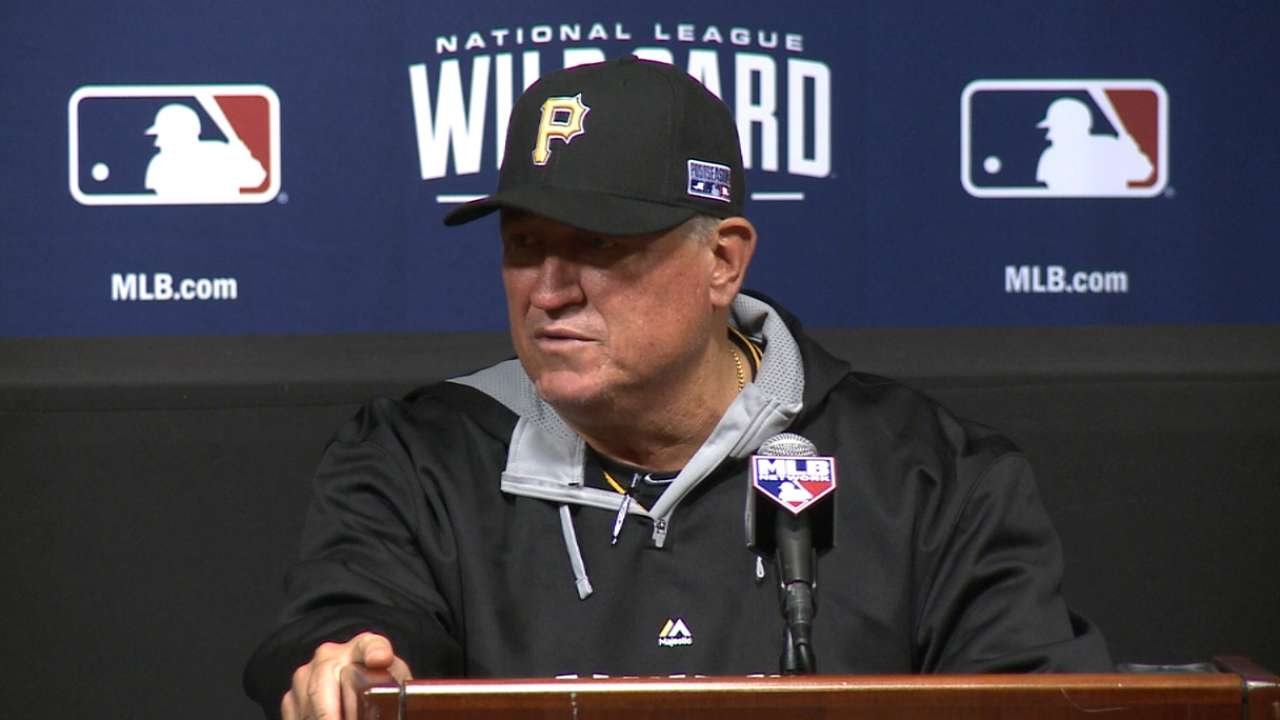 PITTSBURGH -- During his session in the media interview room on Wednesday afternoon, Josh Harrison mentioned that the National League Wild Card Game isn't the ideal place for a team to find itself when postseason play begins.
"Honestly, anybody would love to win the division and stay away from this game, but somebody's got to do it," the Pittsburgh Pirates' All-Star infielder-outfielder said. "Regardless, it's still the playoffs."
Sure, but it's a mighty risky proposition. Six months' worth of hard work and winning baseball can go out the window in a matter of a few hours if you don't win the one game, and that's what happened to Harrison and his teammates on Wednesday night, falling 8-0 to the San Francisco Giants.
The fact that the Pirates lost wasn't a shock. After all, they were facing a Giants squad that compiled the same record they did during the regular season (88-74), and had their ace -- 18-game winner Madison Bumgarner -- on the mound.
The stunning aspect of what transpired at PNC Park was the one-sided nature of the contest.
The Giants advanced to the NL Division Series against the Washington Nationals by virtue of a shutout rout over the Bucs, with Bumgarner allowing only four hits and striking out 10. In short, he looked very much like a guy who had pitched in a couple of World Series before.
It was a rough way for the Pirates to end their season, but they didn't lose sight of the successes they had together along the way in 2014, when they finished second to the St. Louis Cardinals in the NL Central for the second consecutive year.
"We still got the opportunity to play a meaningful game in October. There were plenty of teams that played Sunday and then went home," Harrison said after the loss. "Nobody here is holding their head down. We're extremely proud of what we've done.
"Bumgarner had it going tonight. He made pitches when he needed to and kept us off the basepaths. They just played better than us. But this season as a whole, battling with these guys day in and day out, is something I'll always remember."
"Somebody has to win. Somebody has to lose," added Bucs starter Edinson Volquez, who surrendered five runs in five-plus innings -- the crushing blow being a grand slam by Brandon Crawford over the right-field wall in the fourth inning. "Not many people expected the Pittsburgh Pirates to go to the playoffs this year, and we did it. We lost tonight, but we're still proud of what we did the whole season long."
Pittsburgh earned the right to host the NL Wild Card Game for the second straight year by going 17-6 in its final 23 regular-season games, even though it finished with back-to-back losses in Cincinnati this past weekend.
The Pirates have great respect for Bumgarner, and they know they saw him at his best on Wednesday night.
"He was fantastic," Pittsburgh closer Mark Melancon said. "He had 18 wins this year. You don't do that just by going out there and being average. We knew we were in for a big challenge, and sure enough, he was more than a big challenge.
"But I'm extremely proud of this group. We have such a great group. It's so disappointing to have to leave tonight. After 162 games, it came down to this game. It was a grind all year and it was a blast. You have the downs, but you always remember the ups."
"We've got a lot of talent in this clubhouse and a lot of people that had great years," Bucs second baseman Neil Walker added. "Unfortunately, we didn't reach our goals, but we should still be proud as a group, because we accomplished a lot of good things. This is a special group, and we play very well together and we care very much for each other.
"There's certainly some disappointment, but you can't forget about the fact there's two teams on the field. We got outplayed tonight. Bumgarner went out and did what he wanted to do. He filled up the strike zone and he made it tough on us. When they got up early, we tried to scratch and claw our way back. But he was good from the first pitch to the last pitch."
Jim Lachimia is a contributor to MLB.com. This story was not subject to the approval of Major League Baseball or its clubs.