Beane defends trades after A's postseason exit
GM asserts Oakland's Wild Card appearance tied to acquiring Lester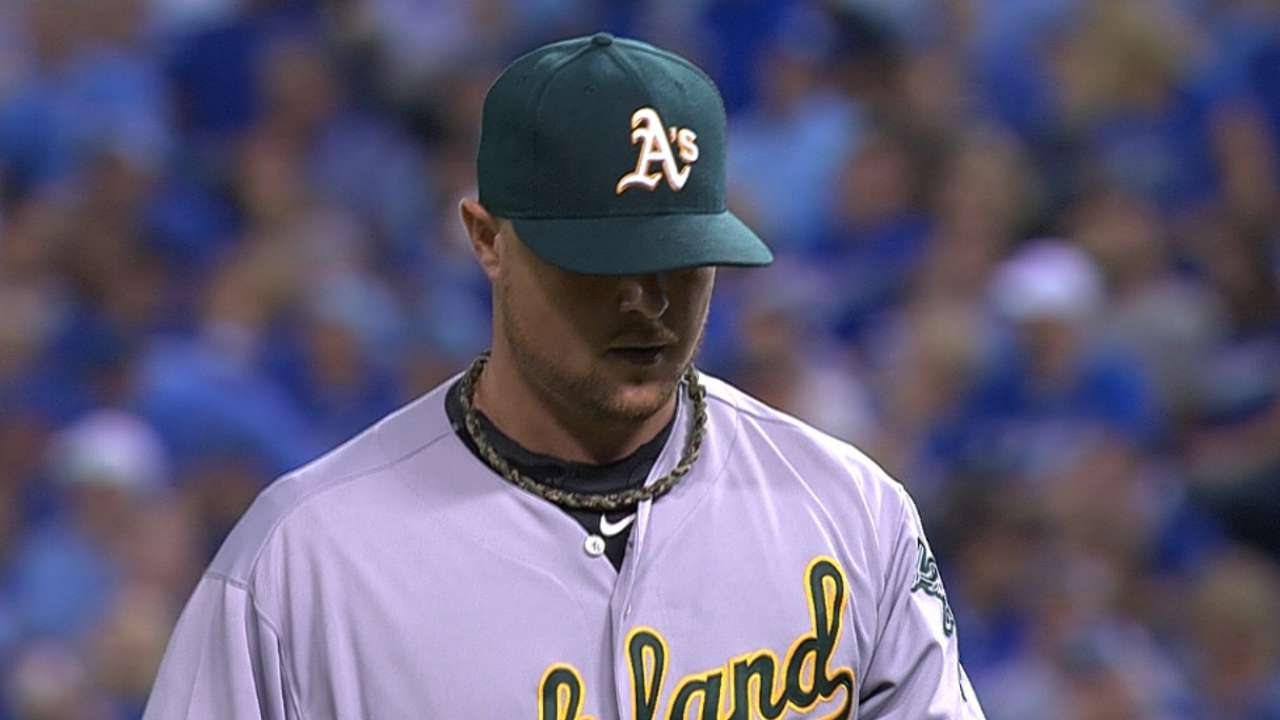 OAKLAND -- A's general manager Billy Beane is standing behind both of his July blockbuster trades, particularly the one that gave him 12 Jon Lester starts. This, he's adamant about. There's less certainty what his next move will be.
Following another early exit from the postseason, after a frenzied 12-inning loss to the Royals in Tuesday's winner-take-all American League Wild Card Game, the A's now must calculate just how much that window of opportunity for competing remains open.
"The cycles here are very short," said Beane, speaking in his Wednesday postmortem session with the media.
That's why Tuesday's loss stung a little more.
"This was as empty as you can be, because there was never a point in time for me that I thought we were going to lose the game," said manager Bob Melvin. "I didn't. I thought we were going to be in Anaheim today, and it never even occurred to me that we would be sitting here right now having this nice conversation."
If the A's weren't already considered one of the World Series favorites entering the season, they positioned themselves as such in July, when, despite already carrying baseball's best record and one of the league's most formidable rotations, they added Jeff Samardzija, Jason Hammel and Lester to the mix. Lester and Hammel are set to become free agents this offseason, while Samardzija can hit the open market after the 2015 season.
Beane insists he forecasted trouble on the horizon, which is why he let go of his cleanup hitter, Yoenis Cespedes, and his two best prospects, Addison Russell and Billy McKinney, to get the deals done.
"Once it started to get the middle of the season, there was this sense of, we need to make sure that it won't collapse on us, which is a reason why we were so aggressive," he said. "Grasping the opportunity this year was important for us because we had so many questions going into this offseason."
Beane won't apologize for this. The Lester-Cespedes trade was met with much debate from the second it broke, and even though Lester wasn't Lester in the Wild Card Game, allowing six runs, Beane would do it all over again.
"Simply put, if we don't have Jon Lester, I don't think we make the playoffs," he said. "We made it on the last day. We don't have him, I don't believe we make the playoffs."
Pressed more, Beane said, "It's always tough losing a middle-of-the lineup bat, there's no question, but I think having Jon allowed us to get to the playoffs."
He never budged, again saying, "If we didn't have Lester, we wouldn't have had that game yesterday. Jon put us in the position to win the game, which is what his job was, and then the ball was handed off. I don't think it was any fault of his. We can debate all you want but I truly believe we don't make the playoffs extracting Lester."
"Look," Melvin said, "the trades we made for the pitching were key in where we went. Look at how they pitched down the stretch. Very instrumental in where we got."
Beane also didn't buy into popular thinking that Cespedes' sudden absence affected team chemistry.
"I think production ultimately creates chemistry," he said.
That the A's went 16-30 down the stretch after spending most of the first half of the season with baseball's best record had less to do with Cespedes and chemistry, Beane believes, and more to do with a laundry list of injuries, notably to Coco Crisp, Jed Lowrie, John Jaso and Craig Gentry. Brandon Moss and Derek Norris' lengthy struggles at the plate only further disrupted the carefully crafted A's lineup.
All the while, the Angels were running away with the division.
"The Angels were going to catch us," Beane said. "They played nearly .700 ball from a certain point on. If you go back to my quotes when we made those trades despite the fact of where we were, at no point were those trades made for the playoffs. I was adamant about it and couldn't have been more adamant about both those trades. I could feel the Angels breathing down our necks. I knew they were good, and I knew Seattle was good, too. Seattle scared me just as much as they did, and for good reason as it turned out.
"What I didn't reveal was I was also concerned about us at the point of the trades. It was both those teams and our own concerns internally, despite where we were. I've said this multiple times. It's not where you are, it's where you're headed, and I like to think, being here every day, I have to feel where we're headed."
There's no telling in which direction he leads them now.
Jane Lee is a reporter for MLB.com. This story was not subject to the approval of Major League Baseball or its clubs.