Pending free agent Martin feels the love in Pittsburgh
Fans chant 'Re-sign Russ' during possible final at-bat of catcher's Pirates tenure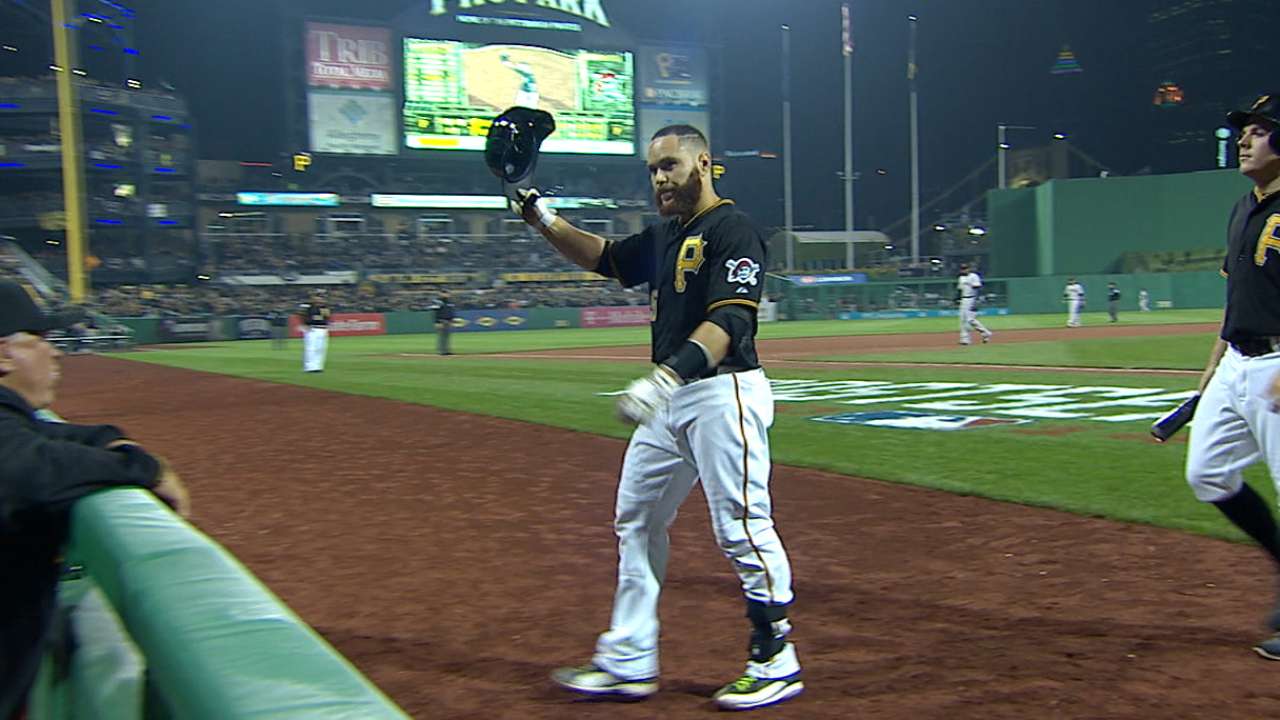 PITTSBURGH -- While some of the record PNC Park crowd scattered over the Allegheny River in an effort to beat traffic, the ones who remained during the ninth inning of the Pirates' 8-0 season-ending loss to the Giants on Wednesday night realized and appreciated what was happening.
Russell Martin -- the 31-year-old Bucs catcher who has had a career season and turned into a beloved figure -- led off the final half inning of the National League Wild Card Game to a chant of "Re-sign Russ!"
Martin swung at the first pitch he saw, flied out to center and jogged back to the dugout in what could be his last moment in a Pirates uniform.
Martin, who became a prized free agent-to-be two outs later, tipped his helmet before descending down the dugout steps.
"To get that type of reaction from a crowd, especially when you're losing a big game, that was definitely one of the coolest moments I think I've had in baseball," Martin said.
Because of his 2014 campaign in which he hit .290/.402/.430 and added a substantial presence behind the plate, Martin is expected to sign a hearty contract before the start of next season. The small-market Pirates don't typically deal in big-money multiyear contracts, and there's a good chance Martin -- who signed for two years and $17 million two offseasons ago -- may end up elsewhere.
Just minutes after the Pirates' season ended in the one-game playoff, Martin said he had not given any thought to what may happen in the next few months. But he did note he "had more fun playing baseball here than I have my whole career."
Martin, who had one of the Bucs' four hits in the loss, added that he'd keep that in mind when the time comes to make a decision on his future.
"Who knows what's going to happen," the catcher said. "I definitely know that I enjoyed my time here. Playing for this city, playing for these fans, it's been great. Hopefully I get the opportunity to do it some more."
Like Martin, Edinson Volquez will be a free agent this offseason. Though Volquez lost the Pirates' final game, he also recharged his career in Pittsburgh, and the right-hander said he owed some of that to Martin.
"No offense to the other catchers I've played with, but Russell is the best guy I've worked with," Volquez said. "He controls the game, he's a smart guy, he's a passionate guy, he loves the game. I'd play with him anywhere he goes."
Where Martin goes is the biggest question of the Pirates' offseason. Pittsburgh fans are hoping it's nowhere.
Stephen Pianovich is an associate reporter for MLB.com. This story was not subject to the approval of Major League Baseball or its clubs.