Given Game 1 nod, Peavy seeks first postseason win
Veteran hasn't enjoyed playoff success, but eager to deliver for Bochy, Giants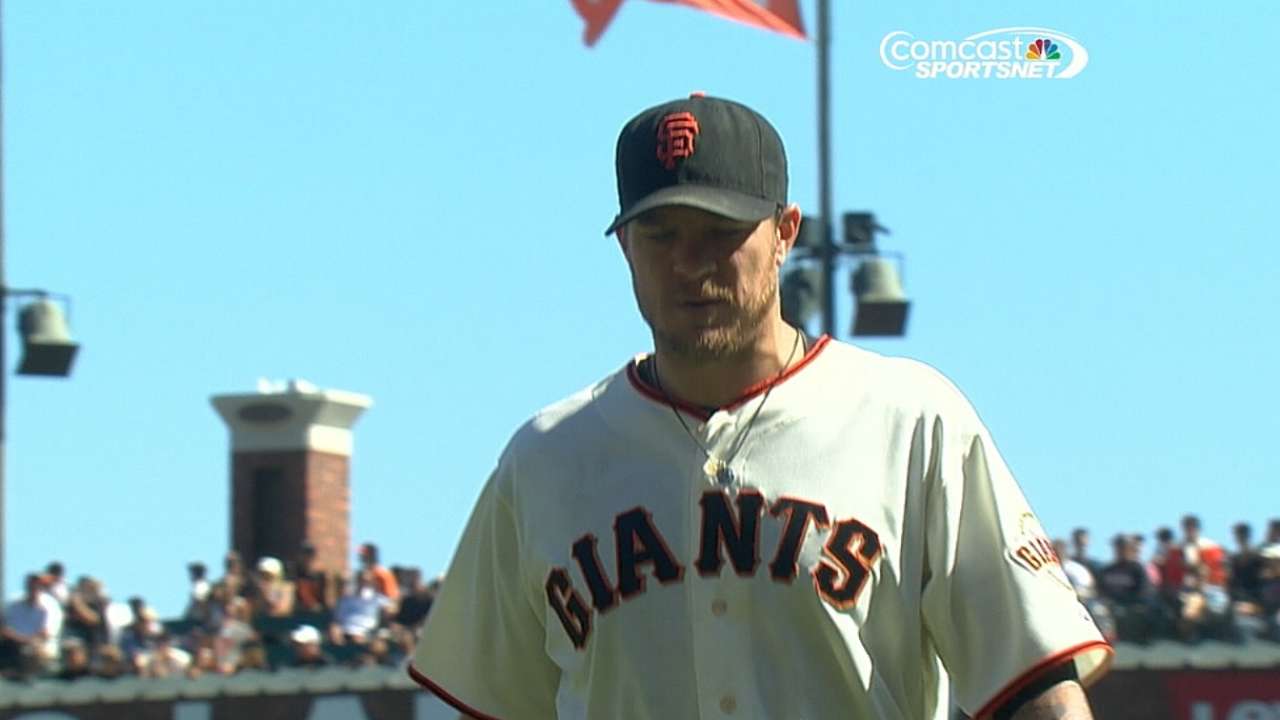 PITTSBURGH -- It seems so right to Giants right-hander Jake Peavy: a big game on the horizon, and manager Bruce Bochy is trusting it to him.
Peavy, who joined the Giants in a July 26 trade with the Red Sox and has a deep history with Bochy from their days with the Padres, will start in Washington on Friday in Game 1 of the National League Division Series (noon PT, FS1).
"I'm going to do all I can for the big man, that's for sure," Peavy said.
Bochy hasn't made a formal announcement, but when asked about Peavy starting Game 1 and Tim Hudson beginning Game 2, he said, "You can bet on that."
When Peavy takes the mound, it'll be about making it right for himself as much as his manager or anyone else.
Peavy is 0-3 with a 9.27 ERA in five postseason starts. That doesn't include a 10-hit, six-run struggle in 6 1/3 innings against the Rockies in a 2007 tiebreaker game for the NL Wild Card spot, a no-decision in a Padres loss that counted as a 163rd regular-season game.
But Wednesday night, with champagne and beer flowing over the heads of everyone in the Giants' clubhouse after their 8-0 vanquishing of the Pirates in the NL Wild Card Game, it was all about smiles with Bochy -- as well as San Francisco third-base coach Tim Flannery, another comrade from their Padres days -- and memories and hopes.
Well, strike the hopes part. It's more belief and confidence than hope.
Peavy, 33, spent last season with the World Series champion Red Sox. He didn't shake his personal postseason ghosts, going 0-1 with one decent game and two starts in which he didn't exceed four innings. But when Peavy was traded from the White Sox to the Red Sox last July 30, he experienced what a championship team looked like from the inside.
This year, Peavy is thankful to be part of a team that, he says, has that same winning spirit.
"It's hard to put into words," Peavy said. "But we've got a bunch of guys who have been there before. They're not scared of any situation that we may be in. We've got veteran leadership and a great mix of young players who are very talented."
Peavy has been more than a passenger on a winning team since joining the Giants. He is 6-4 with a 2.17 ERA in eight starts, and San Francisco won the other two games. Peavy has 58 strikeouts against 17 walks and has limited opponents to a .231 batting average.
But Peavy heads into the NLDS opener understanding that he doesn't have to beat a potent Nationals club alone.
"We understand it's going to be a group effort, that our strength is in being a team, knowing we're going to have to get contributions from everybody up and down the lineup," Peavy said. "We're going to have to play smart. We have to have some timely hits, pitch well and play good defense.
"There are teams out there that people say are more talented and more complete. But we believe in ourselves as a group. You saw that tonight."
And, just maybe, Peavy can have the postseason that can place a shiny star on his All-Star career.
"It's funny how the game works," Peavy said. "You just keep plugging away, doing all you can do, fighting the good fight, and sometimes you end up in great situations. The good Lord just shines upon you.
"You end up like I did last year, in a great place with great teammates in Boston. I couldn't have asked for anything more then, and the same goes for now. To be over here with such a great group of guys, familiarity with 'Boch,' Flannery and so many guys. It's fun for me to be a part of, and I'm going to contribute in any way I can."
Thomas Harding is a reporter for MLB.com. Follow him on Twitter @harding_at_mlb. This story was not subject to the approval of Major League Baseball or its clubs.