Do Giants celebrate Wild Card win? Yes! Yes! Yes!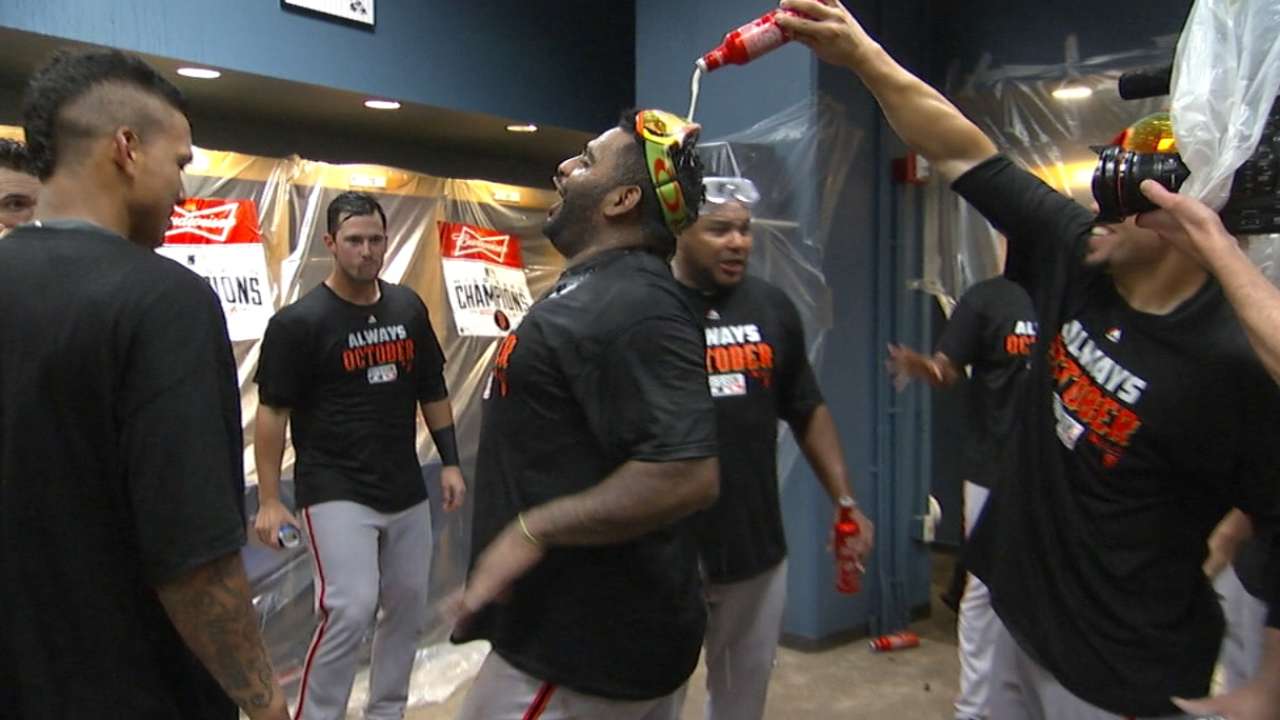 PITTSBURGH -- The Giants kept the on-field celebration relatively tame following their 8-0 victory over the Pirates in Wednesday's National League Wild Card Game -- but that all changed once they were behind closed doors.
Giants ace Madison Bumgarner, moments after finishing off his shutout, found himself surrounded by teammates in the middle of the visiting clubhouse at PNC Park as the team began to pop the champagne bottles. All the while, music echoed throughout the clubhouse and down the tunnel along the first-base side.
The echoes stopped momentarily, only for the always colorful Hunter Pence to once again address his teammates.
"Great work tonight. Job well done," Pence said. "We're going to get to play a game at home in the playoffs. We have another big series coming up."
Pence then posed a simple question to his teammates: "Will we be at home this year again?"
It comes as no surprise that his teammates responded with the club's celebratory "Yes! Yes! Yes!" chant.
At that point, the music cranked back up and the next round of champagne sprays began, with Bumgarner again finding himself in the middle of it all. As a number of teammates toasted Bumgarner, then doused him with champagne and beer in the middle of the clubhouse, others were singing his praises during interviews at their lockers on the outer edges.
"When that ball went over the fence," veteran pitcher Tim Hudson said of Brandon Crawford's fourth-inning grand slam, "it almost seemed like game over right there. I don't usually say something like that, but if you give Bumgarner a 4-0 lead, go spray some champagne."
As it turns out, Hudson may have been on to something, as Bumgarner didn't even allow a Pirates runner to reach third base until the eighth inning. He escaped that jam then tossed a perfect ninth inning before his teammates swarmed him on the mound.
The on-field celebration wasn't nearly as raucous as Kansas City's from the night before when the Royals rallied from multiple deficits to win the American League Wild Card Game in walk-off fashion in the 12th inning. Instead, the Giants kept it to hugs and handshakes at the center of the diamond before leaving the field as a small group of San Francisco fans cheered just above the first-base dugout.
It didn't take long to flip the switch after retreating to the clubhouse, though the Giants know this is just a small step toward their main goal.
"We've got a long way to go still, and hopefully there will be a few more of these," Pence said. "But it definitely feels good to get this first one."
Paul Casella is a reporter for MLB.com. Follow him on Twitter @paul_casella. This story was not subject to the approval of Major League Baseball or its clubs.