Oct. 1, Bruce Bochy Wild Card postgame interview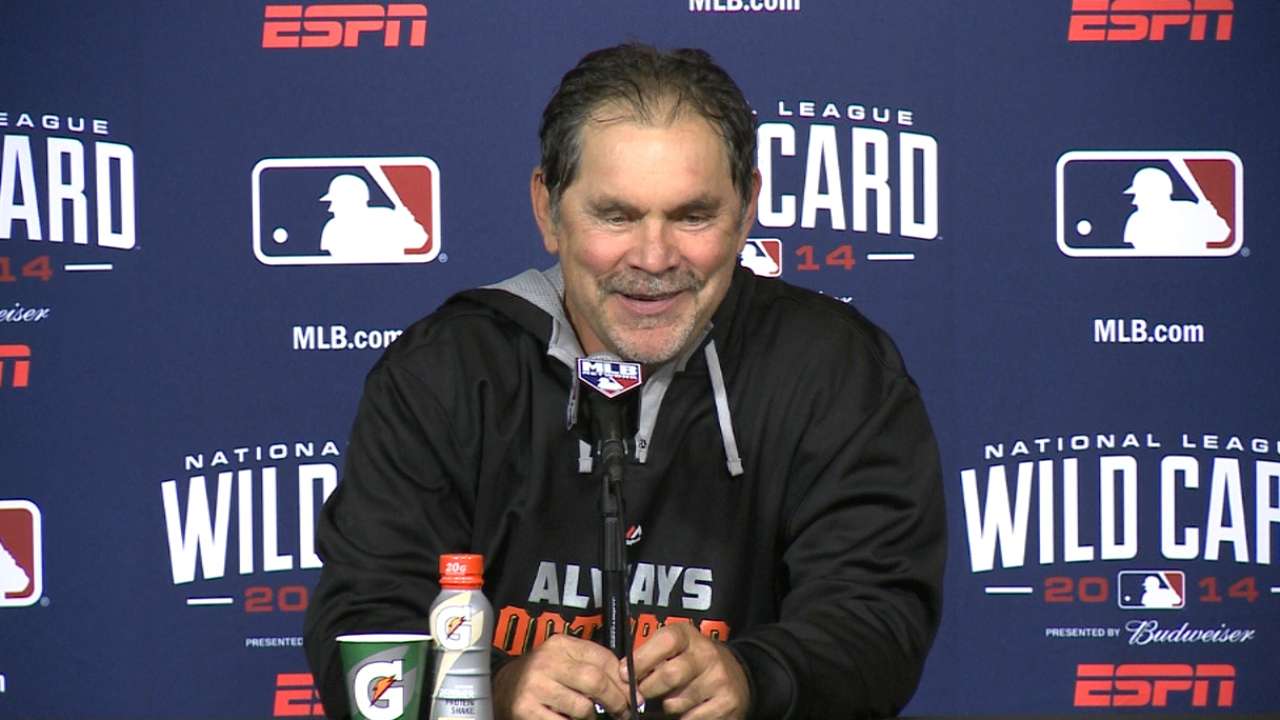 Q. Bruce, watching a pitchers' duel for the first few innings, how big was that hit by Brandon to kind of loosen everybody up a little bit?
BRUCE BOCHY: Oh, huge. We're facing a guy that's been throwing the ball very well. You're looking for a timely hit, and we couldn't have gotten a bigger one there. Crawford's been swinging the bat very well. I was confident with him up there doing something.
I didn't know he would hit a grand slam, but it's hard to get a bigger hit. Now you're up four runs, and you get your guy out there throwing the ball well. It's really hard to pitch a better game than what Madison did. We had the right guy out there and executed all night against a tough lineup.
Tough place to win here in Pittsburgh. What a great record they have. I want to say congrats to them on their season, but when Madison's on the mound, we have all the confidence in the world, and he set the tone early.
Q. We hear so much about Kershaw, but just fill us in a little bit about Bumgarner, what he can do.
BRUCE BOCHY: Well, we all feel that he's one of the best left handers in the game too. He helped us in 2010 at 20 years old. So he's ‑‑ he was battle tested at an early age. He just looked very determined tonight. He's got four pitches.
Probably as important as that is his makeup. Like I said, we couldn't have had a better guy out on the mound. It worked out just right for us at the end of the season where we could save him. If we go down, he's a guy we want on the mound. But he's as tough a competitor as I've ever had. He's got the stuff to go with it.
Q. What's with you guys in even years? Not bad, 2010, 2012.
BRUCE BOCHY: Yeah, there's a lot of work ahead of us. We know that. We're going to be facing a very good club coming up. All you want's a chance. We said that when we got to this game. We just wanted a chance. That's all you can ask in this game.
Sure, it's a shootout, a do or die situation, but these guys have been there before.I think that experience really came into play today. The guys threw out some good at bats. They looked very quiet up there. You want to create those chances and get guys on base, and they were relentless doing that until we got, of course, a big hit from Crawford.
Q. With the new format, there's such a premium on winning the division. You can figure rotations up. Is there any benefit to getting a game like this under your belt? Now you're coming off a big win into Friday, guys celebrating down the hall a little bit.
BRUCE BOCHY: I think so. This is ‑‑ I mean, this game, there's so much at stake. A bad hop, anything can send you home. There's a lot of pressure on the players. It's always nice to have so many guys who have been in that situation before. They know how to handle themselves. I think it really benefited us here today.
Like I said, Pittsburgh was really on a roll. They were playing great. They've been so tough here at home. They beat us in the season series. We had our hands full, I know it.
It always starts with the guy on the mound, and Madison set the tone early.