Oct. 1, Hurdle Wild Card postgame interview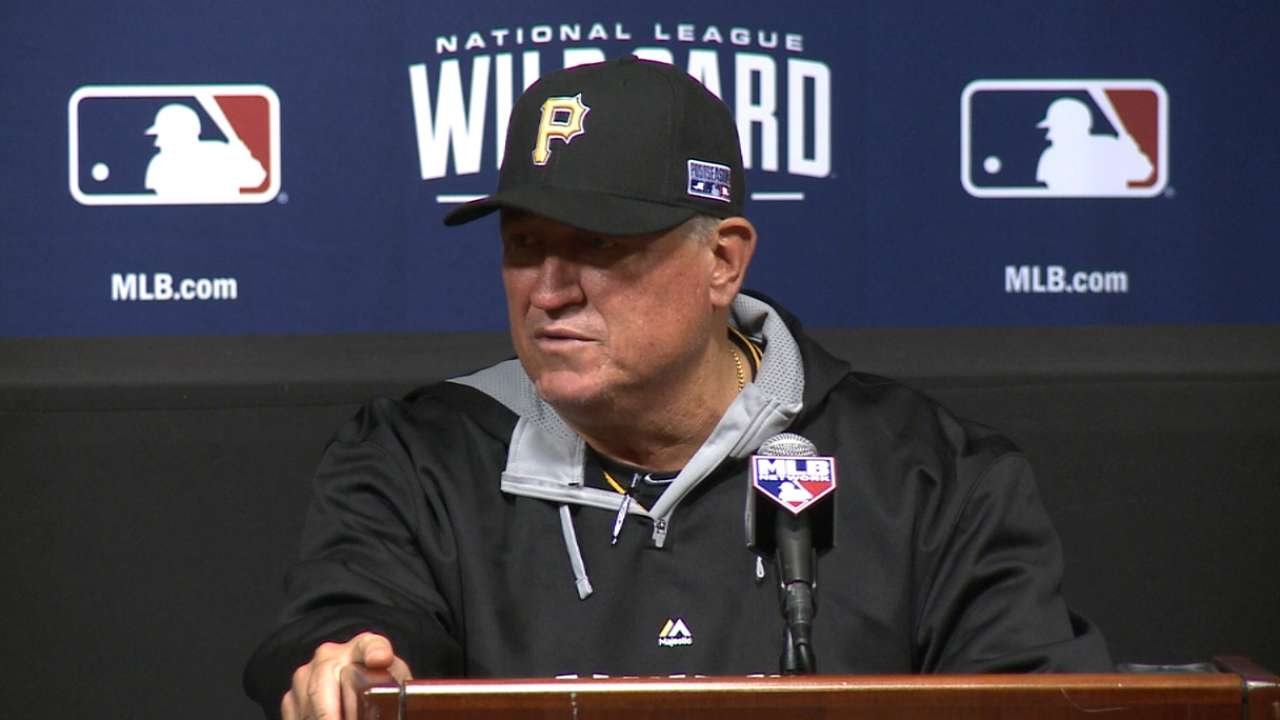 Q. Congratulations, a fine season. I imagine that's the message you probably shared with your players before you came here. But besides that, Volquez held off the Giants into the fourth inning but seemed to be missing his spark quite a bit. Was he just not at his sharpest?
CLINT HURDLE: I think for the first three we've seen what we've seen from him in the past. The ability you know, maybe let guys on base and the ability to make pitches and work through it. The wall complicated things, a hanging breaking ball to Crawford up, middle in. We wanted to go down back foot, missed a spot.
Big swipe. Four‑run swipe right there. We haven't run one of those with Edinson on the mound second half of the season. That one put us in the hole that eventually just got bigger.
Q. Coach, was there any point in the dugout that there was any specific talk of a weakness where you thought that you guys could break through Bumgarner?
CLINT HURDLE: We continued to have conversations. The one thing that Bumgarner did so exceptional, he did a bunch of things well tonight. It was a different game that he pitched, a different game that we'd seen scouted. He used all of his pitches. He was able to get his fastball in tight with the right handers. He was able to spin the ball late, dump it late for chase. Used some change‑ups early after guys he'd showed the fastball to during it. He also knew how to elevate. I mean, he had it working tonight.
Absolutely, a professional, well‑pitched game by him. We tried to counter punch, we just couldn't muster up anything.
Q. What do you tell this group of young men after a great season they've had some obviously, the expectation is very high going into the postseason. When it ends like this, what message do you send to them? What words did you impart to them?
CLINT HURDLE: I'll tell you some of it, but some of it's just for them. The part I didn't share with him because I just didn't want to, going through my mind, I heard A. Bartlett Giamatti put it ‑‑ I'm going to paraphrase it. It's a wonderfully crafted game designed to break your heart.
I told them tonight feel what you need to feel. We all feel disappointment. There should not be any shame. You walk out of this clubhouse head held high. You look people in the eye. We created something here that's becoming special.
First two years here, we pushed into the second half of the season, got pushed back. Back to back years, we pushed through the season and found our way into the playoffs. What reinforces this whole playoff set more than anything to me now is the importance of winning the division. We've been on both sides of this wild card coin.
Q. Clint, what were your thoughts at the end of the game with the showing of support and appreciation by the fans to Russell Martin?
CLINT HURDLE: It's excellent. They're appreciating the volume of work. For two years, they've watched this guy lay it all out like many of our men have and have been very appreciative of the difference he's been able to make in our ball club ‑‑ behind the plate, working with the pitchers, controlling the running game, the offensive part of it. He has been a pleasure and a very productive player for us.
Our fan base is excellent. They showed up this year 2.4 something strong, all‑time attendance record. They broke another record tonight. They appreciate hard work. They appreciate effort. They appreciate the blue collar mentality, and Russell showed them that the last two seasons.
Q. Clint, just by circumstance, the Giants were able to hold back Bumgarner for this game, and last year we saw Liriano dominate. I guess that just shows the premium on ace level pitching in these sorts of situations.
CLINT HURDLE: No doubt, no doubt. This is a guy that's pitched in the World Series twice. He's got quite a strong resume. And, again, this game is what it is. It's elimination game.
So for me, it reinforces the fact of the importance of winning your division. If you don't have a chance to win your division, maybe you can make some other adjustments along the way to set up for a wild card game.
Take nothing away from the Giants. I want to congratulate them. They're a good ball club. They were a better ball club than we were tonight. We finished short, and we'll ‑‑ but we laid it all out for everybody every night. We emptied the bucket for our fans every night we played, all 163 games.
Q. Clint, it didn't look really good for your team when you got swept in St. Louis at the beginning of September, but from then on, you kicked it in gear. How proud are you of the way your team responded when it looked like things were bad and came back and made it this far?
CLINT HURDLE: I did share that with him at the end. I'm honored to be their manager. I'm proud of each and every man and each and every coach because we had multiple opportunities to get tested and challenged, and we weren't able ‑‑ we didn't back down.We didn't go away. We stayed resilient. We persevered. We played to our strengths.
We have a strong pack, and that's what we play to, that pack mentality. So it was 21 years before there was a playoff game here, and we've pushed it back‑to‑back years. We've got more work to do because we definitely, we all want to play longer. We want to find a way to bring that sixth world championship back to Pittsburgh.