Did You Know? 2014 NL Wild Card Game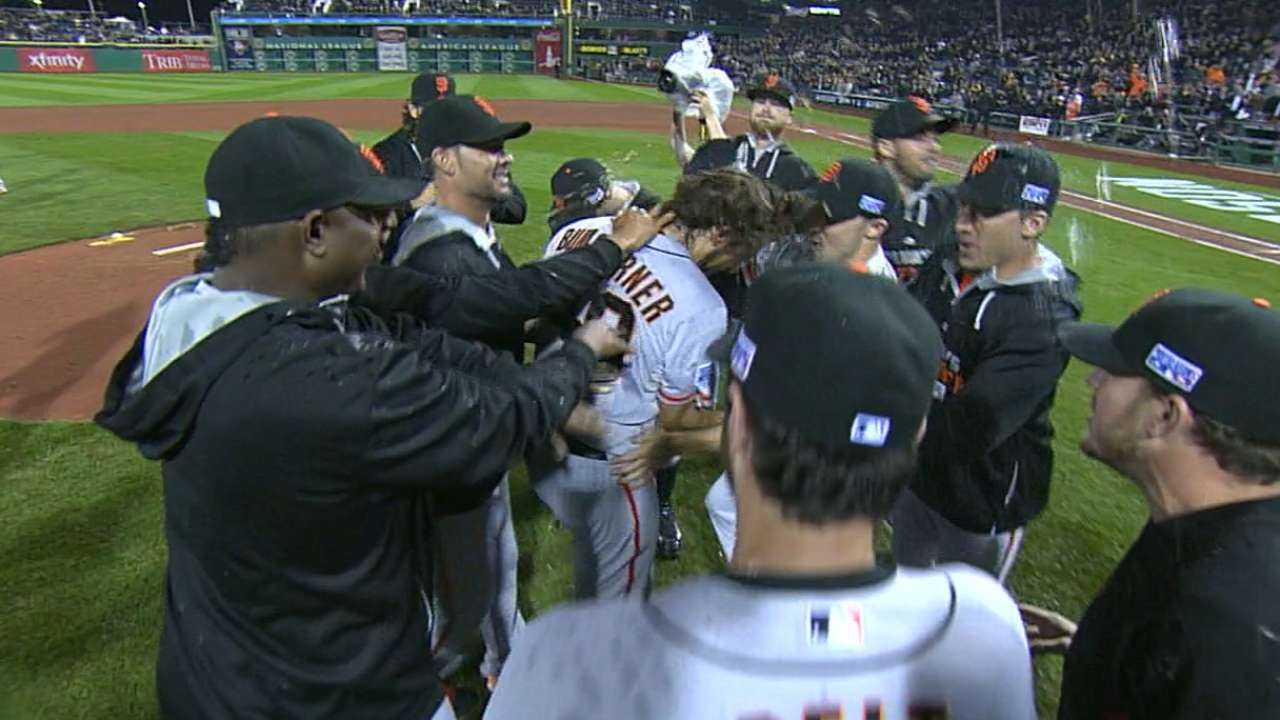 The Giants beat the Pirates, 8-0, in Wednesday night's National League Wild Card Game at PNC Park, advancing to the NL Division Series against the Nationals. San Francisco starter Madison Bumgarner was masterful in tossing a shutout on 109 pitches, while Brandon Crawford hit a fourth-inning grand slam that proved to be more than enough support.
Here's what you should know:
• Dating to Game 2 of the 2012 World Series, Bumgarner has tossed 16 consecutive scoreless innings in the postseason. Dating to a relief appearance in Game 6 of the 2010 NL Championship Series, Bumgarner has tossed 19 consecutive scoreless frames in postseason road games.
• Bumgarner is the first Giants starter to toss a postseason shutout since Tim Lincecum did so in Game 1 of the 2010 NLDS against Atlanta.
• Bumgarner's game score, a statistic developed by statistician Bill James to quantify individual pitching performances, was 88, the highest for a postseason starter since Justin Verlander scored 89 in Game 5 of the 2012 AL Division Series against the A's (also a shutout).
• Prior to Crawford's fourth-inning grand slam, he had two career grand slams -- including one as his first career hit on May 27, 2011, in Milwaukee (Major League debut). He is the first shortstop to hit a slam in MLB postseason history.
• The Giants have won a franchise record eight straight postseason games dating to Game 5 of the 2012 NLCS against St. Louis.
• San Francisco has also won seven consecutive postseason elimination games (coming back from a 2-0 series deficit in the 2012 NLDS and a 3-1 deficit in the 2012 NLCS before sweeping the Tigers in that year's World Series), tying the Royals -- who won the AL Wild Card Game over the A's on Tuesday -- for the longest streak in playoff history.
Kansas City trailed the Blue Jays, 3-1, in the 1985 ALCS and the Cardinals, 3-1, in that year's World Series and won both.
• Prior to Wednesday's Wild Card Game, Pirates starter Edinson Volquez had not allowed five earned runs in an outing since surrendering five on July 21 against the Dodgers at PNC Park.
Manny Randhawa is an associate reporter for MLB.com. This story was not subject to the approval of Major League Baseball or its clubs.