Fade to black: Pirates fall in Wild Card shutout
Volquez serves up grand slam, while bats are blanked by Bumgarner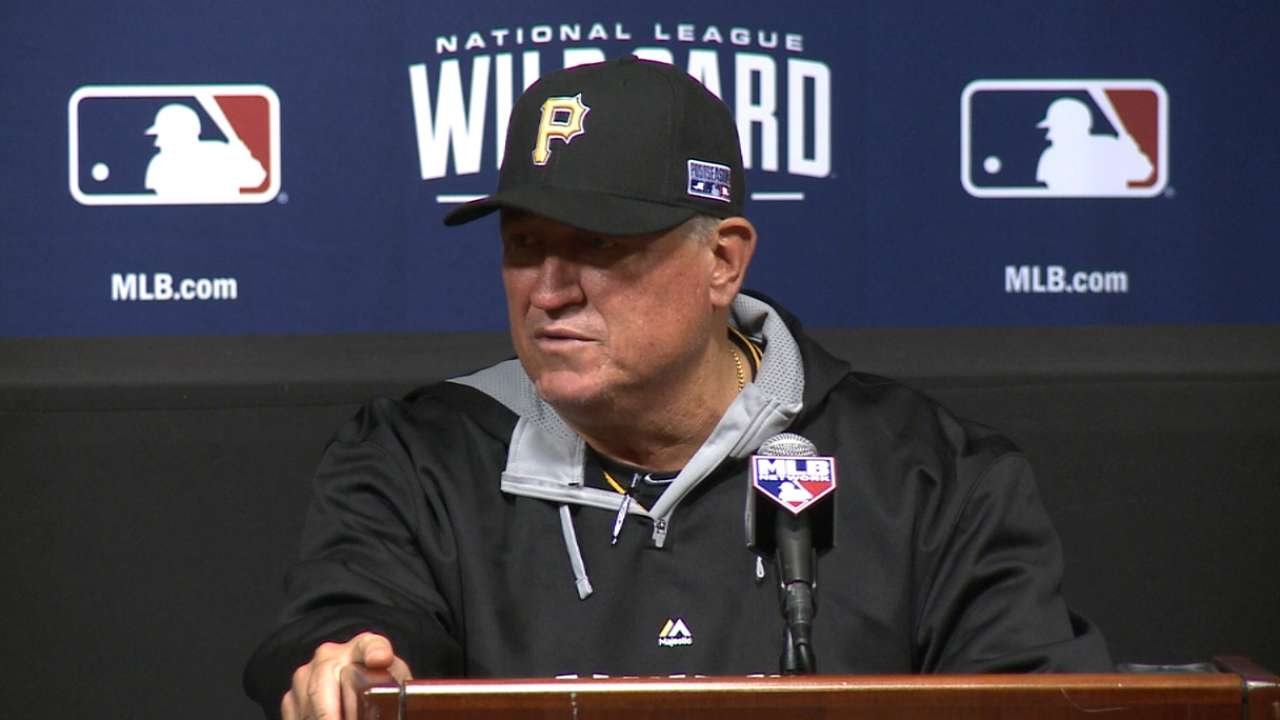 PITTSBURGH -- After two days of plots, subplots and plotting, Giants shortstop Brandon Crawford boiled the National League Wild Card Game down to a one-act drama. He took Edinson Volquez out of PNC Park, and took that notorious PNC Park crowd out of the game.
Crawford's fourth-inning grand slam Wednesday night also took the Pirates out of the 2014 postseason, dooming them to an 8-0 loss on Madison Bumgarner's four-hit masterpiece.
So while the Pirates try to get over a more inglorious end to their quest for October glory than last fall's five-game NL Division Series loss to the Cardinals, the Giants move on to Washington to meet the Nationals in the '14 NLDS.
"It's a game," manager Clint Hurdle said of baseball, echoing an oft-heard sentiment, "designed to break your heart."
Hurdle was not speaking of this specific game, too lopsided to smart, matching the Bucs' largest losing margin since May 31. But rather of the hopes squashed.
Making an early departure from a ballpark that had buzzed with the electricity plugged in by a record crowd, fans were already second-guessing Hurdle's decision to start Gerrit Cole in Sunday's regular-season finale rather than save his 97-mph heat for this game. However, the Wild Card defeat was not about Pittsburgh's pitcher, but about San Francisco's.
Figuratively speaking, the Pirates were asking, "Who was that guy?" It wasn't the one they had faced and defeated on July 28 in AT&T Park, or the one they had more recently scouted and discussed in their pregame meeting.
"It was a different game that he pitched, a different game than we'd scouted," Hurdle said, alluding to Bumgarner's pitching style. "He used all of his pitches. He was able to get his fastball in tight with the right-handers. He was able to spin the ball late. He also knew how to elevate. I mean, he had it working tonight."
"He was a little different than what we had on him," said Josh Harrison, who did have two of the four singles off Bumgarner -- not quite matching his 2-for-3 with a home run in that late-July meeting. "That's the name of the game ... making adjustments. In postseason baseball, he's not going to be the same as in the regular season."
"To me," said Jordy Mercer, the Bucs' biggest regular threat against left-handers, "he felt like a completely different pitcher. He was getting ahead and then throwing all his offspeed pitches where he wanted, keeping us off balance."
"Come Oct. 1, it's all thrown out the window," Harrison stressed. "It's totally different. It's almost like a chess match."
The Pirates got checkmated, and Bumgarner got knighted. The author already of an impressive playoff resume, Bumgarner turned in his first postseason complete game, walking one, striking out 10 and not letting the Bucs get a man as far as third base until it did not matter.
"Just knowing that you've been there before and knowing the success that we've had, it made a big difference for me," Bumgarner said.
The Giants doubled up on the scoring, after Volquez exited with no outs in the sixth, to save the Pirates from the sting of a one-swing exile from the playoffs. But with that one swing, producing the first grand slam by a shortstop in Major League postseason history, Crawford turned PNC Park from an airplane hangar into a library.
A park record of 40,629 wore black clothes and rose-colored glasses through three innings, as Volquez and Bumgarner matched zeros.
And then, the trap door out of October opened swiftly.
The heart of San Francisco's lineup set up Crawford by delivering on the threat implied by its track record against Volquez, who has made nine regular-season starts against the Giants since last beating them in 2008. Pablo Sandoval led off with a single -- his second hit of the game and eighth in 15 at-bats against Volquez. Hunter Pence, who has nine career RBIs against Volquez, also singled. Brandon Belt, a lifetime .474 hitter against Volquez, walked to load the bases.
Volquez attested to having intended to "go across the plate" on the 1-2 pitch to Crawford, "but the ball kept going to find his bat."
"Big swipe," Hurdle said. "Four‑run swipe right there. That one put us in the hole that eventually just got bigger."
Having to agree, Giants manager Bruce Bochy said, "It was huge. We're facing a guy [Volquez] that's been throwing the ball very well. You're looking for a timely hit, and we couldn't have gotten a bigger one there."
Bumgarner kept turning away the Bucs before and after Crawford's silencer. Through 5 1/3 innings, their only hit was a second-inning single by Russell Martin. They didn't get a man to second until they were already in a 4-0 hole, or a man to third until it was 8-0.
"We got outplayed," Neil Walker said. "Bumgarner went out there, he did what he wanted to do. He filled up the strike zone. He made it tough on us. He was good from the first pitch to the last pitch."
"We pushed the whole year. Fought and battled," said Volquez, long after having taken his walk off the mound still smiling over the roars that escorted him into the dugout. "I think we let the city down tonight. But it made me very happy and proud to get to pitch in front of everybody here."
Tom Singer is a reporter for MLB.com and writes an MLBlog Change for a Nickel. He can also be found on Twitter @Tom_Singer. This story was not subject to the approval of Major League Baseball or its clubs.