MLB.com Columnist
Lyle Spencer
Trout primed to assume Mr. October mantle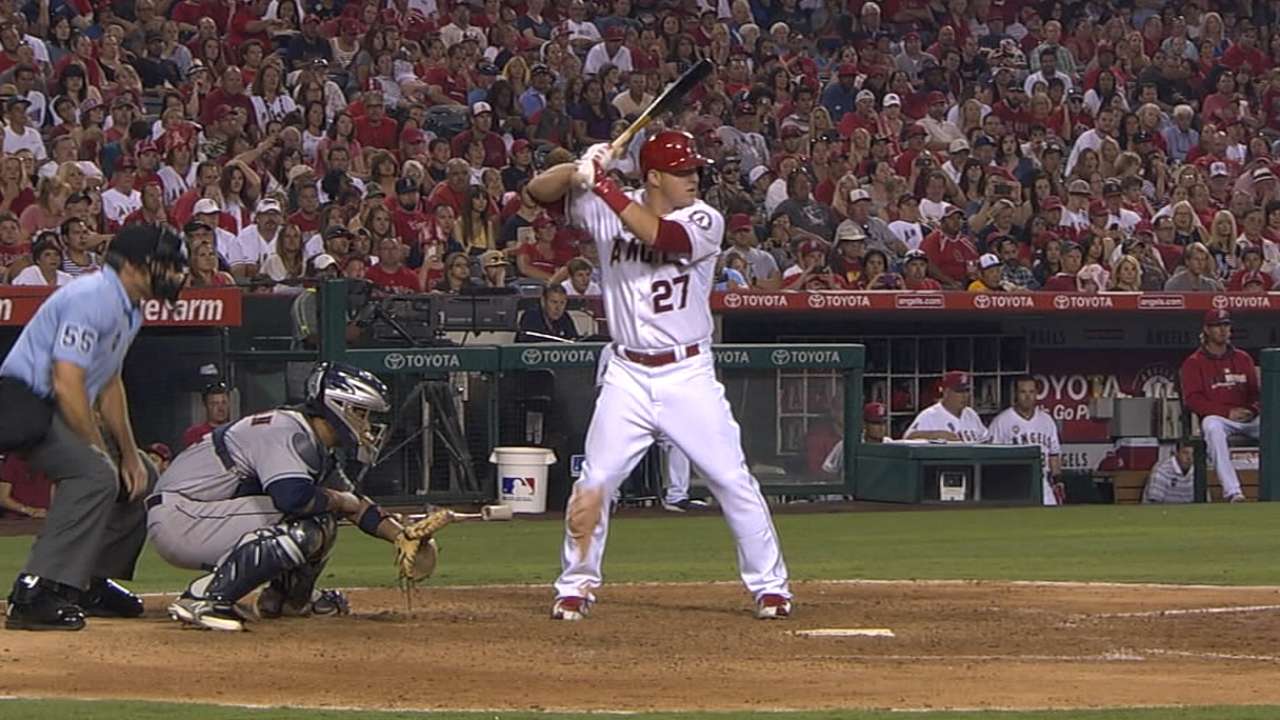 ANAHEIM -- It wasn't the first time third baseman David Freese had heard the question, but the Mr. October of the Cardinals' 2011 World Series championship slalom run was still amused.
Asked if Angels superstar Mike Trout had gone to him seeking insight on the eve of his postseason debut against the Royals on Thursday night in the American League Division Series, Freese smiled.
"He's a cool customer," Freese said. "He doesn't need to be told anything."
Pausing for effect, he added, "I'd probably be better off learning from him."
A fairly universal consensus has formed that the kid from Millville, N.J., is the game's best all-around talent at 23, the man most likely to succeed Derek Jeter -- Trout's favorite player growing up -- as the face of baseball.
George Brett, the Royals' driving force when they most recently graced the postseason, in their 1985 championship season, is sold on Trout -- hook, line and sinker.
"I think he is the best player in the game," Brett said. "Taking nothing away from the guys on our team, he's the best player in baseball. He hits for average, he hits for power, he runs, throws, fields. There is nothing he can't do."
When the Yankees visited Anaheim in May, another Hall of Famer, Reggie Jackson, raved about Trout for a good five minutes. The original Mr. October marvels at Trout's athleticism, demeanor, speed, strength and unflagging confidence.
"He knows he's good," Jackson said. "You can feel it in everything he does, but there's nothing arrogant about him. Trout has all these gifts and knows what to do with them. He's really coming into his power, and with that speed, he's the perfect three-hole hitter.
"He's in the elite of the elite -- and he's going to get better."
Batting second between Kole Calhoun and Albert Pujols, Trout led the AL in runs scored (115), RBIs (111) and total bases (338). His average (.287) fell and his strikeouts (184) rose, but Trout has Mr. October's approval without reservation.
"Trout's a run producer," Jackson said. "You want him swinging the bat. Nothing wrong with striking out when your job is knocking in runs."
The all-time leader, with 2,597 strikeouts, Reggie collected home runs (563) and World Series rings: five titles in five Fall Classics. He met the moment as few ever have.
He burns to be that kind of player, but Trout -- smart beyond his years -- understands that you can't force things in a sport in which less is often more.
"Sure, I'm excited, but you have to tell yourself it's just another game," Trout said. "Don't look into it too much, or you're in trouble. You can't put pressure on yourself."
He will carry to his first postseason at-bat, against former teammate Jason Vargas, the same mind-set he took to his debut in an Angels uniform in a Cactus League game at 18. He tripled to right-center in Tucson on March 20, 2010, against the Rockies.
"Even at that age he was confident," manager Mike Scioscia recalled. "Before [the game] we're talking around the cage, and I said, `Mike, hit a ball in the gap, are you thinking three?' He said, 'Absolutely. I hit a ball anywhere in the outfield, I'm thinking three.'
"He pinch-hits [and] hits a ball in the right-center [gap], and he has a standup triple. Actually, he makes a turn at third base like he's going to keep coming. He was pumped."
The 2014 All-Star Game MVP with a double and a triple, driving in two runs in a 5-3 win that gave the AL champion home-field advantage in the Fall Classic, Trout lashed a single off R.A. Dickey in 2012 in Kansas City in his first plate appearance in the Midsummer Classic.
"Good memories," he said, grinning. "This is like Opening Day, your big league debut. New season. Be yourself, have fun."
Freese, the 2011 World Series and National League Championship Series MVP, has watched Trout radiate good times from mid-February through September.
"The last couple of years, watching him on TV and playing against him last year, I'd see him smiling all the time," Freese said. "That's for real -- that's who he is. He loves the game. He'll be like this his entire career. It's something you don't see very often.
"His confidence is through the roof -- even when he's struggling. When guys go into slumps, it's more mental than mechanical. Albert can be 0-for-20, but he goes up there confident. Mike's like that. There's a way to go about it when you're not going well. That's what makes you elite."
Pujols encourages Trout to stay within himself under the bright lights.
"He doesn't need to be Superman to go out there and carry this ballclub," Pujols said. "We didn't win 98 games because he did everything. Everyone here has one piece in this puzzle to help this ballclub win the division. We just need to go out there and do the same thing."
Scioscia first saw something special in Trout, then a recent high school graduate, in an Angel Stadium workout after he'd been taken in the first round, No. 25 overall, in the 2009 First-Year Player Draft. He was 17.
"He was hitting balls opposite field out of the ballpark like a left-handed power hitter in the Major Leagues," Scioscia said. "We couldn't believe it. We kept saying, 'Wait a minute -- how old are you? That's incredible.'"
He's 23 now, ready to climb onto the big stage, the favorite to claim the AL MVP Award after finishing second to Miguel Cabrera the past two years.
Jeter, another legend sold on Trout, knows his game is in good hands.
Lyle Spencer is a reporter for MLB.com. This story was not subject to the approval of Major League Baseball or its clubs.