September stud Volquez stung by homer in October
After stellar month earns him Wild Card Game start, righty allows five runs -- four on one swing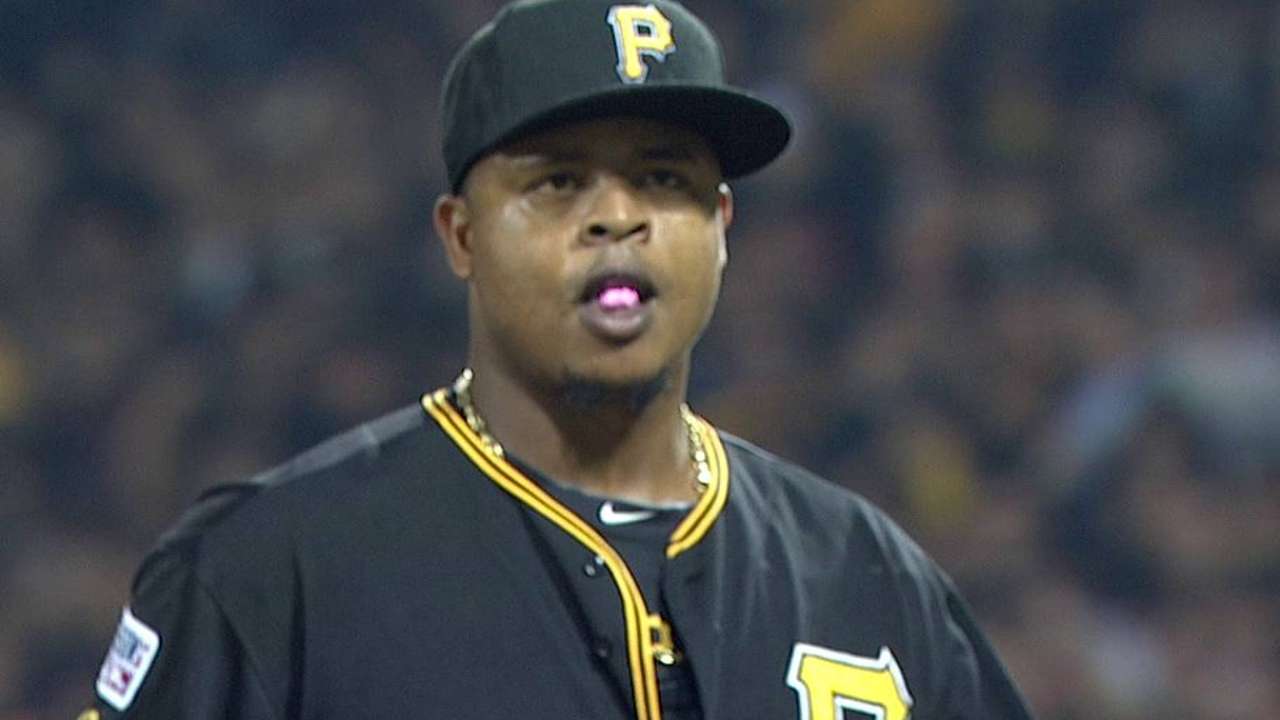 PITTSBURGH -- Pirates right-hander Edinson Volquez threw 83 pitches in the most important start of his career. There's one pitch he desperately wishes he could have back.
Volquez allowed a grand slam to Brandon Crawford in the fourth inning of Wednesday night's National League Wild Card Game against the Giants, by far the most impactful swing of an 8-0 drubbing. On a 1-2 curveball, Crawford lifted a fly ball to the seats in right field.
"[Missing the strike zone] was part of the plan. Make these guys chase, up in the zone," Volquez said. "Then I make a mistake to Crawford, and he hit it out -- it's part of the game. He put a good swing on the ball and hit it out. I was trying to get the ball to go across the plate, but the ball kept going to find his bat."
Catcher
Russell Martin
said that throwing breaking balls to Crawford was also part of the game plan. But the blast, which was the first postseason grand slam by a shortstop, silenced a record crowd of 40,629 at PNC Park and gave San Francisco a 4-0 lead. Volquez would be charged with another run in the sixth inning, as
Hunter Pence
-- whom Volquez walked to start the frame -- scored on a
Brandon Belt
single against reliever
Justin Wilson
. In five-plus innings, Volquez allowed five hits, walked three and struck out three.
"He had a lot of 3-2 counts. We didn't get at hitters as much as we wanted to, didn't really put them away," Martin said. "We had a few walks, they strung some hits together and one swing of the bat, it was a big blow. I felt like he competed."
The Bucs chose to start the 31-year-old -- who rejuvenated his career in Pittsburgh this season -- in the do-or-die game after they elected to throw Gerrit Cole on Sunday against the Reds with the chance of tying for the NL Central lead still in play.
Meanwhile, Giants ace Madison Bumgarner mowed through the Pirates' lineup, allowing just four hits in a complete-game shutout.
It happened to be Bumgarner's spot in the rotation for the Giants. And while Bucs manager Clint Hurdle took some outside criticism for starting Cole on Sunday, he stood by the decision.
"For me, it reinforces the fact of the importance of winning your division," Hurdle said. "If you don't have a chance to win your division, maybe you can make some other adjustments along the way to set up for a Wild Card Game."
Volquez was rested, and he also made his case with a 2.20 second-half ERA. Crawford's home run was the first against the right-hander since the Phillies' Freddy Galvis took him deep on Sept. 9. Volquez allowed just four earned runs in five September starts.
The last time Volquez surrendered four or more in an outing was on July 21 against the Dodgers. It was also the date of his last loss.
Stephen Pianovich is an associate reporter for MLB.com. This story was not subject to the approval of Major League Baseball or its clubs.