Weaver hungrier for title after two close calls
Angels ace matches up with former college teammate Vargas in ALDS opener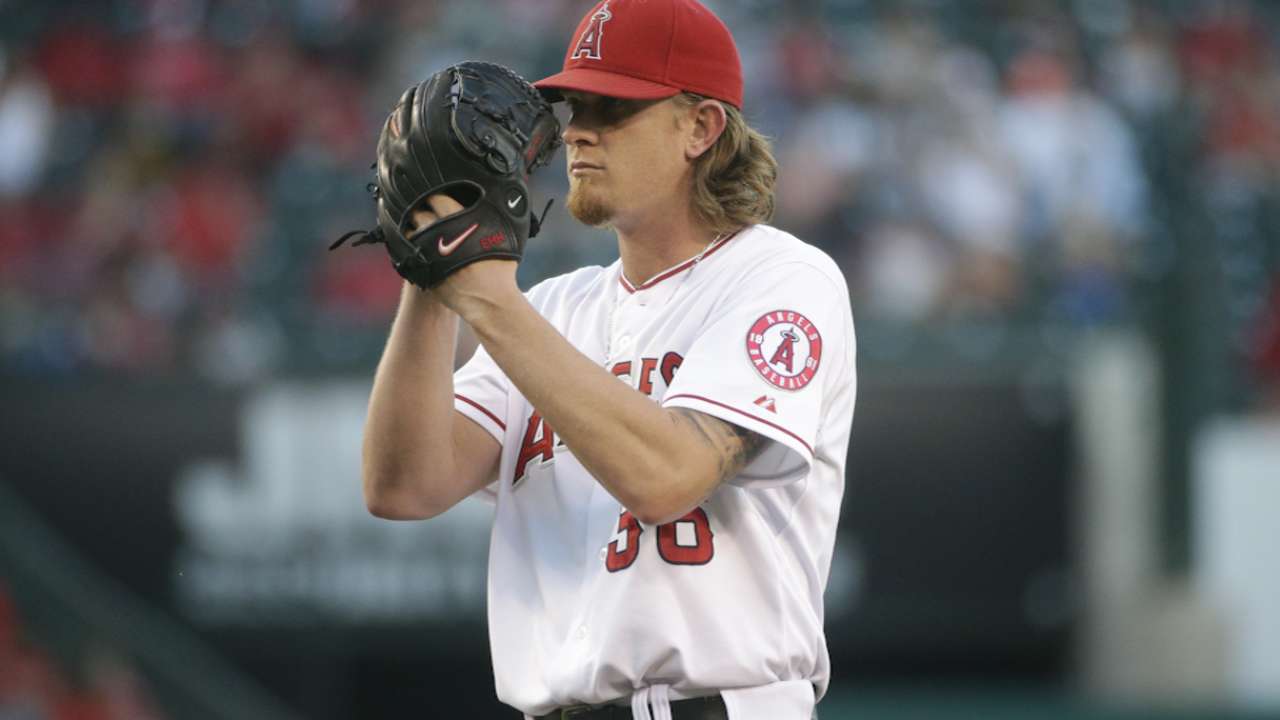 ANAHEIM -- Jered Weaver has been close enough to taste championships twice, in college at Long Beach State and with the 2009 Angels, only to fall short on each occasion.
Weaver was scheduled to go in Game 7 of that 2009 American League Championship Series, but the Yankees prevailed in Game 6 and went on to beat the Phillies in the World Series.
"I appreciate you bringing that up," Weaver, in a relaxed mood, said Wednesday in anticipation of his Game 1 start against the Royals on Thursday night in the AL Division Series (6 p.m. PT on TBS). "I think that just means I'm the bad-luck charm in everything."
Turning serious, he said, "Like you said, I've been really close in a lot of situations. In college, we were one game away from going to the World Series. Even getting as far as playing the Yankees there [at Yankee Stadium] and losing in that Game 6.
"I think that it just makes you strive for more. Obviously, the only thing I play for is to win, and that's all I've played this game for, is to win and the competitive nature of it. Whenever you fall short being that close, it pushes you to work harder for the next season and pushes you to get to that level."
Weaver faces former Long Beach State and Angels teammate Jason Vargas in Game 1 at Angel Stadium.
"We have that opportunity again to extend our season," Weaver said, "and it's up to us to try to decide on how far we want to go with this. We've got a great group of guys. It's been a fun clubhouse to be part of this whole season, and we're going to push on to get our main goal -- and that is to win."
Lyle Spencer is a reporter for MLB.com. This story was not subject to the approval of Major League Baseball or its clubs.