Royals' offense masters art of playing small ball
Aggressive running game, bunts all part of manufacturing runs for homer-starved club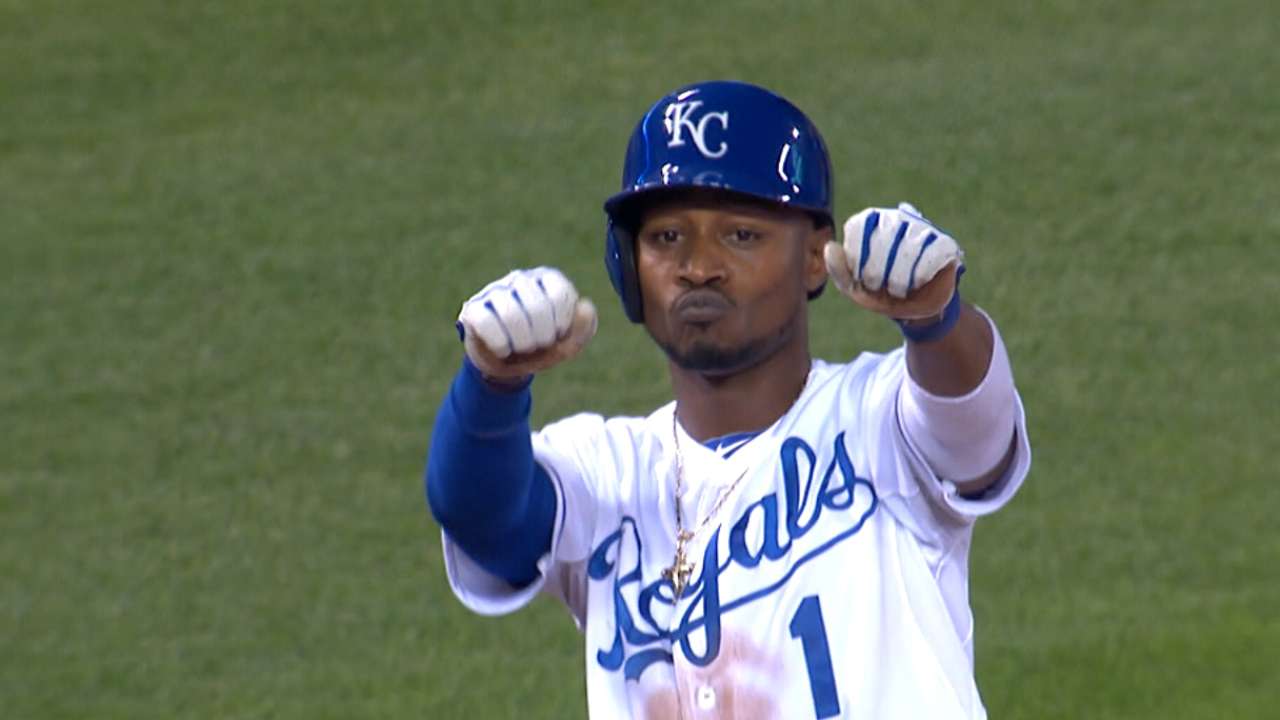 ANAHEIM -- Whenever they found themselves in a pinch during the regular season, the Royals reverted to small ball. And, sure enough, they stole and bunted their way to their first playoff berth in 29 years.
Down by four runs in the eighth inning of Tuesday night's American League Wild Card Game against Oakland, that wasn't about to change. And it's certainly not going to change moving forward, as Kansas City is set to open the AL Division Series against the Angels on Thursday night at 8:07 p.m. CT on TBS.
"We're not a home run-hitting team," Royals manager Ned Yost said at media day on Wednesday. "We can't sit back and wait for a three-run homer or a two-run homer. We've got to make stuff happen. We have to be aggressive on the basepaths, and we have to try to take advantage of every situation to get into scoring position."
Although some analytics-driven folks may cringe when Yost bunts or steals with so few outs to work with, there's no denying he has the perfect team with which to play small ball.
The Royals don't get on base at a particularly high clip (they finished 10th in the league at .314), and they finished last in the Majors in home runs, along with ninth among playoff teams in slugging percentage.
"That's just our team," said Royals left fielder Alex Gordon. "Everyone talks about how we don't hit a lot of home runs, and our field is a big field. So we know that the key to our team is putting pressure on the defense by bunting, stealing, making things happen."
More than anything, it's been Yost's decisions to bunt that have garnered him the most scrutiny. And while the merits of bunting in certain situations are certainly worth a debate, there are at least 25 people who aren't questioning Yost.
"When you're called on to do it, you have to be able to get it down," said utility man Christian Colon. "We've got a lot of guys that can do it. We take a lot of pride in that."
Colon was one of four different Royals hitters to record a sacrifice on Tuesday night, and he was one of seven to steal a base.
Six of the Royals' seven steals, which tied an MLB playoff record, came in the eighth inning or later, when outs were beginning to dwindle to a precious few. One of those steals -- Jarrod Dyson's swipe of third base with one out in the ninth -- was essentially a make-or-break moment for the Royals' entire season.
Risky? Sure. But clearly to Yost, they're risks worth taking, not only for the scoreline, but for the momentum swing it can have on a ballgame.
"Now it's a distraction to the pitcher, and now he's trying to focus on the baserunner," Yost said. "Even though they're four runs down, they still know they have to keep an eye on us, right? So it takes some of his focus off the hitter and gives us a bit of an advantage. That's our style of play."
Angels manager Mike Scioscia won a World Series in 2002 with a team predicated on aggressiveness. Now, he'll be tasked with finding a way to neutralize that.
"With that much team speed, obviously, they're going to put it to use, and we're going to have to contain it the best we can," Scioscia said. "But it's a big part of their offense.
They've got guys in the batter's box that can hit. Maybe what they missed in slugging percentage as far as not hitting the ball out of the ballpark, they made up for with the ability to manufacture. There is no doubt they can manufacture runs with anybody in our league."
AJ Cassavell is a reporter for MLB.com. Follow him on Twitter @ajcassavell. This story was not subject to the approval of Major League Baseball or its clubs.