Angels aim to avoid rust during downtime
AL West champs back to workouts after taking brief rest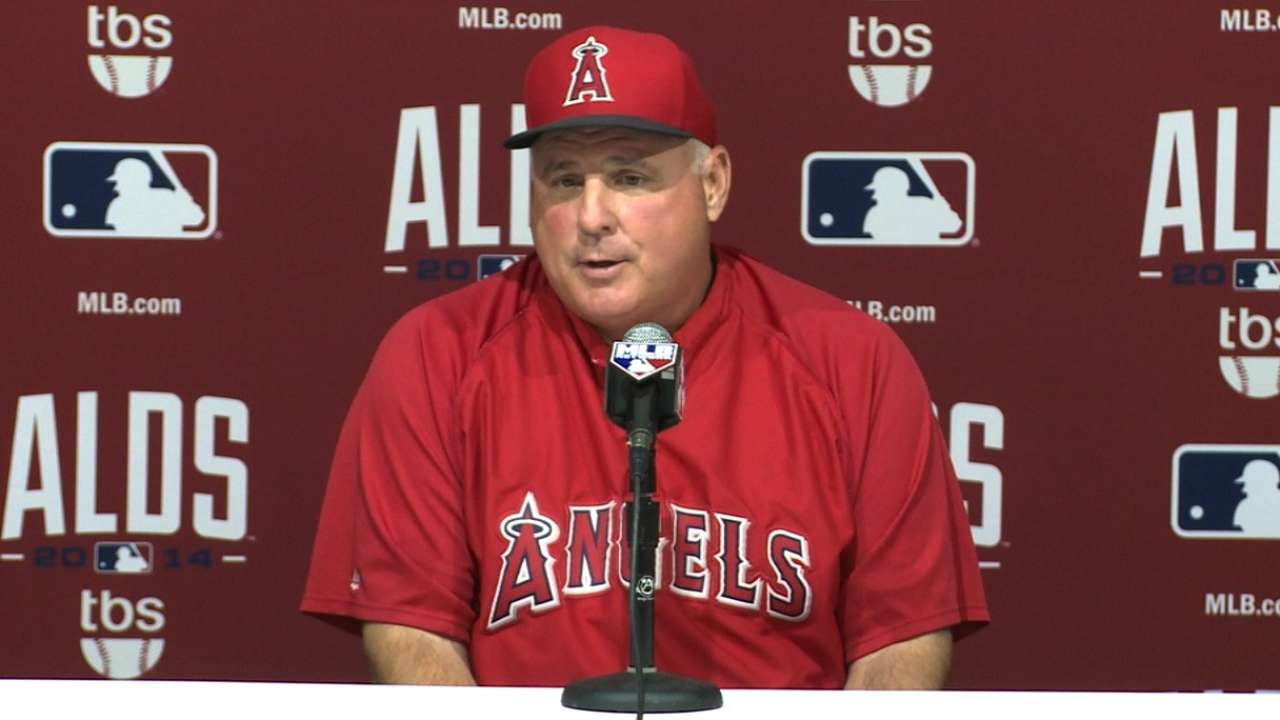 ANAHEIM -- As the Royals fought tooth and nail to make it to the American League Division Series with a 9-8 extra-innings win Tuesday night against the A's, plenty of Angels players and coaches were watching the contest from the comfort of their own homes.
"I was watching it as much as my little boy would allow me to," joked Jered Weaver, the Angels Game 1 starter. "I was kind of chasing him around and watching the game at the same time."
The Halos had little drama on their way to the ALDS, clinching the AL West on Sept. 17 and then home-field advantage throughout the playoffs on Sept. 26.
While the sleep-deprived Royals will have just one day between their AL Wild Card win and Game 1 of the ALDS on Thursday, the Angels will be playing on three days' rest.
"It is nice to win your division. You know that with the way the playoffs work now that you are going to get a couple of days off because of that. You get to relax and reboot your system," Angels third baseman David Freese said. "I know all about being hot coming in as a team and being a Wild Card team and this and that. Sometimes it has a benefit because you just get to keep playing and don't have to sit around and think about it.
"This is a pretty loose group, we always have been all year. A couple of days were good for us. We can rest up and get the body right to be ready for Thursday. Some pros and cons are to each side of it."
Angels manager Mike Scioscia knows the challenges of having such a large chunk of time off. As the longest tenured manager in the Majors, Scioscia has taken the Angels to the playoffs in seven of his 15 seasons.
While the Angels took Monday to relax, they had full workouts at Angel Stadium on Tuesday and Wednesday.
"Well, you have to balance. There is an absolute need after the grind of a season to catch your breath a little bit. I think we have worked out aggressively yesterday, have another one today and will be ready to go tomorrow," Scioscia said before Wednesday's workout. "There is not much more you can do to keep your edge.
"I think at that point of where you are in the season, our guys played all the way through the weekend. We really had one day off after we clinched, and that was it. I don't think that's much of an issue right now. I think our guys will be ready to go."
While the Royals and Angels have taken opposite paths to get to the ALDS, both teams come into Thursday's game with the same goal.
"We can't get complacent in what we do," Weaver said. "We have to go out there and not take anything for granted and go out there and try to pick up where we left off, and that's playing great baseball and battling as a team like we have been all year."
Quinn Roberts is a reporter for MLB.com This story was not subject to the approval of Major League Baseball or its clubs.