Crawford sparks Giants with first playoff slam by shortstop
Blast off Pirates' Volquez breaks scoreless tie, backs Bumgarner's gem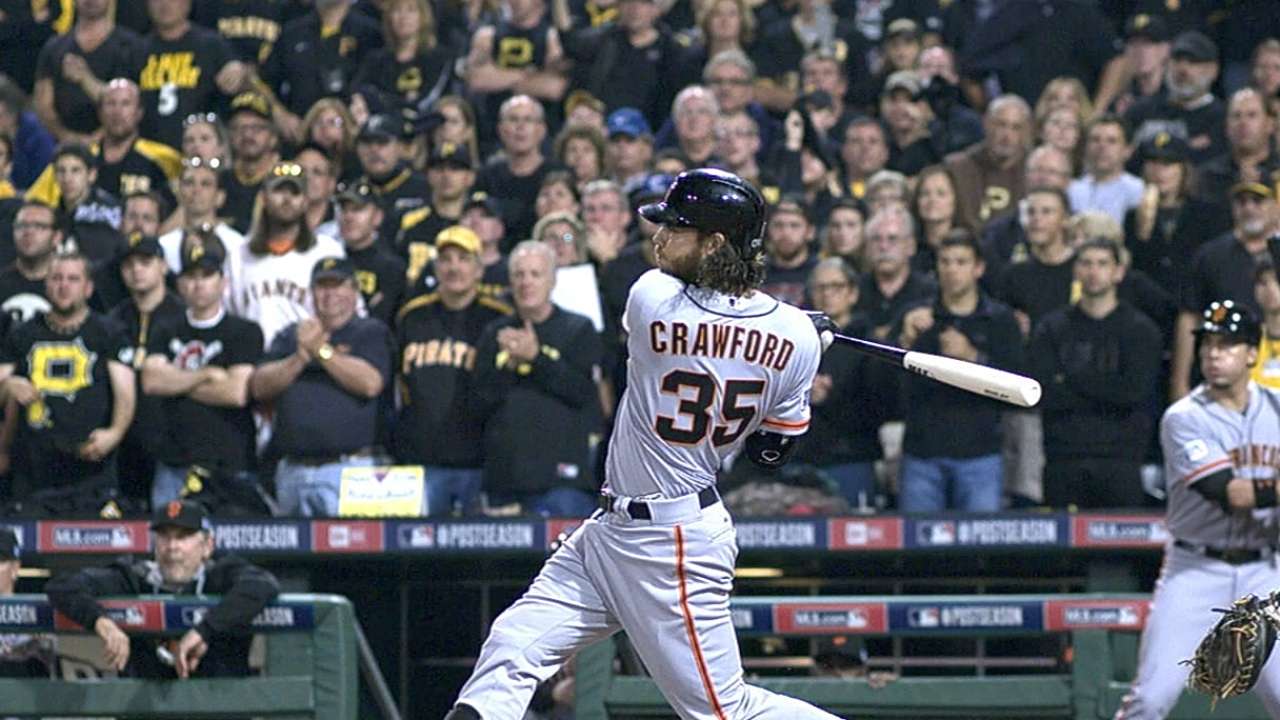 PITTSBURGH -- Giants shortstop Brandon Crawford broke open a scoreless game in grand fashion, becoming the first shortstop to hit a postseason grand slam as he crushed an Edinson Volquez pitch into the right-field seats in the fourth inning on Wednesday night at PNC Park in the National League Wild Card Game.
The slam, along with ace Madison Bumgarner's four-hit shutout, propelled the Giants to a resounding 8-0 victory, setting up an NL Division Series meeting with the Nationals.
"You know, it's obviously cool to do something like that," Crawford said when asked about being the first shortstop to hit a postseason slam, "but you can't hit a grand slam without the guys in front of you getting on base. So it's kind of a team thing in that sense and I'm just glad it helped us get a win. That's what matters, in the end."
Not only did Crawford's big fly get his name into the record books, but perhaps more importantly, it helped silence a raucous PNC Park crowd and put the Pirates in a hole from which they never recovered.
"Oh, it was huge," Giants manager Bruce Bochy said. "We're facing a guy that's been throwing the ball very well. You're just looking for a timely hit, and we couldn't have gotten a bigger one there. Crawford's been swinging the bat very well, so I was confident with him up there that he'd do something -- but I didn't know he would hit a grand slam."
Volquez, the Pirates' starter, had been locked in a duel with Bumgarner before running into trouble in the fourth. Pablo Sandoval and Hunter Pence started the inning with back-to-back singles before Brandon Belt worked his second walk of the night to load the bases.
"Those three guys ahead of me getting on with nobody out was huge and kind of set up that whole inning, set up that at-bat," Crawford said. "I felt pretty comfortable coming into that at-bat because of it. You get a little confidence when everyone in front of you gets on base."
That set the table for Crawford's first career postseason homer and third career slam. After falling behind in the count, Crawford jumped on a 1-2 breaking ball that just barely cleared the right-field fence.
"That one pitch changed the whole game," Volquez said, adding that he was actually trying to bounce the pitch and get Crawford to chase, but instead hung it over the middle of the plate.
Crawford's blast marked the first postseason slam by a Giant since Buster Posey hit one in Game 5 of the 2012 NLDS. That, too, was a winner-take-all game, putting Crawford and Posey in a select group of players. Only three other players -- Johnny Damon (2004 American League Championship Series), Troy O'Leary (1999 ALDS) and Bill Skowron (1956 World Series) -- have teed off for grand slams in do-or-die ballgames.
That said, Crawford is no stranger to postseason grand slams. Long before becoming the first big league shortstop to hit one in the postseason, Crawford hit a crucial grand slam as a member of the Class A San Jose Giants in the 11th inning of Game 3 of the 2010 California League Championship Series.
That one came on a night when Angels superstar Mike Trout collected four hits, including two homers, for the Rancho Cucamonga Quakes. One other notable participant in that game was Crawford's teammate Michael Sandoval, the older brother of Pablo Sandoval, Crawford's current teammate.
Crawford hit a career-best 10 home runs this season, bringing his career total to 26 entering the postseason. It's No. 27, though, that will go down as one of the biggest hits of his young career.
"That's definitely the biggest one I've ever hit at any level," Crawford said. "It's tough to put it into words, but anytime you can help your team win a game and advance in the postseason, that's why you play the game. Nights like this are why we play the game."
Paul Casella is a reporter for MLB.com. Follow him on Twitter @paul_casella. This story was not subject to the approval of Major League Baseball or its clubs.