Steinbrenner, Cashman working on new deal
Managing general partner apologizes to fans for Yankees missing postseason play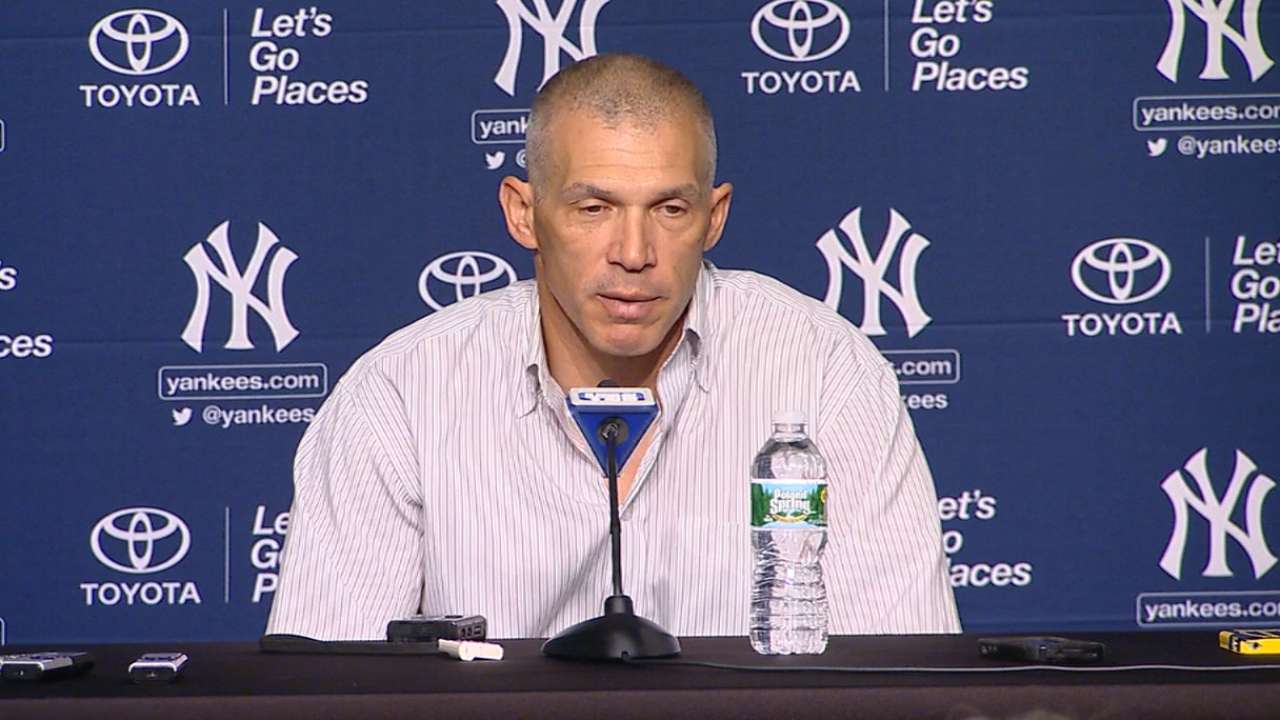 NEW YORK -- Yankees managing general partner Hal Steinbrenner apologized to fans for his team not making the playoffs for a second consecutive season and confirmed that the organization is working on a new contract with general manager Brian Cashman.
"I apologize. We did not do the job this year," Steinbrenner said Wednesday on ESPN 98.7 FM's The Michael Kay Show.
"We know what you expect of us, and we expect the same thing of ourselves, and we certainly did what we thought we could do in the offseason to field a pretty good team come April 1, but it didn't work out."
Despite a major spending spree that included the additions of Brian McCann, Jacoby Ellsbury, Carlos Beltran and Masahiro Tanaka, the Yankees finished with 84 victories, down from last season's total of 85. The Yankees had not missed the playoffs in consecutive years during non-strike seasons since 1992-93.
"I would hold me responsible before anybody else," Steinbrenner said. "That's the way it is. I approved every one of these signings. But I think they were good signings, and I think they'll turn out to be good signings."
Steinbrenner acknowledged that underperformance from the middle of the batting order was a prominent issue for the '14 squad, and said that he believes McCann and Beltran will have better performances in 2015, also mentioning first baseman Mark Teixeira in that group.
Steinbrenner said that the team and Cashman are in discussions about a new deal, and it appears that Cashman is on track to return to the GM position he has held since replacing Bob Watson in February 1998. Cashman's three-year, $9 million contract expires on Oct. 31.
"Brian and I are talking," Steinbrenner said. "We look at the overall responsibilities of a general manager, and especially being one in New York. Brian, I believe, is a good one. I always have believed that. He does a good job.
"Every general manager has signings. Some work out better than others, but everything he did in July, for the most part -- bringing in [Chase] Headley, bringing in [Brandon] McCarthy, [Martin] Prado -- I think they all helped the team stay in it."
Asked specifically about the job security of hitting coach Kevin Long, Steinbrenner said that no decisions have been made regarding manager Joe Girardi's coaching staff.
"Rest assured, we're going to get to the bottom of it," Steinbrenner said. "And if I do deem that somebody is liable, or if I do deem that somebody is responsible, that things could have been better, I will act."
Steinbrenner agreed that he handles such situations more methodically than his late father, George, was known to do.
"I don't think it's a news flash that I'm different from George in a lot of ways," Steinbrenner said. "He was better at many things than me, without a doubt, but I do tend to be a little less rash when it comes to firing people. I want to make sure that what went wrong was wrong for a reason."
The Yankees project to be active this offseason in several areas. Steinbrenner said that the Yankees will seek a shortstop to replace retired captain Derek Jeter and they need a starting pitcher to fill out the rotation, with Ivan Nova not expected to return from Tommy John surgery until at least May.
"We've got to have a good balance of young players and seasoned veterans," Steinbrenner said.
Steinbrenner said that third baseman Alex Rodriguez is working hard to return, but that the organization is unsure of what he will be able to contribute after missing all of 2014 due to suspension.
"He always comes into camp fit, so we know that's going to be the case, but he's also the age that he's at with two operations in the hips and hasn't played baseball for over a year," Steinbrenner said. "So I don't think we can have any expectations. Let's just hope he's healthy and let's try to put the past behind us. If he's healthy, he can contribute."
Bryan Hoch is a reporter for MLB.com. Follow him on Twitter @bryanhoch and read his MLBlog, Bombers Beat. This story was not subject to the approval of Major League Baseball or its clubs.