Hosmer the key middle man in Royals' quest
First baseman's hot September a precursor to Wild Card success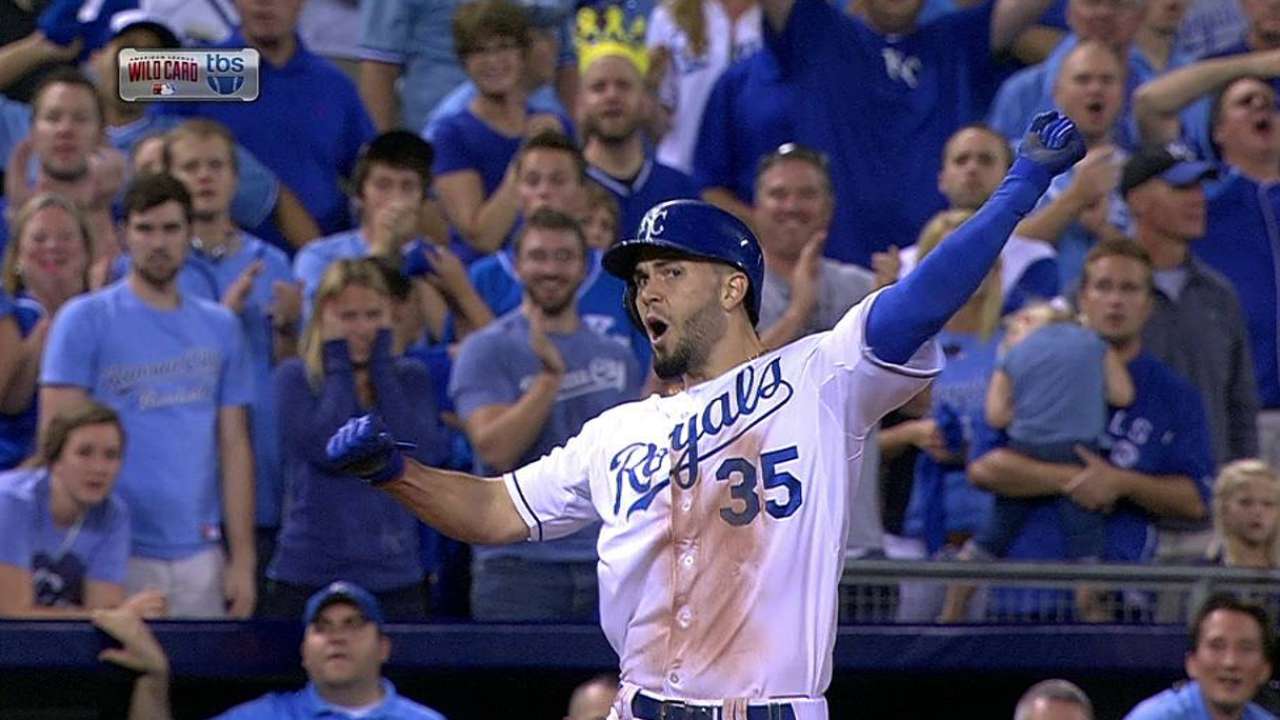 ANAHEIM -- Eric Hosmer could be a very big part of the Royals' first October run -- and it finally is October -- in decades.
The step into meaningful October baseball began on the last night of September and ended just before midnight -- the incredible 12-inning, 9-8, Wild Card win over Oakland.
Hosmer pulled on his shirt after Wednesday's early afternoon workout at Angel Stadium and pondered the heart-pounding victory that put them into the American League Division Series. Immediately after the champagne celebration the players jumped on a charter jet and headed for Anaheim and the ALDS against the Angels.
"Obviously getting in very late and getting done with the workout now, I think it's kind of starting to settle in for a lot of guys. Not just us but for you guys [reporters] and the fans, for everybody," Hosmer said.
"It was a pretty special moment, not just baseball games but one of the crazier sporting events that's happened in a long time. Unreal and a lot of emotion."
Hosmer's dark eyes flashed with happiness as he thought back on the "unbelievable" event.
"The cool part was that everybody on the team had their moment, whether it was [Jarrod] Dyson with a steal or [Brandon] Finnegan just getting drafted and coming in. And really everyone did it with the season on the line so it shows a lot of character in a lot of guys," Hosmer said.
"The list goes on, it really does. It's crazy."
Hosmer is certainly on that list. It was his triple, a soaring shot off the left-center wall, that ignited the Royals' winning two-run surge in the 12th inning.
"I knew I hit it good but, obviously in Kansas City at night, you've got to get it more than good to get it out of there so once I saw the ball hit the wall, I just put my head down and ran as fast as I could," Hosmer said.
From third base he scored on Christian Colon's infield chopper. Then Colon stole second base and scored the game-ending run on Salvador Perez's single.
This has been a strange year for Hosmer. He had a slow start at bat, then when he was really picking it up he was hit by a pitch. That caused a hairline fracture of the right hand and soon he was on the disabled list for the entire month of July.
At least he spent the month wisely, studying how other good hitters managed to get their hands in an early launch position, a factor that he sometimes got away from.
"It was getting him back to where he was in 2011," hitting coach Dale Sveum said.
The was a good model year because Hosmer was a rip-roaring rookie success with a career high 19 homers along with 78 RBIs and a .293 average.
Sveum said Hosmer studied well and made the necessary adjustments. After coming off the disabled list, he hit .309 in September (counting the Wild Card Game) with 13 extra-base hits, 13 RBIs and an on-base percentage of .376.
"Well, he's been huge," manager Ned Yost said.
Since Yost juggled his lineup to put speed at the top with Alcides Escobar, Nori Aoki and Lorenzo Cain, Hosmer has most often been swinging fourth.
"We know what type of hitter Hoz can be when he's hot," Yost said. "[Tuesday] night was a huge night for us. But to get us to last night, Hoz plays a big part in that. Since we've changed our order, the top of the lineup has been very successful. …We need production from the middle of our order."
Most often these days, they're getting it from Hosmer.
Dick Kaegel is a reporter for MLB.com. This story was not subject to the approval of Major League Baseball or its clubs.