Ryu tosses 45-pitch sim game in bid for Game 3 start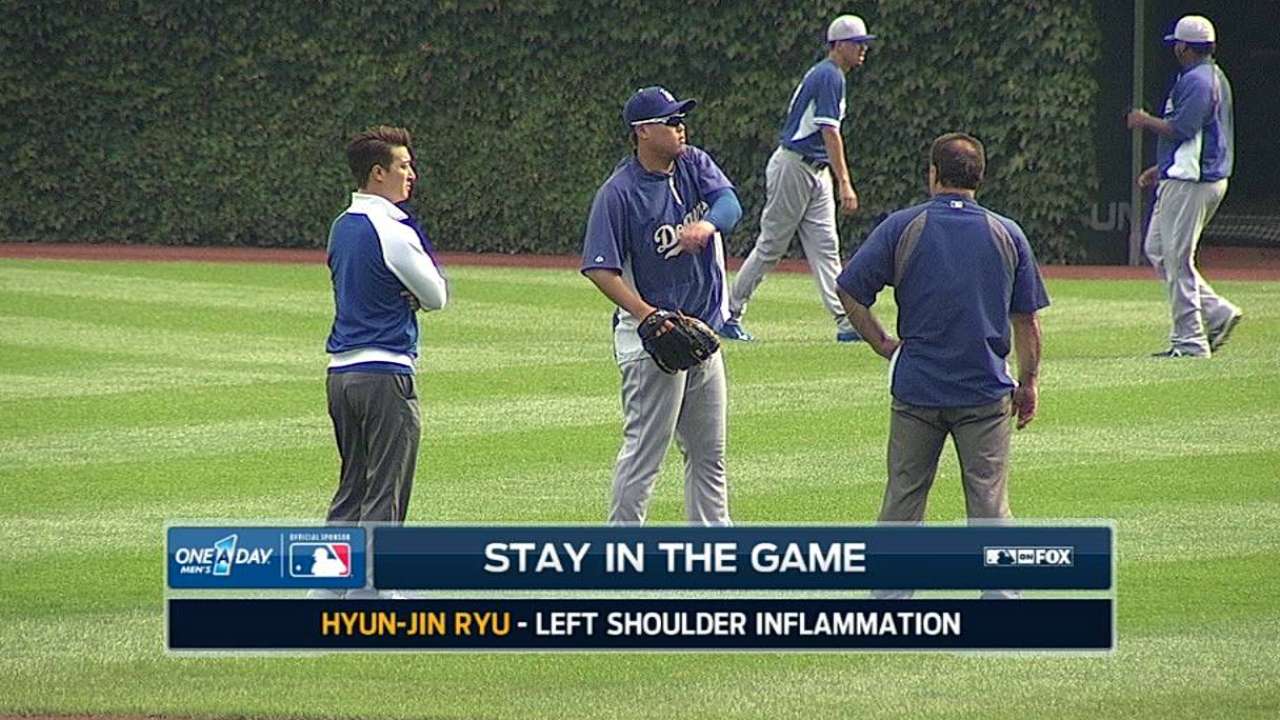 LOS ANGELES -- Hyun-Jin Ryu threw a 45-pitch simulated game on Wednesday, according to the Dodgers, who closed their Dodger Stadium workout to the media.
"Ryu was at his normal velocity and used all of his pitches with no problems before, during or after with his shoulder," a statement read. "He will be re-examined tomorrow to determine how the shoulder responded. Ryu faced several Dodger hitters, including Matt Kemp, Yasiel Puig, Andre Ethier, Carl Crawford, Dee Gordon and Scott Van Slyke."
Ryu hasn't pitched since leaving after one inning Sept. 12 in San Francisco with a sore left shoulder -- the second time this year he had been sidelined with the injury. He also was on the disabled list Apr. 28-May 21 because of the shoulder.
This time Ryu took a cortisone injection and has made steady progress, but Wednesday was the first time he faced hitters. If he comes out of the test without a setback, he is expected to start Game 3 of the best-of-five National League Division Series in St. Louis on Monday.
Manager Don Mattingly, however, has not even announced that Clayton Kershaw would start Game 1 on Friday and Zack Greinke would start Game 2 on Saturday night. Withholding announcements of probable starting pitchers until after their opponents is routine for the Dodgers.
Dan Haren is likely to be on call for Game 3 if Ryu is unable to pitch at any point, while Kershaw has been preparing for this series as if he will return to start Game 4 on three days' rest, as he did last year in the Division Series against Atlanta.
The Cardinals have already announced they will start Adam Wainwright, Lance Lynn, John Lackey and Shelby Miller.
The Dodgers were to work out Tuesday, Wednesday and Thursday, but Mattingly locked out the media Wednesday, saying he wanted his club "to relax."
"There's no reason for you guys to be here every day, talking about the same things," Mattingly said. "I don't want to be dealing with people all over the place when we're working on bunt defense and pickoffs."
Mattingly didn't say there was a linkage, but after losing last year's NL Championship Series, some Dodgers were convinced that the Cardinals stole signs and relayed them to hitters.
Ken Gurnick is a reporter for MLB.com. This story was not subject to the approval of Major League Baseball or its clubs.