R.B.I. Pie: Jones out to make victory sweeter
Orioles star aiming to taste postseason -- and video game -- success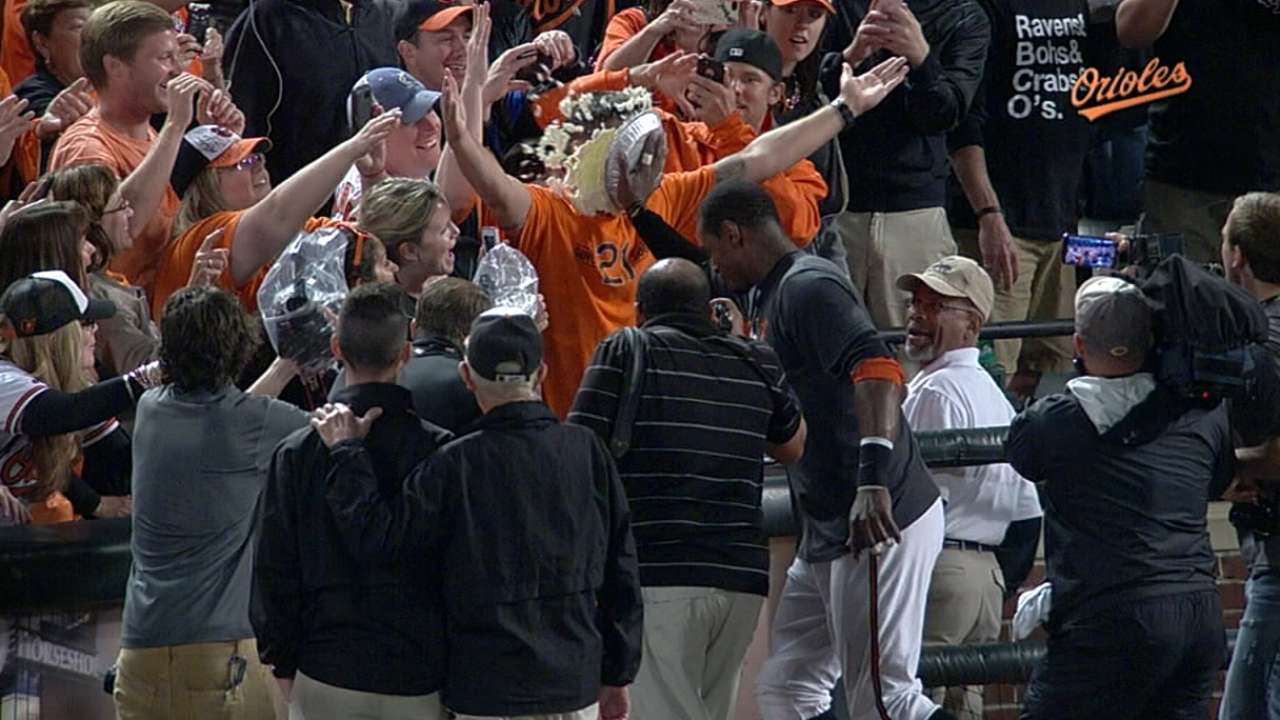 It's been over two weeks since Adam Jones pied just about everyone in sight at Camden Yards, from Orioles teammates (including Nick Markakis holding his baby) to random fans. Now that the American League East champions are about to open their AL Division Series at 5:30 p.m. ET on Thursday at the scene of the cream, it seems like everyone wants in on the action.
The four-time All-Star is a Major League Baseball player spokesperson for R.B.I. Baseball 14, the classic video game that was relaunched this season by MLB Advanced Media and is available now at the low price of $19.99 for consoles and $4.99 for mobile phones. Not only is that video game being used to simulate the forthcoming action this postseason, but it turns out that a good triumph in R.B.I. Baseball also can lead to a pie in the face, as Jones demonstrated during a visit to the MLB.com studios this past week in New York.
"He pied me so hard," said MLB.com staffer Arturo Pardavila after standing up to celebrate, "I felt like I was on the field after a walk-off win."
Ah, the fruits of victory.
Seriously, Jones has a pie style all his own. Can you imagine if the Orioles win the World Series? He would be Pie Traynor by then, greeting crowds with a bake sale. That night at Camden Yards there were cream pies, fruit pies, custard pies and eventually shaving cream pies. Whatever the Dangerously Delicious Pies shop had made available in the clubhouse, he was holding it and smashing it into faces. Real game, simulated game, it doesn't matter.
"I invented pies after the game," Jones said. "It's like a welcoming thing. You're going to get a velv-ilicious pie. I can't see anything wrong with that. Any celebration, it's good to have fun. At the end of the day, it's a game, obviously it's a job to us, but it's a game, and you take it seriously. But we're going to laugh and smile and enjoy ourselves, because we're big kids just doing what we want to do."
At the R.B.I. Baseball 14 HQ in Manhattan, Jones actually challenged the U.S. President to a game and was clearly eager to pie someone. He was happily obliged, at least for the latter. But in an interview before that messy scene, he indicated that he never before had actually turned to the person he was playing and pied him or her.
"I've never pied anybody after a game of R.B.I. 14 due to the fact that I haven't had any walk-off wins," Jones said. "They were convincing. So a celebration ... you don't get a pie in the seventh."
An MLB.com social media staffer approached Jones with a mobile phone that was wrapped in cellophane, and asked Jones if he would please pie his device.
"I'll pie anybody," Jones said, promptly leading to a nice Vine.
There is pie face, though, and there is game face.
Jones has his game face back on now. He and the Orioles will have their work cut out, facing three consecutive former Cy Young Award winners out of the gates. In Game 1, the Orioles face Max Scherzer, who won 18 games in his follow-up to an AL Cy Young season. Then comes Justin Verlander, who finished strong, and David Price in Game 3.
Baltimore is hoping to reach its first AL Championship Series since 1997 and its first World Series since it won it all in 1983.
"Our expectation [for the postseason], obviously, is to win, that's first and foremost," Jones said. "But I think our expectation is to play our style of baseball. If we play our style of pitching, play defense, force the issue when we're getting on bases, we control our own destiny. Obviously we're going to be going up against a team that can do the same thing. So it's going to be execution. Whoever executes the best is going to put themselves in a situation to win the game. We have to take advantage of situations. Not necessarily feel like we have to do it, but it's OK to pass the baton.
"We just come out every day ready to go. It's no riff-raff. We have fun, but once that national anthem is sung, everybody straps it on, and is ready for [business]."
Jones finished the regular season with 29 homers -- including that notable one in the dramatic finish of Derek Jeter's home finale -- and 96 RBIs. It was another durable regular season (159 games) with an OPS+ of 118 that matches his previous year.
"When I'm hitting, there's really no special technique," Jones said. "My mindset is to get a fastball that's out over the plate and try to line-drive it right back through the box. Wherever it goes after that is really none of my concern. As long as it goes somewhere where I don't really feel it off the bat, that means I hit a line drive."
That's his approach to real hitting on the field. As for R.B.I. Baseball 14, he said he typically goes for Clayton Kershaw and the Dodgers.
"During the game, I'm coming with heaters," Jones said of his video game strategy. "I'm using Kershaw, he's throwing 95 in the game, right inside, outside -- he can make the ball cut across the whole screen. Kershaw, you can't hit him."
It's time to watch guys like Jones and Kershaw, on and off the field. And no matter where it is, this much is certain. There will be pie.
Mark Newman is enterprise editor of MLB.com. Read and join other baseball fans on his MLB.com community blog This story was not subject to the approval of Major League Baseball or its clubs.