MLB.com Columnist
Anthony Castrovince
Duquette has made the most of second chance in game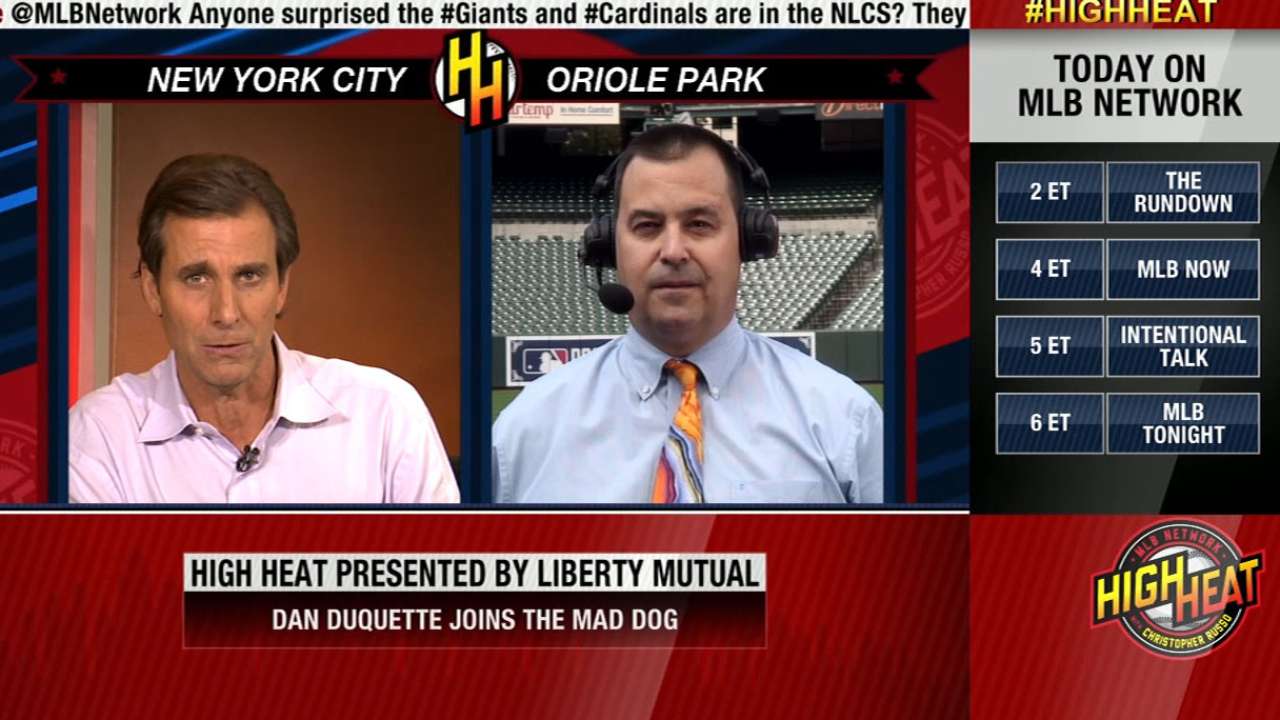 BALTIMORE -- The most interesting man in baseball stood in his typically unstylish attire. Eyeglasses atop his head, plain black slacks, buttoned-down collar wrapped around a regrettable green tie ripped out of the pages of an early '90s Sears catalog. What makes the outfit, though, is the outer layer -- a black hooded sweatshirt with orange script that read "October."
Dan Duquette was standing outside the Orioles' home clubhouse on the eve of the playoffs, wearing that new item of clothing proudly. He had earned it, just as he's earned the right to an "I told you so" directed at the many in and around the industry (and in that very clubhouse, for that matter) who questioned the O's decision to pluck him out of the Major League ether and install him in the general manager's chair three years ago.
Duquette won't utter those words, of course. That's not his style, for one. And besides, two postseason appearances -- including a 2014 AL East title won by a country mile and, now, Baltimore's first American League Championship Series appearance in 17 years (Game 1 is Friday at 8 p.m. ET on TBS) -- speak for themselves.
"Our GM," said star center fielder Adam Jones, "is about as awkward as they come. But when it comes to understanding baseball and how to organize a team, he's made it work."
He's made it work despite a decade -- an eternity in professional sports -- outside the game. The O's, under Duquette and manager Buck Showalter, have often been lauded for their ability to turn undervalued assets -- particularly six-year Minor League free agents -- into viable Major League pieces. And if Duquette has a particular appreciation for undervalued assets, it's undoubtedly because he was one himself.
"We try to be very resourceful and avail ourselves to all the resources, statistics, player performance, video, personal observation, veteran baseball people, intuition, all those things," Duquette said. "When I came in, I just said [that] we're going to try to have a good team every year. I'm going to use the same fundamentals Harry Dalton [architect of the great Orioles teams of the late 1960s and early 1970s] taught me when I worked for him with the Brewers. The fans understood what that was -- or at least one generation of fans did. We wanted to have as strong a team every night as our resources would allow."
Duquette had demonstrated an ability to make the most of his resources as GM of the Expos (where he succeeded Tigers GM Dave Dombrowski) in the early 1990s and with the Red Sox in the latter part of the decade. He built that great 1994 Expos club, which became one of baseball's greatest "what ifs." And his stamp -- from Pedro Martinez to Manny Ramirez to Tim Wakefield to Jason Varitek to Derek Lowe to Johnny Damon -- was all over the 2004 Red Sox, who finally broke the "Curse of the Bambino."
Alas, they broke it without him.
Duquette, a lifelong Red Sox fan, had been let go from the only job he'd ever wanted in late 2002, after John Henry bought the ballclub. Duquette was blindsided by the dismissal, having been reasonably certain he was headed toward team presidency, not the unemployment line. The industry perception of him as aloof and unresponsive -- criticism that was, in many ways, unfair, as Boston's previous owners had instructed him to devote much of his time to what turned out to be an unfruitful new stadium project -- came back to bite him.
There's not necessarily a picture of perseverance and pluck to be painted here. Because he wasn't blessed with extremely outward people skills, the ability or desire to routinely sell himself or even the willingness, with a growing family, to make a truly aggressive attempt at another GM post, Duquette merely maintained a presence on the fringes of the sport. He started the Dan Duquette Sports Academy in Hinsdale, Mass., just down the road from his native Dalton. He purchased a summer squad in the New England Collegiate Baseball League and a Can-Am independent club called the American Defenders. He initiated the short-lived Israel Baseball League.
"It's not like he went off to another country," said his cousin Jim Duquette, himself a former big league executive and current analyst for MLB Network Radio on Sirius XM. "He didn't go to Australia or Siberia. He was around the game. He still maintained season tickets for the Red Sox, so he was there. He was still in tune with the game, and he was certainly bright enough to keep an eye on the changing trends."
And yes, he kept his eye on those Red Sox, who went all the way with the club he had helped build.
"He'll get mad at me for saying this," Jim Duquette said, "but the organization still hasn't given him a ring for that, and they should. They've done a lot of good things over the years, but that, to me, has been an oversight."
Duquette's time in the wilderness looks like an oversight, in retrospect. Still, he kept busy in baseball any way he could. He even did so on stage, playing the role of Manager Benny Van Buren in a 2003 Pittsfield, Mass., community theater presentation of "Damn Yankees," in which he belted out an inspired -- if not truly tonal -- version of "You Gotta Have Heart."
"The reviewer described my performance as 'stiff,'" Duquette said. "Well, hell, I had heard that all those years in Boston."
By the time Duquette's second son was graduating high school in 2010, he felt ready and willing to actively pursue a Major League gig again. At the end of the 2011 season, the Orioles were looking for a new front-office leader, and the general perception was that nobody with any clout wanted it.
"We had Buck, who was known as not being an easy guy to work with," Jones said. "We had [owner] Peter Angelos, who was not known as a fun guy to work with -- a great guy to work for, but not always a fun guy to work with, when you're trying to get the job."
Down the list the O's went until, finally, Duquette talked his way into an interview.
"Why didn't I think of that in the first place?" Jim Duquette remembered thinking. "It's one of those things where the decision after the fact makes sense. But at the time you're blinded by contemporary or conventional thinking. But think about it: Find a bright baseball executive who has had a track record of winning that would love a second chance. Well, that's the definition of my cousin."
Duquette has clearly made the most of this second chance. He and Showalter are an odd pairing, polar opposite personalities that they are. But they make it work because of the respect they demonstrate toward each other in their discussions, and the decisions are made collectively.
"That," Jones said, "is the beauty of business."
And Duquette's beautifully abstract path, from castaway to champion, has made him arguably as interesting as anybody in this business. Maybe the résumé is as awkward as the attire, but Duquette has made it all look dashing.
Anthony Castrovince is a reporter for MLB.com. Read his columns and follow him on Twitter at @Castrovince. This story was not subject to the approval of Major League Baseball or its clubs.