Tillman belongs in conversation of elite pitchers
Ace's long journey leads to starting nod in Game 1 of ALDS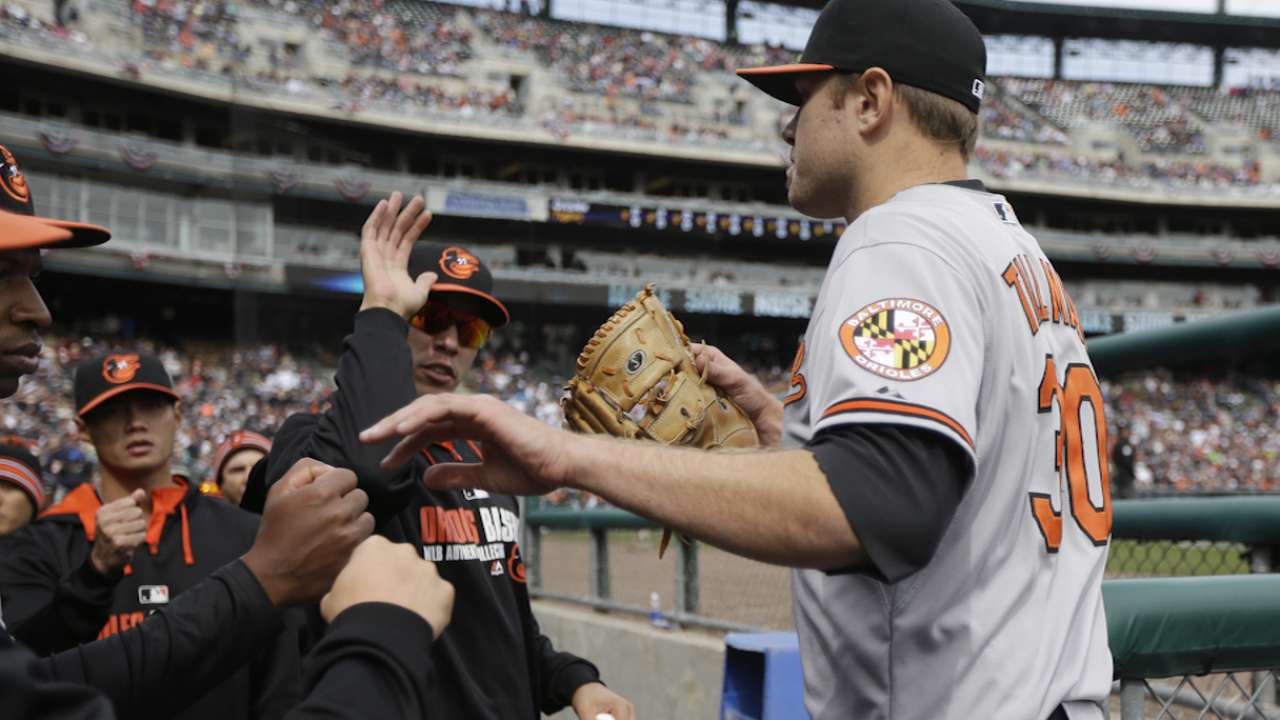 BALTIMORE -- In a matter of two years, Chris Tillman has gone from a forgotten piece on the Orioles' postseason roster to the obvious choice for Game 1 starter of the American League Division Series vs. Detroit.
The last time Baltimore qualified for the postseason, Tillman was on the ALDS roster but didn't see any action. He was passed over in favor of veteran left-hander Joe Saunders in Game 4, but the way things stand now, there's nobody manager Buck Showalter would rather have on the mound.
Tillman often gets overlooked in conversations about the best pitchers in baseball, but that's the company he belongs in after a pair of impressive seasons at the front of the Orioles' rotation.
"It has been a journey, to say the least," Tillman admitted during a news conference on the eve of Game 1. "I had a couple of rough years early on and kind of turned things around come 2012. I think that goes to show where the organization is at, not just personally, but all the way throughout.
"We've done some big things defensively that helped the pitching staff, helped all of us, really. And for myself, I think, like I've always said, it's a big puzzle and you're trying to find the pieces to it and put the puzzle together."
On the surface, Tillman's numbers this season look almost identical to his breakout 2013 campaign. The 3.34 ERA is slightly lower than last year's mark of 3.71, but the innings pitched, hits allowed and walks are essentially the same. It's the type of repeat performance the Orioles were hoping for heading into the season, but it wasn't always smooth sailing.
Prior to the All-Star break, Tillman was 5-4 with a 4.11 ERA in 15 starts. His normally reliable command was off, and as a result, there was a stretch from May 11 to July 2 during which he walked more batters (30) than he struck out (27). That certainly could have led to concern within the organization, but it didn't last long.
Tillman dramatically turned things around in July and ended up going 6-1 with a 2.33 ERA in the second half. Part of that coincided with Baltimore's decision to make Nick Hundley his personal catcher, and in 13 starts together, Tillman struck out 70, walked 17 and limited the opposition to hitting .221 with a .604 OPS.
Hundley is quick to downplay his role in Tillman's turnaround, but it's obvious the two have found something that works. Over the final several months, Baltimore's ace has been as good as ever.
"I think he is just a really hard worker," said Hundley, who began exclusively working with Tillman on July 23. "His talent is really immense. I don't think he gets the credit he deserves for how good he is, which is fine. That's the way it is. But at the same time, this is a tough game.
"You don't roll out here and put up Nintendo numbers like he has for the past three-four months without being really good. It's just the ebb and flow of the game, and he's kind of in a nice little zone right now and we're going to try and keep that going."
Since his turnaround, Tillman hasn't just been effective, he has been borderline dominant. He allowed three runs or less during a span of 20 starts from June 10 to Sept. 20. That finally came to an end during his final outing of the season against Toronto when he allowed four runs over six innings, but by then, the California native had already found himself in some elite company.
The 20 consecutive quality starts tied for fourth on the club's all-time list. Left-hander Dave McNally (May 19-Sept. 8, 1968) and Carl Weilman (April 14-Aug. 19, 1914) share the franchise record with 25 consecutive starts of three runs or less while Eddie Plank sits third with 21 straight (June 28, 1916-June 20, 1917).
It's one thing to do it in the regular season, but it's another thing entirely to perform at that level when the pressure's on in October. Tillman had the opportunity to watch his teammates go through that experience vs. New York in 2012, but he's yet to live it firsthand.
This will mark the biggest start of Tillman's still rather young career, and with former AL Cy Young Award winner Max Scherzer on the mound in Game 1 for Detroit, it also will mark a daunting challenge. At least for now, Tillman appears to be taking the right approach.
"You know what? I think the only difference is the stakes are higher," Tillman said of his preparation for Game 1. "I take every game the same way. They're all important. There is not one that's less important than the other. As a player, I think between the lines, that's where we're comfortable.
"So once the game starts and the bell rings, that's where we're comfortable as a team and as a unit. Might have extra feelings before the game, be nervous, but if you're not nervous, you need to find another job, really."
Gregor Chisholm is a reporter for MLB.com. Read his blog, North of the Border, and follow him on Twitter @gregorMLB. This story was not subject to the approval of Major League Baseball or its clubs.