Max-imum strength: Scherzer ready to face O's
Rotation should be one advantage for Detroit heading into ALDS showdown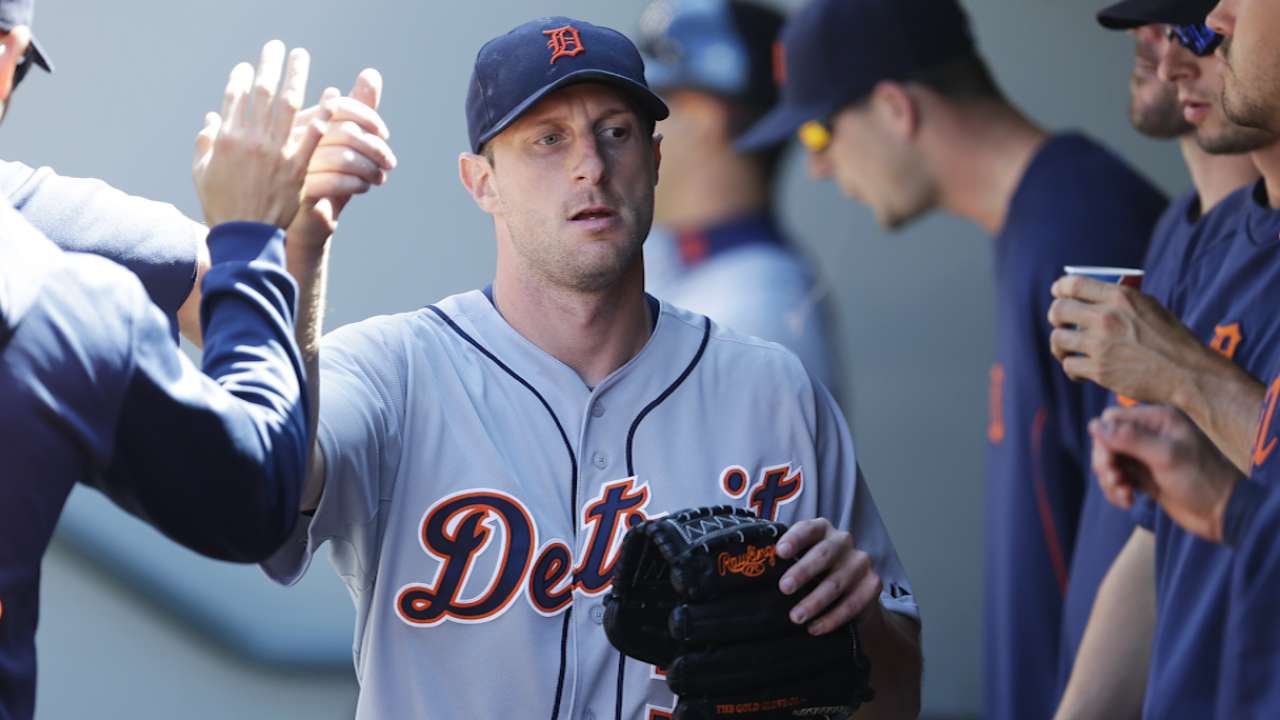 BALTIMORE -- The day he reported to Spring Training in Lakeland, Fla., Max Scherzer set a personal goal for the season that had nothing to do with statistics or awards.
Plain and simple, Scherzer said on Feb. 14, he wanted to be a better pitcher than he was a year ago. If his numbers backed up how he felt, all the better, but he didn't want to get caught up in his stat line. More important to him was the idea that he was continually improving at his craft.
Now, Scherzer finds himself in the same place he was a year ago, preparing to start the Tigers' postseason opener. Regardless of what the numbers may say, is the Scherzer who will face the Orioles on Thursday at 5:30 p.m. ET on TBS in Game 1 of the American League Division Series a more effective pitcher than the one who began Detroit's playoff run last October?
"I do feel like I'm a better pitcher today than I was last year," Scherzer said on Wednesday afternoon at Camden Yards. "I feel like I'm more consistent with my pitches and how I'm able to execute them, and I feel like my curveball gives me more this year than last year. It gives me a four-pitch mix, being able to attack those right- and left-handed hitters.
"I only anticipate getting better, as well."
As it turned out, Scherzer's numbers didn't quite match up to his 2013 AL Cy Young Award season. But he was even better in some respects. The 30-year-old right-hander still finished the year tied for the AL lead with 18 wins, while recording a 3.15 ERA and setting career highs in innings (220 1/3) and strikeouts (252).
"I remember him saying at Spring Training ... to expect him to have a season this year like he did last year just wasn't going to happen," manager Brad Ausmus said. "Well, he came pretty darn close."
"Numbers are numbers. They're going to be different every single year," added catcher Alex Avila. "The fact of the matter is he's getting outs. That's all I care about."
Ausmus pointed to Scherzer's improved breaking pitches, especially his curveball, as the reason for his growth this season. Scherzer has thrown his curve more often this year, leaning less on his slider and slightly less on his fastball.
And Scherzer was at his best in September, going 3-0 with a 2.48 ERA as the Tigers won all five of his starts, including two important victories over the Royals.
"He is a four-pitch pitcher," Ausmus said. "He's a No. 1-type pitcher. We certainly feel comfortable sending him to the mound."
Of course, the Tigers could say the same thing about several of their starters. It's no secret inside either clubhouse that their greatest strength -- and biggest advantage over Baltimore, on paper -- is a star-studded rotation. Scherzer will be followed by Justin Verlander in Game 2, David Price in Game 3 and Rick Porcello in Game 4.
But the Tigers will need those big names to perform up to their ability, starting with Scherzer. The bullpen is widely viewed as their only real weakness, making it all the more important that the rotation pick up as many innings as possible against Baltimore.
"The strength of our team the last few years has always been the starting pitching, as far as the quality you're going to get every time out there," Avila said. "Every year coming out of Spring Training, people always ask me, 'What's the best part of our team?' Well, starting pitching. That's what's carried us the last few years going into the playoffs and in the playoffs as well."
Scherzer has had mixed results in this ballpark -- a 4.95 ERA over three career starts -- but he held the Orioles to four runs while striking out 20 in 14 innings over two starts against them last year.
Scherzer didn't pitch against the Orioles this year, but he's obviously aware they're a threat to go deep at any point, from any spot in the lineup. That's especially true against a flyball pitcher like Scherzer in a hitter-friendly environment like Camden Yards.
"A team that swings the bat like that, they're dangerous," Scherzer said. "That's something I know going into the start. They need to have a good game plan against me, and I need to have a good game plan against them."
Adam Berry is a reporter for MLB.com. Follow him on Twitter at @adamdberry. This story was not subject to the approval of Major League Baseball or its clubs.