Sanchez, Soria likely to be key cogs in bullpen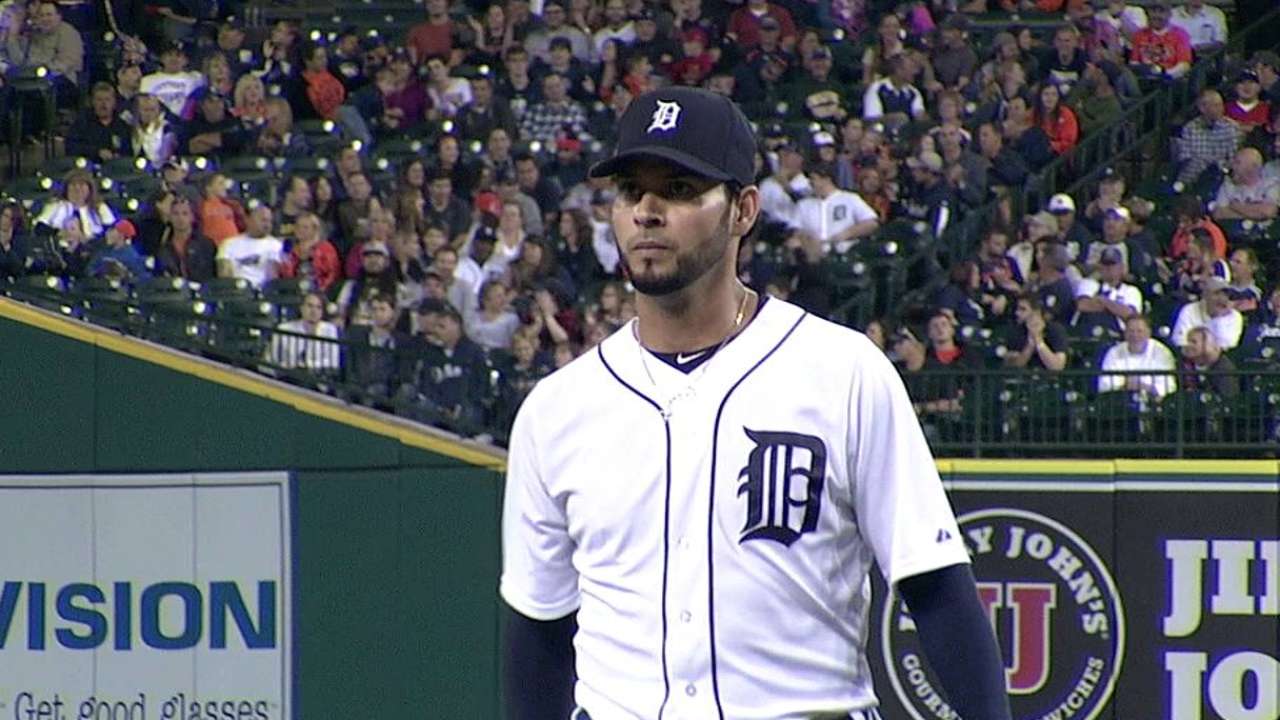 BALTIMORE -- Anibal Sanchez spent part of his Tuesday night viewing the Royals and Athletics battle in the American League Wild Card Game, watching the Royals' ability to put pressure on opponents with their speed.
"Good game to watch," Sanchez said. "Crazy game."
Sanchez also likely saw the A's put pressure on Yordano Ventura, the Royals' rookie starter who made his first relief appearance in the sixth inning with the tying run on base.
Tigers manager Brad Ausmus watched the game as well. Ausmus might not have the speed on his roster to put pressure on the Orioles in their American League Division Series if he doesn't have a healthy Rajai Davis. Ausmus does, however, have a veteran starter turned reliever to turn to in a jam.
"If I felt like [Sanchez] was our best opportunity to get out of that inning, yes," Ausmus said.
It's a far cry from the typical role of regular-season fifth starter turned playoff long reliever. But Sanchez's history, particularly in the postseason, has no shortage of big outs in it.
For that matter, Joakim Soria doesn't exactly fit the role of setup reliever. Soria held the seventh-inning role down the stretch in Detroit, but he also warmed up in the eighth and ninth innings in September outings in case Joba Chamberlain or Joe Nathan had a rough outing.
With every game now vital, Ausmus isn't committing to any set role with Soria.
"I'll say this: I would feel comfortable putting Joakim Soria into any situation," Ausmus said. "Again, the game will dictate sometimes what that situation is, but … other than starting the game, I would feel comfortable with just about any situation."
After a regular season in which the Tigers' bullpen had its off-and-on struggles in various roles, Sanchez and Soria are bullpen mysteries. Sanchez has never been a reliever, save for one spot appearance, but he has been an October performer. Soria has never pitched in the postseason, but he has been a successful closer, setup man and situational reliever.
They suffered major injuries on consecutive August nights that cost them both more than a month of action -- Sanchez straining a right pectoral muscle, Soria his left oblique -- and they both had relatively limited work since they returned, thanks in part to Detroit's starting pitching going deep into games.
"You want to get them in," Ausmus said. "I wish I could have gotten Sanchie one more inning going into the last weekend, but David Price pitched so well the final day, there was no need to go to him.
"That being said, Sanchie will obviously be available, and I'm still fully confident in him pitching in high-stress situations. This is a guy who has excellent stuff. He's battle tested, and I don't think he will have a problem coming out of the bullpen."
Though Sanchez didn't pitch in the season's final weekend, he did do some prep work looking at the game from a reliever's perspective.
"I've tried to see what hitters are doing during the games against the starters," Sanchez said. "The guys in the bullpen, we talk a lot about situations with the hitters, so it's easier for me when I have the opportunity to pitch."
Asked how long he could pitch in a game, Sanchez said, "I don't know. I mean, not like 100 pitches. If I was ready for that, I'd be ready to start."
The way Ausmus sounds, he could lean on Sanchez for a couple big pitches instead.
Jason Beck is a reporter for MLB.com. Read Beck's Blog and follow him on Twitter @beckjason. This story was not subject to the approval of Major League Baseball or its clubs.