Who will man third not a concern for Showalter
Flaherty, Johnson to play hot corner in ALDS showdown vs. Tigers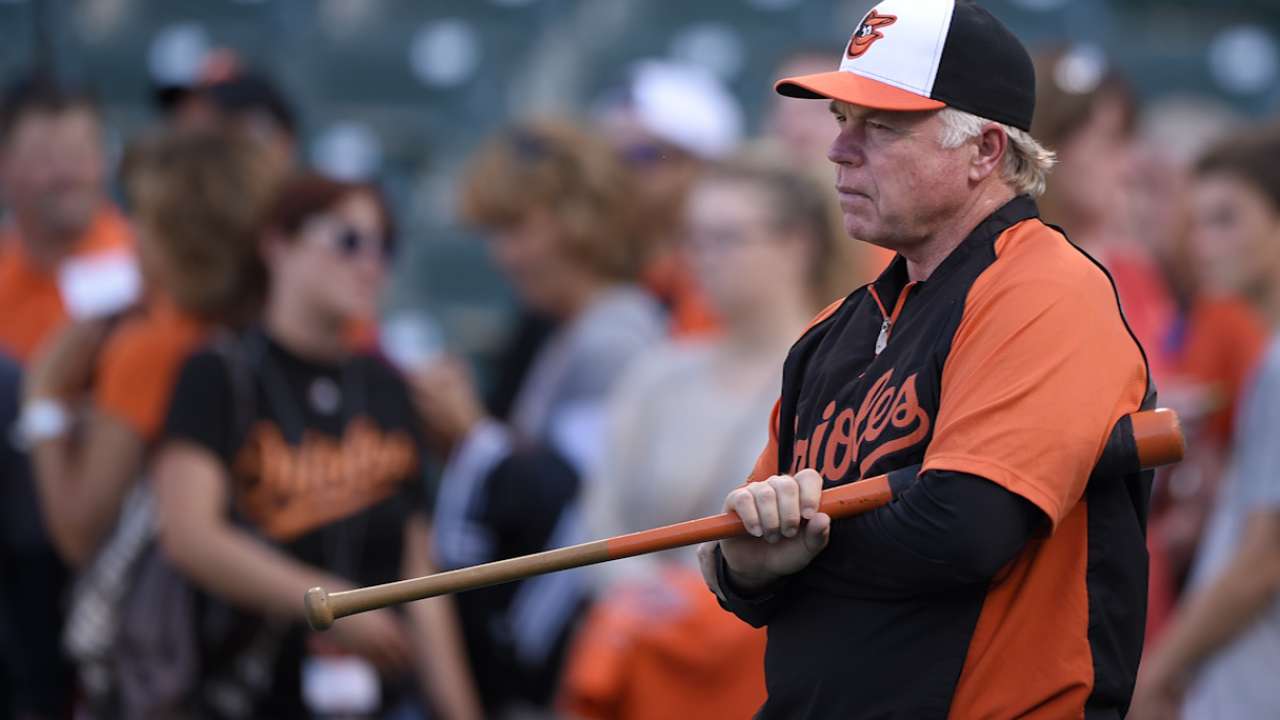 BALTIMORE -- As the old adage goes, pitching and defense wins championships -- and the Orioles are hoping their recent fielding issues at third base don't take center stage in the American League Division Series.
Baltimore, which starts a best-of-five ALDS with the Tigers on Thursday, lost AL Platinum Gold Glover winner Manny Machado to season-ending knee surgery in August and moved All-Star Chris Davis over from first base. While Davis did an admirable job defensively, the slugger was suspended 25 games on Sept. 12 for testing positive for amphetamines, once again leaving the Orioles with a hole at third base.
"I feel confident in the people that will be playing," said manager Buck Showalter, whose club had seven errors at third base in the past 10 regular-season games. "They've got a good track record. I don't think anybody is trying to be as good as Manny [Machado]. Manny had a historical year last year defensively, but we've been able to present ourselves well over there and I feel confident we will continue to do that."
Showalter reminded reporters during Wednesday's media session that part of the team's final few weeks was about evaluating guys for next season and beyond, which is also why the O's had a revolving door of third basemen. Ryan Flaherty and Kelly Johnson figure to be the primary candidates at the hot corner during the postseason, although Showalter has yet to reveal his final postseason roster. Jimmy Paredes and Alexi Casilla, who both played third base down the stretch, are also possibilities.
"We feel comfortable with Flaherty there. He's been our main utility guy all year," said infield coach Bobby Dickerson. "We are very confident in what he does, and the other two guys [Johnson and Paredes] are also options for Buck. Although there's been some times they haven't made plays, that's part of the game.
"Again, how do you replace Manny? The year before [this year] he had arguably the best defensive year in the history of the game. You just don't replace that. It's hard for Manny to repeat a year like that. We just try to prepare and try to give Buck options -- and we've done that. We've been out for early work and try to exploit their strengths and minimize their weaknesses."
Flaherty made five errors in 43 games at third while Johnson had one error in seven starts over there. A late-season acquisition from the Red Sox, Johnson, who will be in the postseason for a third time, said the key will be to relax and try to stay even-keeled out on the field despite the high stakes.
"We are confident in ourselves," Johnson said. "All you can do is be good at what you do. The second you try to be someone else, it's just a problem. Manny, if you are looking at it on paper from the perspective of what you are gaining and what you are losing, that's a whole different story. It's something that I don't think anybody in this room is going to do, whether it's trying to replace Manny or Chris or Matt [Wieters]."
Added Flaherty: "Obviously at the beginning of the year I said there is no other Manny Machado. You got to go out there and help the team win. Whoever it is over there, that's the job, to fill in. Earlier in the year, I said hold the fort down [for Machado to return]. It's go time now."
With both Flaherty and Johnson left-handed hitters, it shouldn't be a straight platoon situation for the third-base job and could come down to matchups. Flaherty is hitless in five at-bats against Tigers Game 1 starter Max Scherzer while Johnson is 4-for-15 with two doubles. This will be Flaherty's second postseason trip -- he went 3-for-11 with a homer for the O's in 2012 -- and Johnson's third.
"It is a very good thing to hear the message of prepare the same, think of it as another game," Johnson said of an Orioles clubhouse that has gotten talks from U.S. Ryder Cup Captain Paul Azinger and Hall of Famer Brooks Robinson in the days leading up to Thursday's showdown. "That's kind of the message we've been hearing the past few days, and it's a good one."
"The record is 0-0 for everyone now," added Flaherty. "Everyone is hitting .000 now. It's a five-game series and we are excited for it."
Brittany Ghiroli is a reporter for MLB.com. Read her blog, Britt's Bird Watch, and follow her on Twitter @britt_ghiroli. This story was not subject to the approval of Major League Baseball or its clubs.