MLB.com Columnist
Jonathan Mayo
Chargois, Reed flourishing at Twins instructional league
Young relievers offer glimpse at potentially dominant bullpen of the future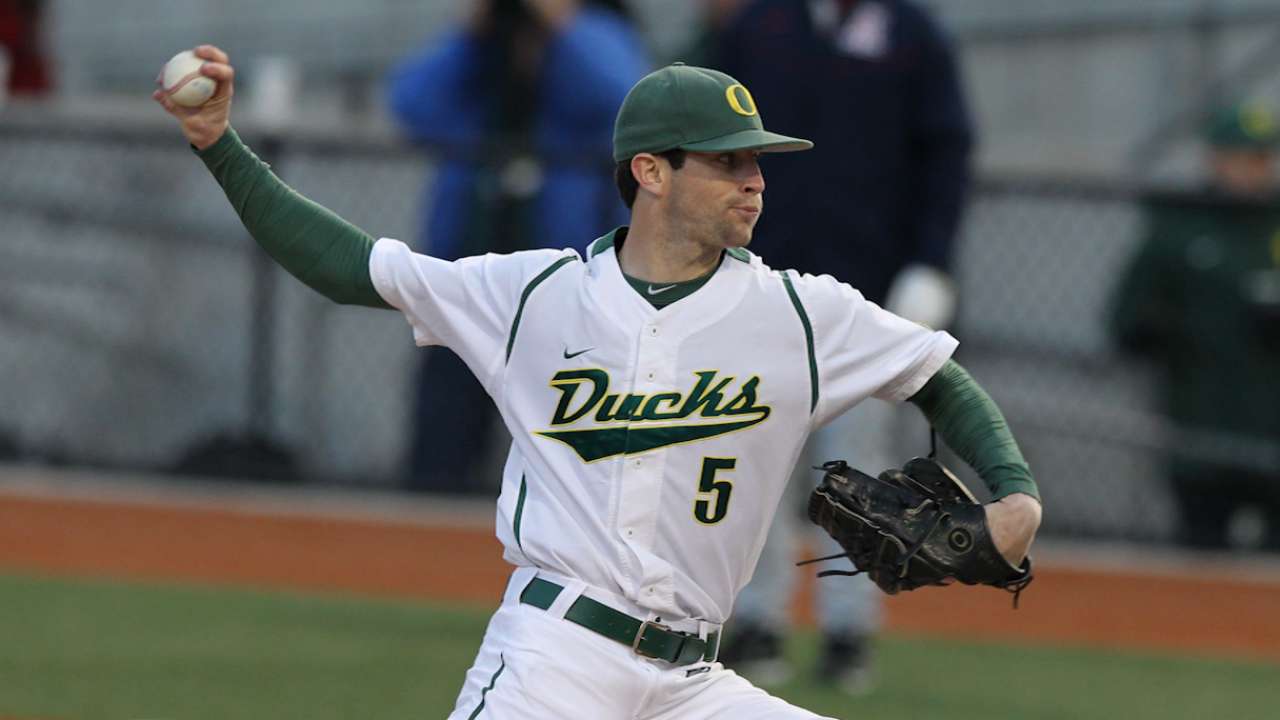 It's been a long road back for J.T. Chargois, but if his current performance at instructs is any indication, it will have been a worthwhile journey.
Chargois, initially drafted by the Twins in the second round of the 2012 Draft, hasn't thrown a competitive pitch since his summer debut, when he closed games for the Appalachian League champion Elizabethton Twins. He didn't make it out of Extended Spring Training in 2013 and when rest and rehab didn't work, the Rice University product had Tommy John surgery in September of that year, forcing him out for all of the 2014 campaign.
With no setbacks post-surgery, the 23-year-old reliever is close to throwing at 100 percent during the Twins instructional league play in Florida. He's been touching 100 mph regularly during one-inning stints, combining it with a hard breaking ball and even a very good changeup. The Twins are trying not to get too excited about what they've seen.
"He's only pitched in instructs and A ball, so we have to temper our excitement," said Twins vice president of player personnel Mike Radcliff. "But we're looking at high end Major League stuff right now. He has three pitches to close you out with; all are way above average."
Chargois saved games for E-Town during his pro debut and it looks like he once again has the stuff to fill that kind of role again in the future. The Twins definitely think the right-hander has the right mentality, though they don't want to put the "future closer" label on him.
"We think you can't pick out a closer," Radcliff said. "They evolve, they turn into closers. You can't really say a guy is a closer, but he seems to have almost ever trait that says he could be a closer in the big leagues, a back-end reliever of great value."
The Twins might have an embarrassment of riches in terms of short relievers, especially after a 2014 Draft that saw them take a number of those kinds of pitchers. Seeing someone like Jake Reed, the fifth rounder out of the University of Oregon, pitching out of the same big league pen as Chargois in the near future certainly seems feasible.
The Twins are getting a glimpse of that at instructs right now, with Reed continuing what has been an outstanding -- and long -- 2014 for the reliever. It started with a very strong season as Oregon's junior closer. He then saved eight games across two levels during his pro debut this summer, allowing just one earned run on 11 hits over 31 innings. What's been most impressive is his fastball command within the strike zone, something he wasn't always consistent with in college. As a pro, Reed has walked three and struck out 39.
"He was a wild-armed closer in college," Radcliff said. "He was a guy you had on your board, but weren't really enthralled with. "Then he dominated two different levels and wasn't really challenged. He's continued to do it at instructs. Some guys do it unconventionally and you don't mess with them. He doesn't have the approach that says 'strikeability,' but all he's done is pound the zone with command."
Reed's year isn't over yet. He'll take his 96-mph fastball to the Arizona Fall League next, perhaps providing his first real test. Reed has been focusing on his secondary stuff, namely a changeup and tightening his slurvy breaking ball, which he'll need at the higher levels.
"He can get outs with his fastball at any time in count," Radcliff said. "He will get to a level where that second and third pitch will have to come into play. We'll see how that goes in the Fall League."
Jonathan Mayo is a reporter for MLBPipeline.com and writes a blog, B3. Follow @JonathanMayoB3 on Twitter. This story was not subject to the approval of Major League Baseball or its clubs.