Sizzling September can be fantasy harbinger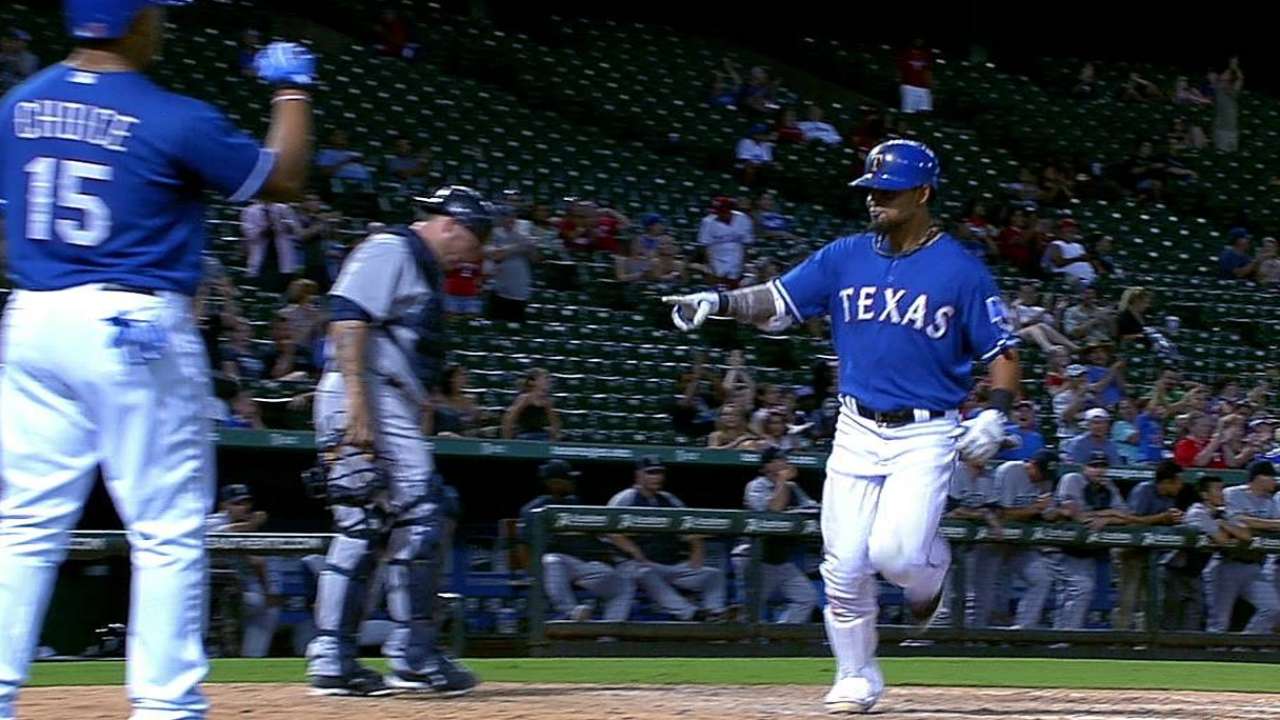 In 2009, a little-used outfielder named Jose Bautista slugged three homers during the first five months of the season. Then in September, when many fantasy owners had given up on their seasons, he went deep eight times. Most fantasy owners shrugged off Bautista's strong finish, and he was not a prominent pick in 2010 drafts. He finished that season with 54 homers and 124 RBIs.
Bautista is the most extreme example, but he is not the only player to break out after showing improvements during September of the previous season. Here are some hitters who flourished during the final month of the 2014 season, and a synopsis of what to expect in '15.
Danny Santana (Twins): Santana was quietly one of the best leadoff hitters in the AL in the second half, but he took his game to another level in September, hitting .337 with eight steals. The 23-year-old has already established that he can hit for average, but it is the swipes that should get fantasy owners excited. If Santana can continue to be aggressive on the basepaths, he could steal more than 35 bases next season. He also scored 20 runs in September, after scoring 23 in August, and if he can carry that pace over into next year, he could be among the AL leaders in three categories in 2015.
Mookie Betts (Red Sox): Likely due to sporadic use, Betts scuffled in his initial Major League trials. But things changed dramatically in September, when Boston made Betts an everyday player. The 21-year-old hit .317 with two homers, three steals and 22 runs scored in the season's final month. The Red Sox currently have an outfield logjam, but fantasy owners should not be worried about Betts. He is one of the most dynamic young players in baseball, and he could reach 15 homers and 20 steals in his first full season.
Carlos Carrasco (Indians): The right-hander was great in the second half, but he was especially dominant in September, posting a 1.62 ERA and ramped up his strikeout rate, with 54 K's in six starts. Fantasy owners who stopped paying attention in August will miss out on a great 2015 sleeper who could post ace-like numbers.
Leonys Martin (Rangers): Martin was a popular sleeper pick this season, but his overall numbers fell short of earning that status. The 26-year-old spent the majority of the season near the bottom of the team's injury-plagued lineup, but he got the chance to hit high in the order more often in September due to the absence of Shin-Soo Choo. He responded with nine steals in the final month, and fantasy owners could see Martin top the 40-steal mark next season if he can keep a spot near the top of the lineup.
Ender Inciarte (D-backs): Like Carrasco, Inciarte's surge started in August. Many fantasy owners disregarded the D-backs' depleted lineup and didn't give Inciarte much attention. But the 23-year-old hit .308 with six steals in September, which nearly mirrored his production in August. Inciarte will likely be an afterthought in 2015 mixed-league drafts, but he could provide a helpful batting average and 30-35 steals if he can win an everyday job in Spring Training.
Jake Marisnick (Astros): This 23-year-old showed plenty of speed and developing power in his Minor League career, and in September he hit .280 with two homers and five steals. Dexter Fowler and George Springer should own two starting outfield spots in Houston, but Marisnick could approach 30 steals if he can win the third spot.
Rougned Odor (Rangers): He didn't have a jaw-dropping rookie season, but it was fairly impressive to see a 20-year-old amass 386 at-bats with Texas. Players do not reach the Majors that early without having special talent, and Odor started to show his skills in September, hitting .296 with 13 RBIs. Odor's 2015 role will be closely tied to the health of Jurickson Profar, but if he gets a starting job, he could significantly improve on his modest rookie totals.
Xander Bogaerts (Red Sox): With a .240 batting average, 12 homers and two steals in 538 at-bats, Bogaerts' rookie season fell far short of expectations. But the 21-year-old is extremely talented, and he may be a 2015 value pick if fantasy owners give up on him too soon. Bogaerts hit .313 with four homers in September, which is enough reason to invest a roster spot on him in all leagues in 2015.
Juan Lagares (Mets): For the first five months of the season, Lagares was a source of empty batting average for fantasy owners, collecting just four homers and six steals. But in September he dedicated himself to improving on the basepaths, and he racked up seven steals in 60 at-bats. Because Lagares can hit over .280, he can be more than a one-category contributor if he can rack up 25-30 swipes in 2015.
Drew Hutchison (Blue Jays): At first it appears odd to see a starter with a 4.55 ERA in September in this column. But a closer look at his numbers reveals Hutchison fanned 41 batters in 27 2/3 innings last month. Opponents hit .238 off the right-hander in the second half, but struggles with the long ball led to his bloated ERA. Hutchison could be much better next season, as he moves further from his Tommy John surgery, and his high-strikeout rate could make him a valuable asset in all leagues if he can push his ERA under 4.00.
Wilmer Flores (Mets): The Amazin's started making noise in Spring Training about giving Flores a look at shortstop. But the 23-year-old did not make inroads toward a starting job for most of the season, partially due to his lack of range and partially due to his offensive struggles in limited work. But in September, Flores started to show his talents, hitting .278 with four homers. The Mets may make a move for a veteran upgrade at shortstop, but if they do not go in that direction, Flores could steal the job and help owners in deep leagues.
Fred Zinkie is a fantasy baseball writer for MLB.com. This story was not subject to the approval of Major League Baseball or its clubs.