Fans can vote Rizzo for Aaron Award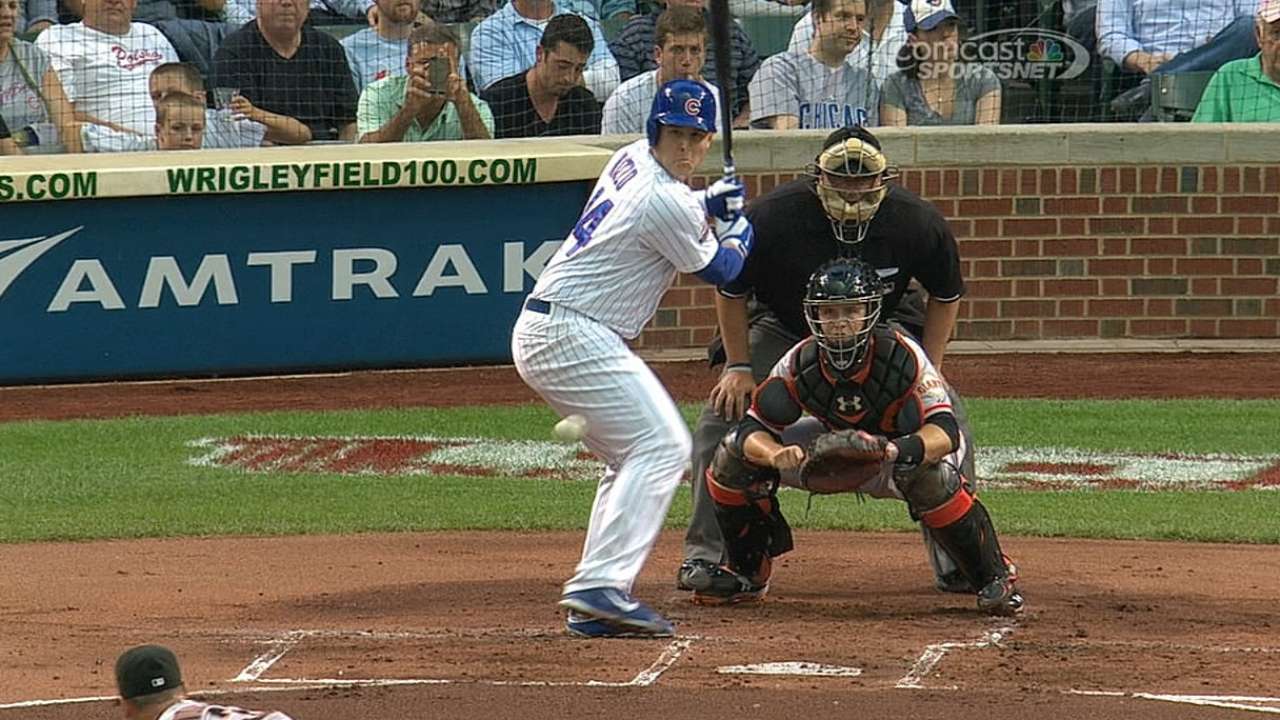 CHICAGO -- Cubs first baseman Anthony Rizzo is a finalist for the 2014 Hank Aaron Award, which fans can vote for online at MLB.com and all 30 club sites.
For the fifth consecutive year, a special panel of Hall of Fame players, led by Hank Aaron, will join fans in voting for the award, which is officially sanctioned by Major League Baseball and recognizes the most outstanding offensive performer in each league. The award was established in 1999 to honor the 25th anniversary of Aaron breaking Babe Ruth's all-time home run record.
Rizzo hit a career-high 32 home runs, second in the National League behind Miami's Giancarlo Stanton (37). He's the first Cubs left-handed batter to hit 32 homers in a single season since Rick Monday did so in 1976.
Rizzo also totaled a career-high 150 hits, finished third in the NL in OPS (.913), while tying for 20th in RBIs (78) and 21st in batting average (.286).
Also on the voting panel are Roberto Alomar, Johnny Bench, Paul Molitor, Eddie Murray, Frank Thomas and Robin Yount. They were personally selected by Aaron to lend their expertise to select the best offensive performer in each league.
From now until Oct. 5, fans can vote to select one American League and one National League winner from the list. The winners of the 2014 Hank Aaron Award will be announced during the World Series.
Past winners include: Miguel Cabrera and Paul Goldschmidt (2013); Cabrera and Buster Posey (2012); Jose Bautista and Matt Kemp (2011); Bautista and Joey Votto (2010); Derek Jeter and Albert Pujols (2009); Aramis Ramirez and Kevin Youkilis (2008); Alex Rodriguez and Prince Fielder (2007); Jeter and Ryan Howard (2006); David Ortiz and Andruw Jones (2005); Manny Ramirez and Barry Bonds (2004); Rodriguez and Pujols (2003); Rodriguez and Bonds (2001-02); Carlos Delgado and Todd Helton (2000) and Ramirez and Sammy Sosa (1999).
Carrie Muskat is a reporter for MLB.com. She writes a blog, Muskat Ramblings, and you can follow her on Twitter @CarrieMuskat. This story was not subject to the approval of Major League Baseball or its clubs.