Yost finds unconventional path to victory
Royals tie Postseason stolen base record and prevail in 12 against A's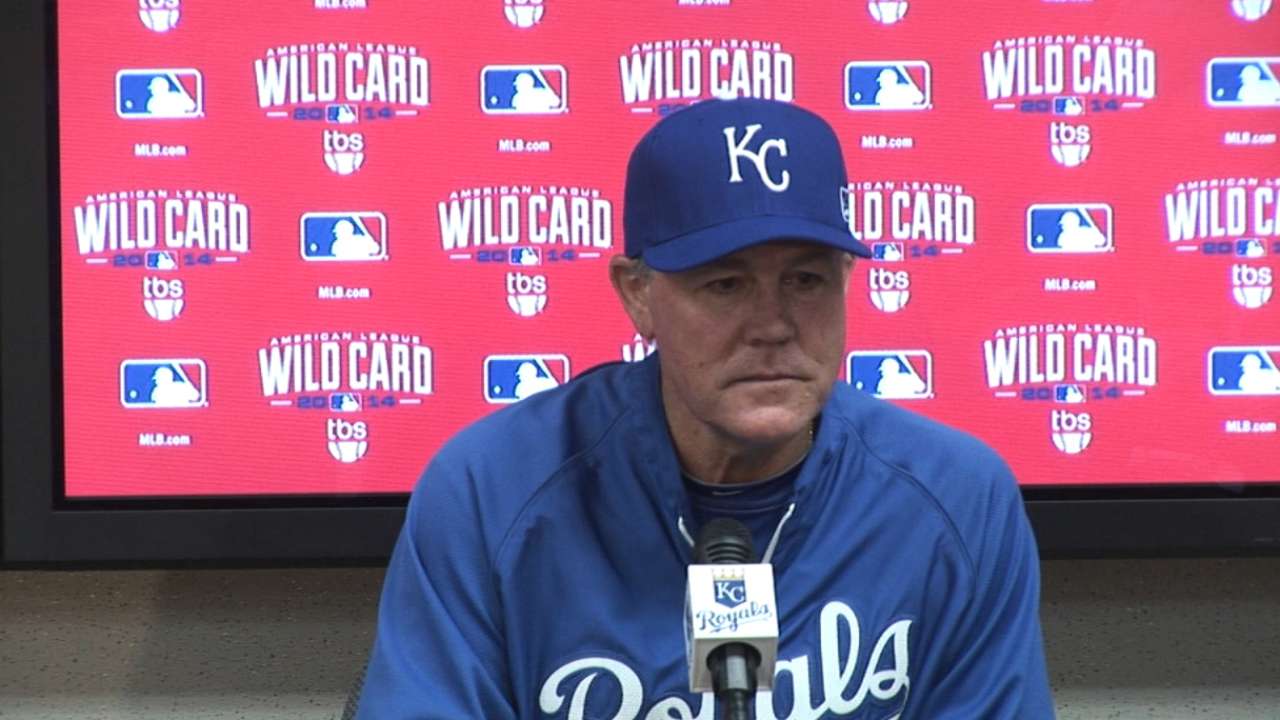 KANSAS CITY -- This was Ned Yost's first time managing a postseason game, but this wasn't his first postseason rodeo, the Royals skipper having taken 11 trips to October on Hall of Famer Bobby Cox's staff with the Braves.
Let's just say it wasn't a boring debut for Yost, who made moves that had him booed off the field at one point. But he stayed true to his team's strength, shrewdly utiliziing its speed; the Royals tied a postseason record with seven stolen bases, and five of the seven players who recorded a stolen base scored runs on Tuesday night. In the end, the Royals ran their way to a thrilling extra-inning win in the American League Wild Card Game and into the AL Division Series against the Angels.
Within moments of Tuesday night's 9-8, walk-off win for the Royals over the A's in 12 innings, all Yost could do was shake his champagne-soaked head at what he and everyone else on the field -- or watching -- had just experienced.
"That's the most incredible game I've ever been a part of," Yost said.
A few hours earlier, that might not have been Yost's reaction to what transpired at Kauffman Stadium. Earlier, it had been something of a nightmare, managerially speaking. From the very first inning of his managerial debut under the hot spotlight of the postseason through what appeared to be decisive middle innings, Yost's moves proved costly for the Royals.
First, there was the botched attempt at a double-steal in the first inning that saw
Eric Hosmer
get thrown out at home to end a rally.
Billy Butler
baited the A's into a quick rundown, but he didn't execute the play well, with Hosmer being tagged out by A's catcher
Geovany Soto
as Hosmer barreled home.
"If we'd have run it right," Yost said, "we would have scored a run, but it broke down on both ends. ... If Hos broke as soon as Billy broke, I think we would have scored a run there, but it broke down. But in the end, we scored enough runs to win, and that run didn't matter."
Then there was the move of pulling starter James Shields two batters into the sixth inning at 88 pitches, his shortest outing in more than three years, and inserting young fireballer Yordano Ventura, who had thrown 73 pitches on Sunday. Ventura wound up getting just one out while allowing both runners he inherited from Shields and another two to score before Kelvin Herrera was summoned to take over for the rookie right-hander. Royals fans booed Yost when he came to get Ventura and when he headed back to the dugout after handing the ball to Herrera.
Said Yost: "You know, when we have these games, we map out our pitching, and we try to cover all scenarios. If something happens early, we've got [veteran starter Jeremy] Guthrie. If we get it past the fifth inning, we're going with our power arms. ... We wanted to bring the gas for the sixth, and we wanted to bring the gas for the seventh with Herrera, Wade [Davis] and [Greg Holland] with a one-run lead. It just didn't work out."
From there on, though, the moves Yost made worked out in making sure the team played its brand of Royals baseball, which is to say exploiting the running game and manufacturing runs. For the game, the Royals set a franchise record with seven steals -- from seven players -- and dropped down four sacrifice bunts, combining with one from the A's to match a postseason record of five in a game.
It was that aggressiveness on the basepaths -- example: having Jarrod Dyson steal third to set up a game-tying run on a sac fly in the 11th -- that eventually brought the game back around for the Royals, and Yost.
"We wanted to try to put as much pressure on them as we could all throughout the game," Yost said.
That, the Royals did. The pressure was on Yost for quite some time, but his team came through time and time again. Yost's moves started paying dividends, and the struggles earlier in the game were eclipsed by a wild celebration after Salvador Perez's single won it.
"Our fans were -- man, unbelievable. Our guys never quit," Yost said. "When we fell behind there in the fifth inning, sixth inning, they kept battling back. They weren't going to be denied. It was just a great game."
John Schlegel is a national reporter for MLB.com. You can follow him on Twitter at @JohnSchlegelMLB This story was not subject to the approval of Major League Baseball or its clubs.