A's bullpen picks wrong time for rough night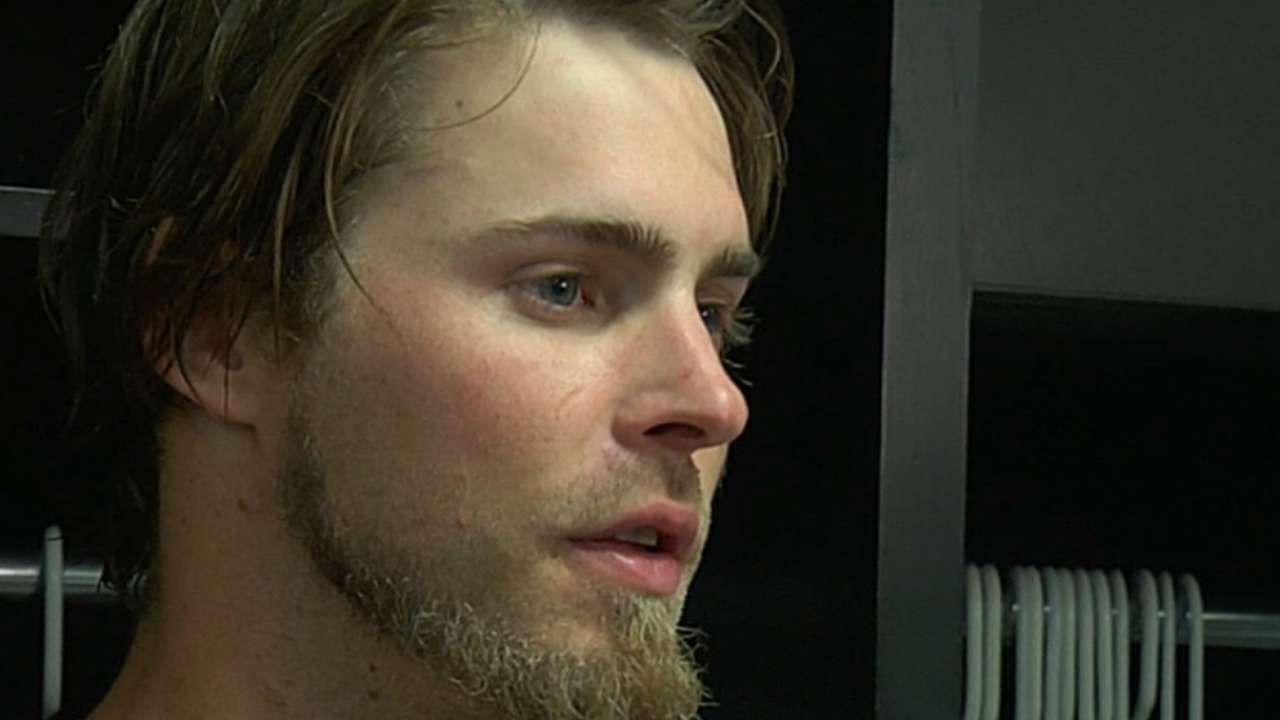 KANSAS CITY -- Words were hard to come by and emotions were heavy for A's closer Sean Doolittle, whose voice trailed off a couple of times on Tuesday night after an American League Wild Card Game vs. the Royals that was every bit as demoralizing for the Oakland bullpen as it was a thriller for both teams.
How does one explain one of the best-performing bullpens in the AL not being able to hold not just one but two late-game leads in a 9-8 defeat in 12 innings?
"Every time we thought we had them down, they came back," Doolittle said. "It's a testament to the kind of team they are, the kind of character they have. I think the bottom line is, we had opportunities to put that game away, and we just weren't able to do it."
The A's had a four-run lead heading into the bottom of the eighth inning and a one-run lead in the top of the 12th after an RBI single by pinch-hitter Alberto Callaspo.
Oakland, which had the second-best bullpen ERA in the AL, at 2.91, also had a 37-1 record when scoring seven runs or more.
Loss No. 2 stung far worse.
All but one of the five relievers who entered after starter Jon Lester exited in the eighth inning either gave up a run or allowed inherited runners to score.
"It's tough," said Doolittle, who had a 6.14 ERA and one blown save after coming off the disabled list on Sept. 12. "A team like that, playing at home with this crowd they had here tonight, in a way you expected them to come back and make a push. It was 7-3 at one point in the game, and we knew there was a lot of baseball left to be played. They were going to fight back. They were going to make a push."
Replacing Lester after he'd allowed a run in the eighth, Luke Gregerson gave up two inherited runs to make it a one-run game. Doolittle took over in the ninth and gave up a leadoff single to pinch-hitter Josh Willingham. Following a sacrifice bunt and a steal of third base by pinch-runner Jarrod Dyson, Nori Aoki's sacrifice fly to right field made it a 7-7 game and forced extras.
Dan Otero, who took over in the 11th inning, escaped after having a runner on third base and two outs, then returned for the 12th. Eric Hosmer hit a one-out drive to left-center; it looked as though Jonny Gomes had it tracked before center fielder Sam Fuld ran into him, and the ball dropped in for a triple.
A chopper by Christian Colon went to third base, but Josh Donaldson couldn't barehand the ball, and Hosmer scored. Lefty Fernando Abad got Alex Gordon, the only batter he faced, to pop out.
Right-hander Jason Hammel was called in to face Salvador Perez. Normally a starter, Hammel had a 2-2 count when Perez hit a single through the left side for the walk-off game-ender that sent the A's to the offseason.
According to Elias, the Royals are the first team to come back from at least four runs down in the eighth inning or later in a winner-take-all playoff game.
"Initial thoughts are, the season's a failure," said Otero, who was charged with the loss. "We didn't get to our ultimate goal. I'm sure I'll be able to look back and think otherwise on a personal level, but as a team, we just didn't reach the ultimate goal. We had this game right where we wanted it, didn't get the job done."
"To go ahead in extra innings, and be just a couple of outs away, the way Otero had thrown the ball, everyone was feeling really good about it," Doolittle said. "Give [the Royals] credit. They found a way to stay on the roller coaster and find a way to get it done."
Mark Sheldon is a reporter for MLB.com. Read his blog, Mark My Word, and follow him on Twitter @m_sheldon. This story was not subject to the approval of Major League Baseball or its clubs.