Hero of past Octobers, Lester comes up short
Ace lacks dominant stuff in first postseason since midseason trade to A's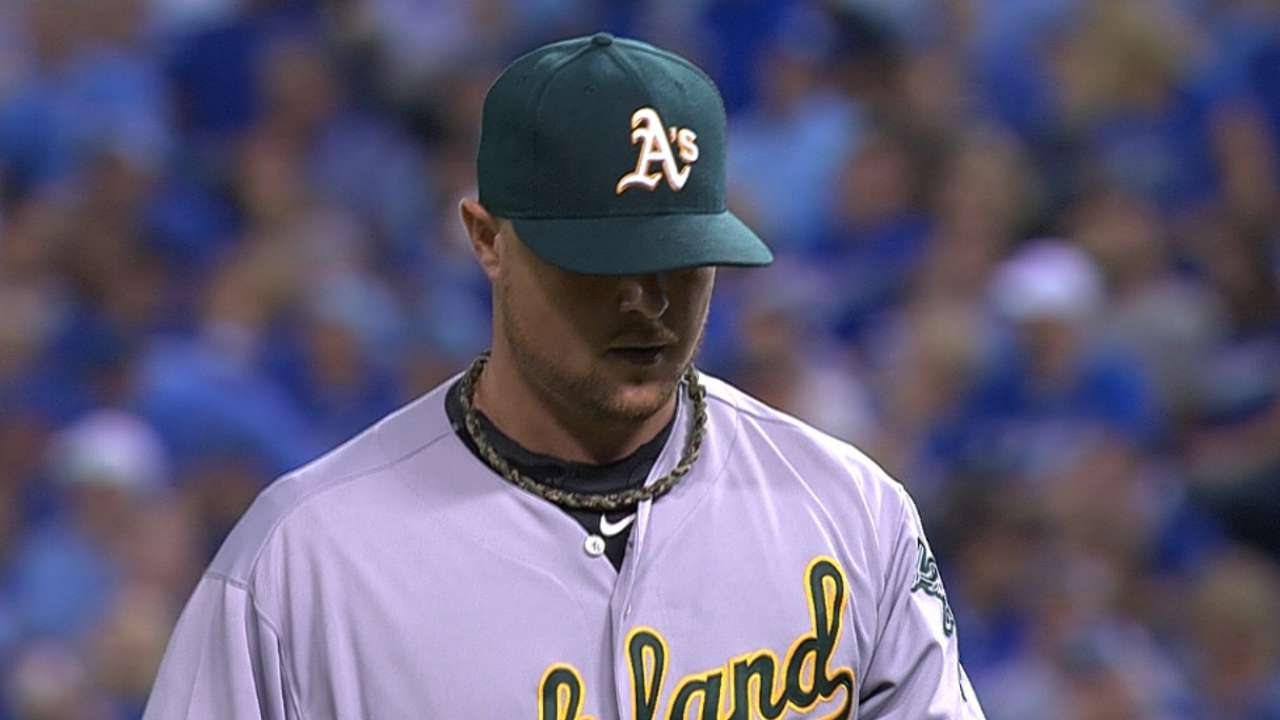 KANSAS CITY -- When the A's went for it all by making the huge Trade Deadline deal to get Jon Lester from the Red Sox on July 31, they felt the left-handed ace was just the perfect guy they could send to the mound for any do-or-die game in the postseason.
When that time came on Tuesday in the American League Wild Card Game, Lester fell short with his worst outing of his short tenure for Oakland. He allowed a postseason career-high six earned runs and eight hits over 7 1/3 innings during a 9-8 A's loss to the Royals in 12 innings.
"I feel like I threw the ball better than what the linescore said, but when it's all said and done, it is what it is," said Lester, who walked two and struck out five. "I can sit here and say I felt better than what it said and had better stuff than what it said but that's not going to do anything. The bottom line was that we lost. Regardless of how we got there, we lost. Now we're packing our stuff and going home."
Things happened to Lester vs. the Royals that don't occur too often.
• Lester had been 85-1 in his career when given a three-run lead in a game.
• The last time Lester allowed three runs in a playoff game was Oct. 8, 2009, in a loss to the Angels.
• It was the first time Lester allowed more than three earned runs in a start for the A's and his first non-quality start since June 7.
• Coming in, Lester was 6-4 with a 1.97 ERA in 11 career postseason starts, including 4-1 with a 1.56 ERA in five playoff games for Boston last year.
Throughout his start, the 40,502 fans at sold-out Kauffman Stadium roared loudly and often taunted Lester with chants of "Les-ter, Les-ter."
"It was awesome to be a part of," Lester said of the game. "Loud, good atmosphere; just a good baseball game. As far as the fans, the teams, the competitiveness, the will to not lose, we're on the bad side of it, but you couldn't ask for a better game. I would imagine the fans got what they paid for tonight."
Brandon Moss hit a first-inning two-run home run that gave Lester a 2-0 lead. Moss' three-run homer sparked a five-run sixth inning that made it a 7-3 game.
"Especially off a guy like [Royals starter James] Shields, giving us two runs early like that was just huge," Lester said. "In the first inning, I minimized damage a little bit. They came out with a really good approach, an approach I haven't seen from there before -- working counts and taking pitches. They scraped across one. After that, I felt like I got into a better rhythm. Mossy comes back and hits a three-run [homer] and puts us right back in the lead. We were able to get into a little bit of cruise control after that for a couple of innings."
After giving up two runs in the third inning, Lester retired his next 12 batters.
"He pitched good enough to get the win," A's catcher Derek Norris said. "That's what we got him for, these kinds of situations. They got a couple of ground balls that found some holes and started a rally in the eighth inning. It was back and forth after that."
Lester went back out for the eighth inning and ran into trouble when Alcides Escobar hit a single and stole second base. After a groundout moved Escobar to third base, Lorenzo Cain's RBI single went to center field. On Lester's 111th and final pitch, Eric Hosmer walked. Reliever Luke Gregerson allowed both inherited runners to score, making it a one-run game.
"Since the first day I first pitched against them, they were built on momentum, and we allowed that momentum to get back into the game in the eighth inning -- and you see where we're at," Lester said.
It's likely that this was the final start in an A's uniform for Lester, who is expected to be perhaps the most in-demand starting pitcher to hit the free-agent market this offseason. Oakland took its chances knowing it wouldn't have Lester for long. The A's just hoped their run with him would last longer than one postseason game -- as did Lester.
"These guys are awesome," Lester said. "It's an honor and privilege, and I thank the A's organization for believing in me and trading for me and getting the privilege to play with this great group of guys who put [themselves] on the line every single night and compete. Unfortunately, we're on the bad end tonight -- never for a lack of competing and trying and being prepared. I've never been around a group like this before."
Mark Sheldon is a reporter for MLB.com. Read his blog, Mark My Word, and follow him on Twitter @m_sheldon. This story was not subject to the approval of Major League Baseball or its clubs.