Royals rookie Finnegan flourishes in clutch relief
Lefty fires 2 1/3 stellar frames in thrilling AL Wild Card victory over A's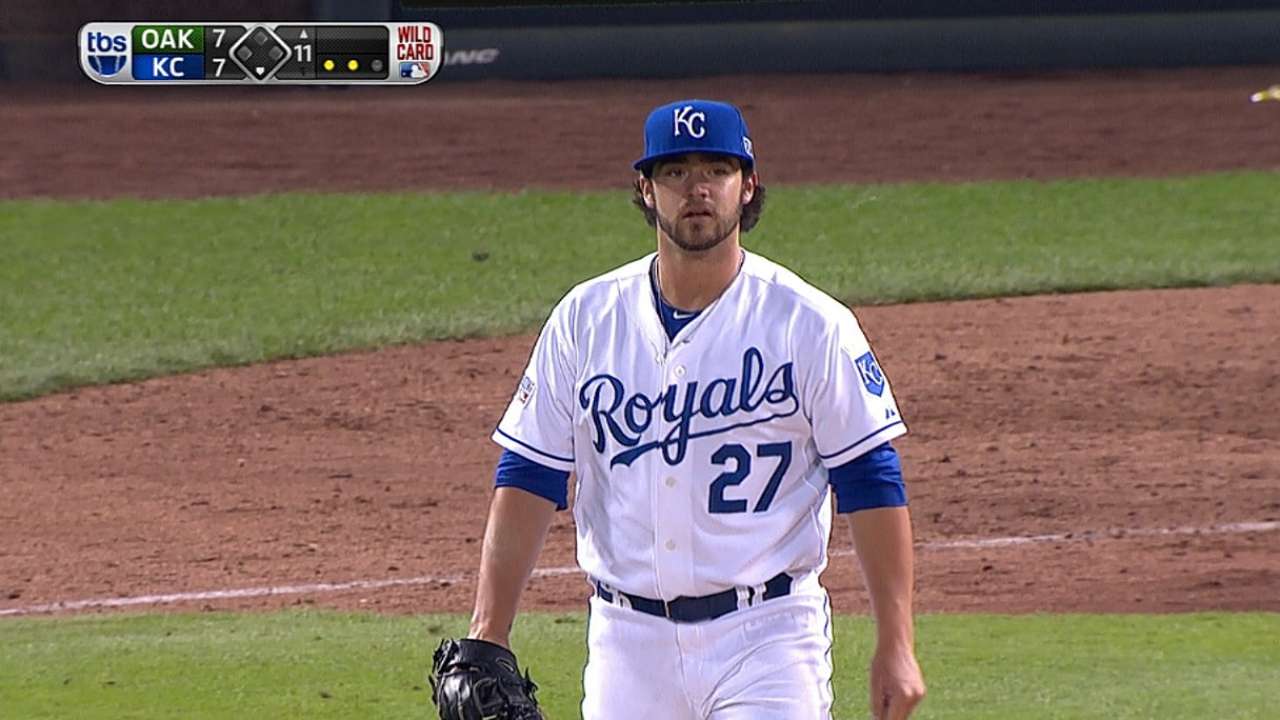 KANSAS CITY -- A few months earlier, Brandon Finnegan was pitching in the College World Series. A month earlier, he jumped into the big leagues, the rare September promotion of a player who was selected in that season's First-Year Player Draft.
On Tuesday night, Finnegan was in the middle of Kansas City's biggest baseball celebration in, well, several years longer than he has been on the planet. The 21-year-old lefty helped the Royals do something they hadn't done in 29 years -- celebrate a postseason victory -- pitching 2 1/3 clutch frames in extra innings of a scintillating 9-8 walk-off triumph in 12 over the A's in the American League Wild Card Game at Kauffman Stadium.
Clearly, seven innings over seven appearances in the Majors is plenty of experience to step into the postseason pressure cauldron.
"Honestly, it took me back to the College World Series," Finnegan said afterward. "Big stage, big crowd, it's all I could think of. I've been in situations like this before, so I just had to go out and do my job."
Mission accomplished, big time. Finnegan delivered seven outs in extras, leaving a runner on base that scored after his only walk before the Royals rallied the next half-inning to win it.
It was what you call a high-leverage situation on the big leagues' biggest stage, and those who have come to know him recently and those who have known him his whole life were more pleased than surprised.
"You don't want to make judgments too soon and I hate to use clichés, but as we saw tonight and what we've seen the last month this kid's just not afraid," pitching coach Dave Eiland said. "He comes right at you. He trusts himself, he believes in it, and he comes right at you. We can't say enough good about him."
Finnegan's family was there to live the wild ride with him, as they have been since he entered pro ball this summer. After going 9-3 with a 2.04 ERA at TCU and earning All-American honors from several organizations, he was the No. 17 overall pick in the Draft, jumping from Class A ball to Double-A and to the Majors.
"All's we were was happy he got drafted. Everything else is a lot of icing on the cake," his father, Gary, said in the giddy chaos outside the Royals' clubhouse on Tuesday night.
And the Royals were enjoying that icing just as much Tuesday night, knowing they had a young pitcher who could handle the pressure of extra innings in a winner-take-all game.
After all, Finnegan made his Major League debut with two scoreless innings of work against the Yankees, striking out Jacoby Ellsbury and Derek Jeter. That, after impressive stints with five games as a starter at Class A Advanced Wilmington and eight relief outings at Double-A Northwest Arkansas.
Stepping into Tuesday's spotlight was just the next step for a player who has yet to be fazed by anything as a professional.
"That was the thing that our amateur scouts told us about, that he's just got that way about him," Eiland said. "All our Minor League people, our player development people said the same thing about him, so we thought we'd bring him here and see. He came better than advertised."
What Finnegan did in the biggest game, not only of his life but of all his older teammates' lives and many of the 40,000-plus fans who came to the historic game on Tuesday night, was deliver what the Royals needed when they really needed it.
"You see it in his face," catcher Salvador Perez said. "He likes to compete. He likes to do his job."
Said Royals veteran Eric Hosmer: "It's tough enough to make a big league debut, but to be a month fresh in the big leagues and come [into] a playoff situation, a do-or-die situation like that, it shows a lot."
John Schlegel is a national reporter for MLB.com. You can follow him on Twitter at @JohnSchlegelMLB. This story was not subject to the approval of Major League Baseball or its clubs.