To the victors go the spoils: Players, fans celebrate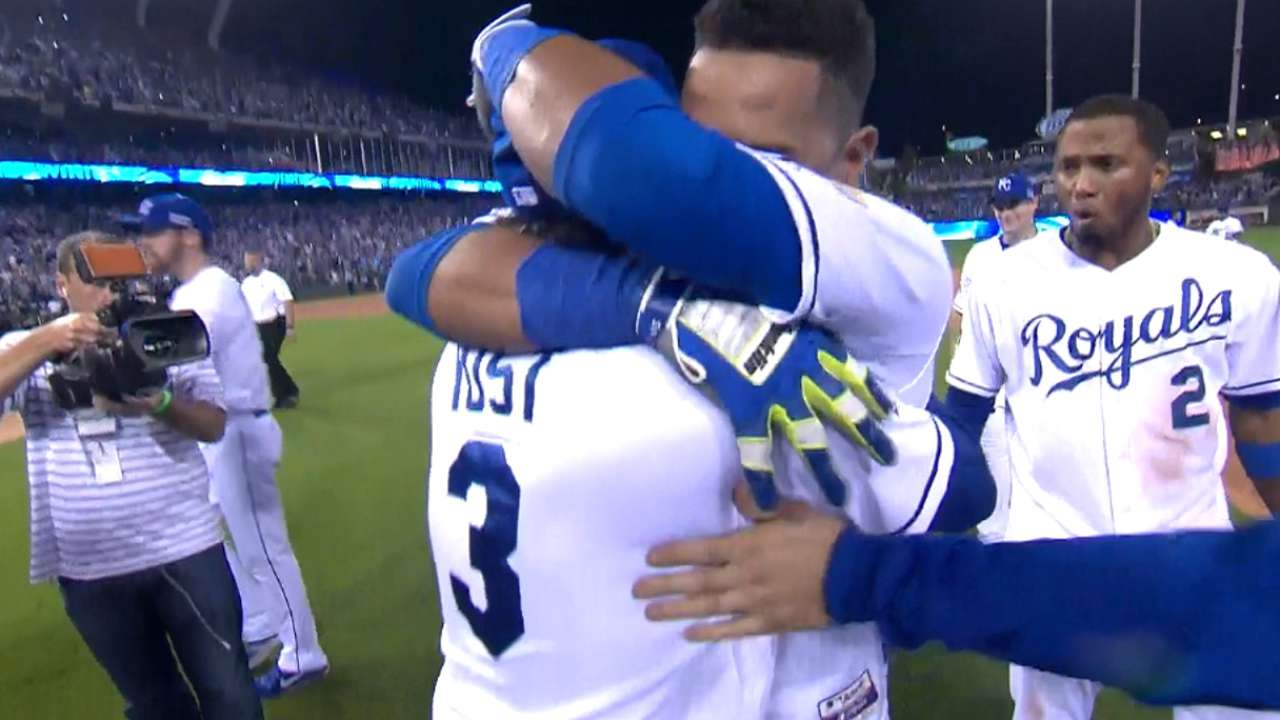 KANSAS CITY -- The night began with what seemed like the first of a hundred "Let's Go Royals" chants, as the Royals faithful funneled into Kauffman Stadium two hours before James Shields tossed a first-pitch strike to Coco Crisp.
The night ended in similar shared exuberance: with a sold-out crowd worked into one final frenzy, as a massive celebration, which carried into early Wednesday morning, unfolded in front of their eyes.
Christian Colon
, who scored the game-winning run in Kansas City's 9-8 win in Tuesday's American League Wild Card Game. "I just want to say thank you to them."
The moment Salvador Perez's game-winning RBI single evaded Oakland third baseman Josh Donaldson, the Royals tore out of the dugout. Colon scored easily, and a scrum gathered in shallow center field. Once his teammates were finished mobbing Perez, it was manager Ned Yost's turn. He wrapped his arms around the All-Star catcher before descending into the clubhouse to continue their exuberance.
"That's the most incredible game I've been a part of," Yost said.
Inside the clubhouse, Jeremy Guthrie paraded around with snorkeling gear strapped to his face. Mike Moustakas went from teammate to teammate all too eager to douse them with uncorked bottles of champagne.
Finally, Perez, who allowed for these postgame festivities, stood in the corner, a wicked grin on his face, a bottle of champagne in his left hand and pitching coach Dave Eiland draped around his right arm. Perez capped Kansas City's massive comeback win, which included a 7-3 deficit to start the eighth.
"I'm so incredibly proud of what we have in the tank," pitcher Danny Duffy said as "We Ready" by Archie Eversole blared in the background. "It's like we've got a 45-gallon tank going down the highway with traffic on it, we never run out."
The party spilled back out onto the field, when a small portion of the 40,502 in attendance stuck around once the celebration in the clubhouse gravitated back to the field.
Johnny Giavotella and Jarrod Dyson hopped on the top of the dugout. A fan approached Dyson. The outfielder embraced him.
"I've never been involved in anything like this," said Duffy.
"I couldn't feel anything all night, because the crowd was so amazing, and it showed it from pitch one," said
Jackson Alexander is an associate reporter for MLB.com. This story was not subject to the approval of Major League Baseball or its clubs.