Sept. 30 Bob Melvin postgame interview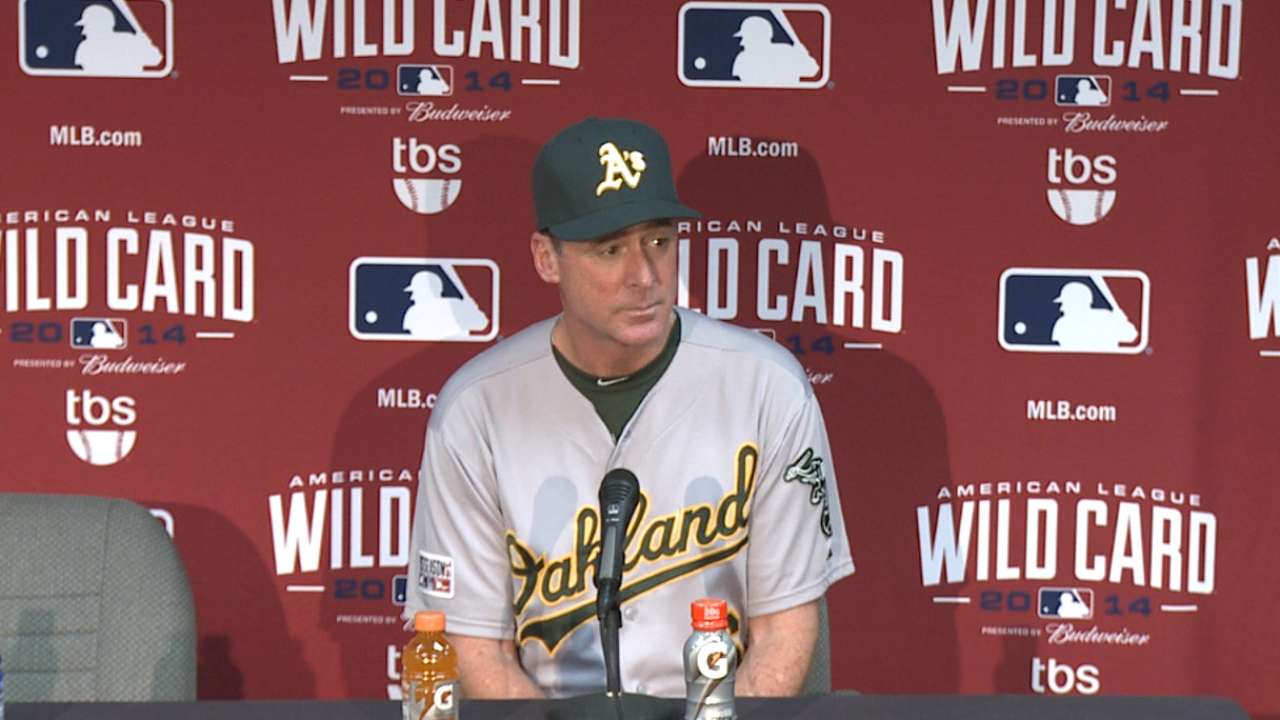 Q. Bob, I know it just happened, but the one game nature of this, how are you feeling now? How do you handle it?
BOB MELVIN: How am I feeling? Well, I'm not feeling very good. I mean, it was a great game. Both teams played well and played hard. But the short answer to your question is not great at this point. You want to win the game.
Q. Were you surprised to see Ventura when he was brought into the game?
BOB MELVIN: We saw him warming up. I mean, we heard he was available for an inning, so not surprised at anything. You're going to use everybody you can to try to win a game.
Q. Expected pitchers' duel ended up 9‑8.
BOB MELVIN: Yeah, well, in Jon's case he pitched well for us. Just tired a little bit there after the Hosmer walk but left after a lead and gave us a chance to win, so you don't expect the score to be with those two guys pitching, especially with the bullpen, but that's why you play the game.
Q. How are Coco and Soto and how much of an impact did losing Soto end up having on the game?
BOB MELVIN: Yeah, that's why you have other guys. He kind of pulled his thumb back on the jersey on the play at the plate, and after that it kept getting worse and worse. Certainly as a catcher you need your thumb, especially when Jon Lester is throwing cutters. That's what did it. It was one play at the plate and he just couldn't continue. As far as Coco, hammy, if he has to come out of the game it's not good. He's a guy that for us can play hurt, and he does a lot, but for him to actually go out there and have to come back in means it's smarting some.
Q. (No microphone) how important was that?
BOB MELVIN: Well, it is. That's one of their strengths. It affected us at the end, no doubt about it. We were still in the position to win the game a couple times, but it did affect it.
Q. Could you speak to the game that Brandon Moss had after kind of a rough second half of the season and delivering the way he did tonight?
BOB MELVIN: Yeah, I mean, first inning, you score a couple runs in the first inning and you feel like now we're on our way, and then we lose the lead, and then hits another three‑run homer, and you feel like with our pitching it's going to hold up, but it didn't. We've seen him make those swings before.
Q. The course of this game seemed to almost mirror your season in some ways, up big and things looking good, and then lots of injuries and things sort of go erratic. Did you have that sense?
BOB MELVIN: I didn't ‑‑ it's not something you think about during the course of the game. Maybe when you reflect a little later, but it hadn't occurred to me, but all those things you talk about transpired during the game.
Q. Lester wasn't as dominant as he has been frequently against these guys or down the stretch, but what did you think of his toughness, battling through some of those situations?
BOB MELVIN: You know what, I thought he was really good after giving up a couple of runs. He really settled in and was throwing the ball great. He just tired a little bit there at the end after throwing 110 pitches or whatever it was in seven‑plus innings. I thought after the initial couple of runs they scored, he threw the ball really well. And toughened up when he had to based on the fact that we had a lead.
Q. Can you talk about the outing by Brandon Finnegan, the rookie?
BOB MELVIN: Yeah, that was a key, key component for them. A rookie comes in like that and gets lefties out, righties out, puts them in position to keep the game going like that was impressive. First time I've seen him.
Q. Did you consider using Dunn at any spot?
BOB MELVIN: Well, I was going to use him had we not taken the lead, and in Callaspo's spot would have been the natural one, but they would've walked him, I think, so I wasn't going to use him there. I was going to potentially use him at Punto if I had a chance to, but he was ready to go a couple of times. I just didn't think they were going to pitch to him in the Callaspo spot.