Three keys for Royals against the Angels
Trout, starting pitching and bullpen important factors in Division Series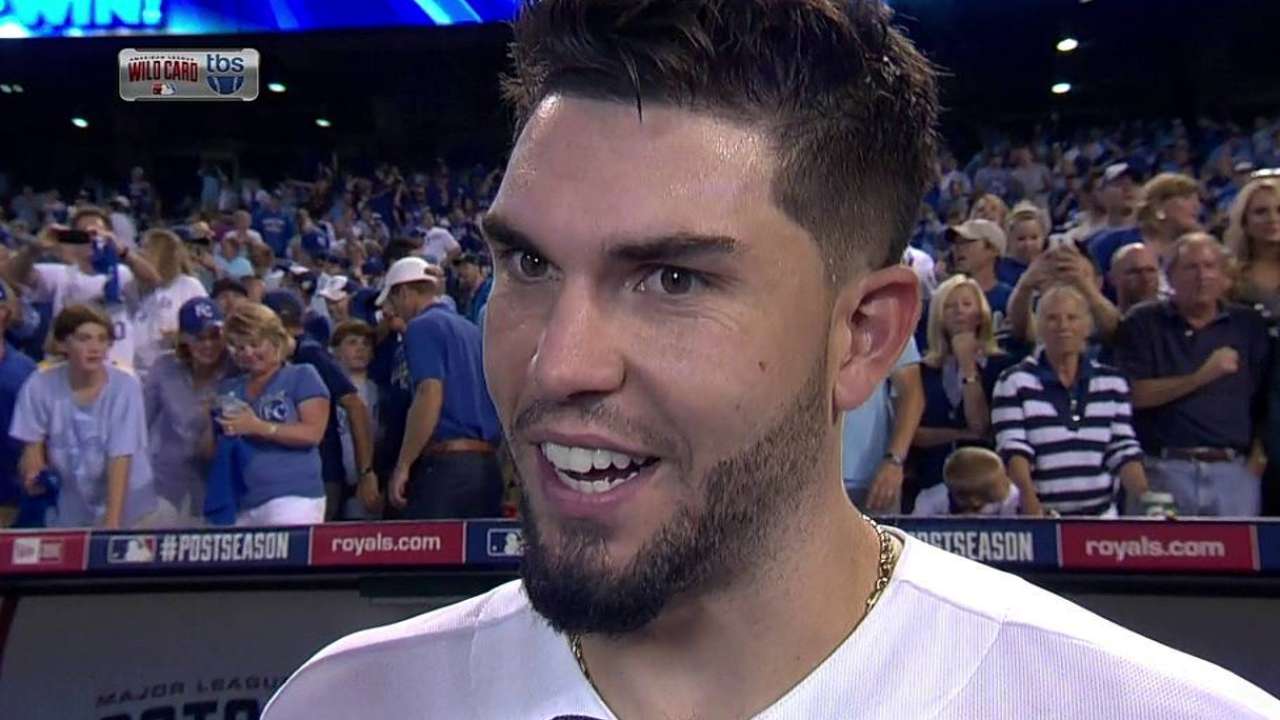 KANSAS CITY -- After eliminating the Athletics in the Wild Card Game, the challenge continues for the Royals, who now face the top-seeded Angels in the American League Division Series.
Here are the three keys to Kansas City emerging victorious:
1. Contain Mike Trout
In the last series Kansas City faced Trout, he smashed the longest home run at Kauffman Stadium this season. Keeping the likely American League Most Valuable Player in check will be paramount for the Royals.
While this might appear a task of gargantuan proportions, Trout revealed some areas of his game ripe for exploitation this season. His average (.287) and on-base percentage (.377) dropped from the .324/.416 line he averaged in his first two full seasons. Those low -- by his standards -- figures derive, at least partially, from a spike in strikeouts. Trout led the American League with 184 strikeouts, this compared to the 137.5 whiffs he averaged between 2012 and 2013.
Pitching up in the zone might benefit Kansas City's starters, considering Trout is batting .089 (10-for-112) against pitches in that area, according to BrooksBaseball.com's heat maps. They will certainly want to avoid pitching him down, where Trout batted a scorching .342 (108-for-316).
Of the five Royals starters, Trout has home runs against four of them -- Danny Duffy, Jason Vargas, James Shields and Jeremy Guthrie. Only Yordano Ventura totes a homer-free resume against the Angels' center fielder.
2. Take advantage of the starting pitching edge
If a weakness exists for the Angels, baseball's best team record-wise, it would be their starting pitching.
Los Angeles can blame that on the unfortunate season-ending injury to breakout starter Garrett Richards, which altered the makeup of the rotation. The Angels' top three arms are Jered Weaver, C.J. Wilson and Matt Shoemaker. Weaver produced his highest ERA and WHIP since 2009, Wilson endured his worst season as a starter, and Shoemaker has 21 career MLB starts.
In a five-game playoff format, the Royals' starting pitching would match up favorably, on paper, to the Angels'. James Shields and Yordano Ventura are presumably locks to start games and Kansas City possesses the flexibility to turn to veterans Jeremy Guthrie or Jason Vargas, or Danny Duffy, who sported the best ERA among Royals starters, for future games.
The Angels could choose from Cory Rasmus, Wade LeBlanc and Hector Santiago after their top three. Rasmus has never appeared in a game for longer than four innings, LeBlanc logged three starts this regular season and Santiago lasted a combined 8 1/3 innings in his last three outings.
3. Win the bullpen battle
Los Angeles and Kansas City feature two of baseball's strongest bullpens. Whether one of these impregnable units falters could be the difference in the series.
Closers Greg Holland (1.44 ERA, 96 percent save percentage) and Huston Street (1.37 ERA, 93 percent save percentage) get much of the attention, but the men that set them up are equally vital.
Kelvin Herrera and Wade Davis make up the beginning of the Royals' late-inning triumvirate -- ending with Holland -- that finished the season with a combined 205 1/3 innings, 258 strikeouts and a 1.28 ERA. For the Angels, Kevin Jepsen (10.4 K/9 ratio) and Joe Smith (1.81 ERA) bridge the gap to Street.
It doesn't end there for either team. Veteran reliever Jason Frasor (1.53 ERA with KC) and rookie Brandon Finnegan contributed late in the season, while Fernando Salas, Mike Morin and Jason Grilli round out the Halos' bullpen.
Jackson Alexander is an associate reporter for MLB.com. This story was not subject to the approval of Major League Baseball or its clubs.