Royals advance to face AL's best in Angels
Division Series starts Thursday night in Los Angeles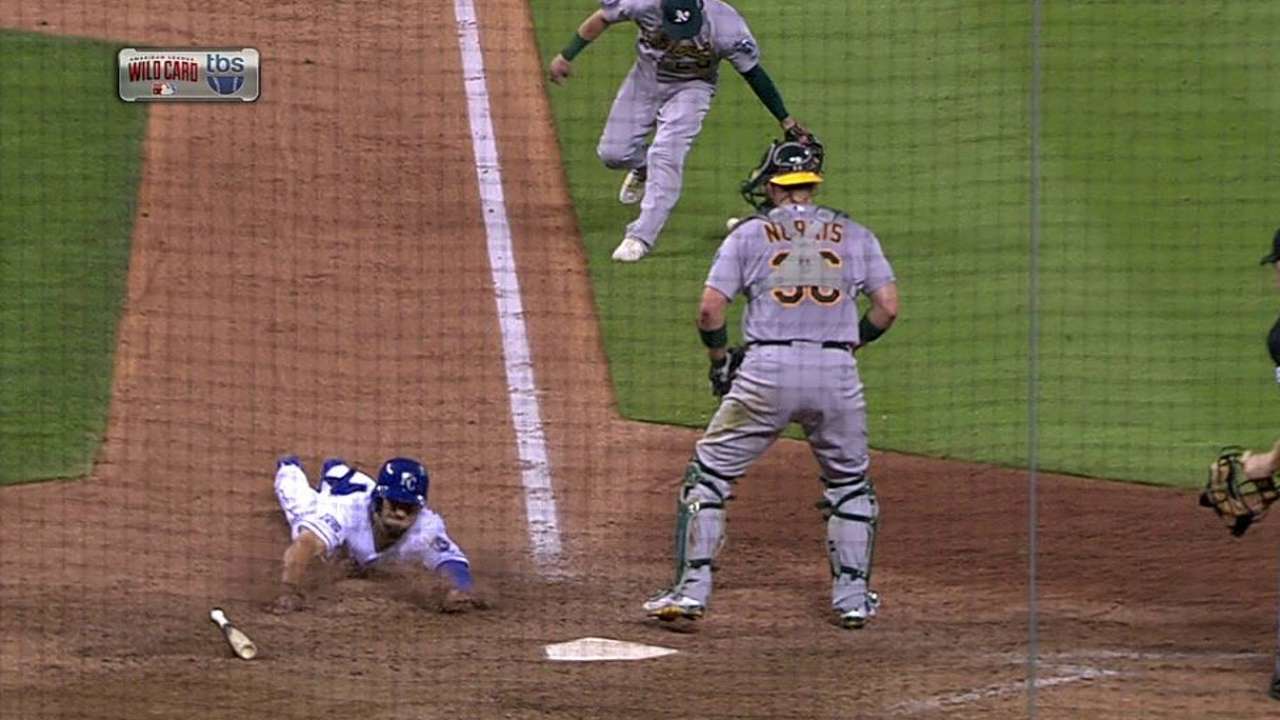 KANSAS CITY -- After a dramatic win Tuesday, the Royals meet the Angels in the American League Division Series beginning Thursday, marking the first postseason matchup between the franchises.
Kansas City secured a date with Los Angeles by beating Oakland in the AL Wild Card Game, its first playoff game since winning the World Series in 1985. It came in heart-stopping fashion as the Royals overcame a four-run deficit to outlast the Athletics, 9-8, on a walk-off single by Salvador Perez in the 12th inning.
"For us to come down from a four-run deficit late in the game like that, it was crazy," Royals first baseman Eric Hosmer said. "But this game just kept going back and forth, back and forth, both teams battled, and I think that's what postseason baseball is all about."
Now the Royals strive for their first postseason series victory since that 1985 championship run.
To do so, they must quell an Angels team that boasts the best record in baseball and the likely American League MVP.
Center fielder Mike Trout leads a Los Angeles team that ran away with the American League West. They finished 98-64 and outpaced the Athletics by 10 games in the division.
The Angels accomplished this despite losing their best pitcher in 2014. Garrett Richards' breakout season was interrupted when he tore his left patella tendon on Aug. 20. To that point, Richards had a 2.61 ERA in 26 starts and an 8.8 K/9 ratio.
Richards' injury created a void in the Angels' already vulnerable rotation. The Angels finished 23-14 without Richards thanks to contributions from Cory Rasmus, Hector Santiago and Wade LeBlanc in the back end of the rotation. Trout launching a career-high 36 home runs helped combat the injury, as well.
Kansas City and Los Angeles matched up on six occasions this season with each team claiming three games. The Angels won two of three from May 23-25 at Angel Stadium, then Kansas City evened the season series at Kauffman Stadium from June 27-29.
Perhaps the most meaningful piece of history between these franchises occurred in 1985. The Royals outlasted the California Angels by one game in the American League West to earn a trip to the American League Championship Series.
Jackson Alexander is an associate reporter for MLB.com. This story was not subject to the approval of Major League Baseball or its clubs.