Hinch hits ground running in first day on job
Manager gets to know club staff, inspired by meeting with Altuve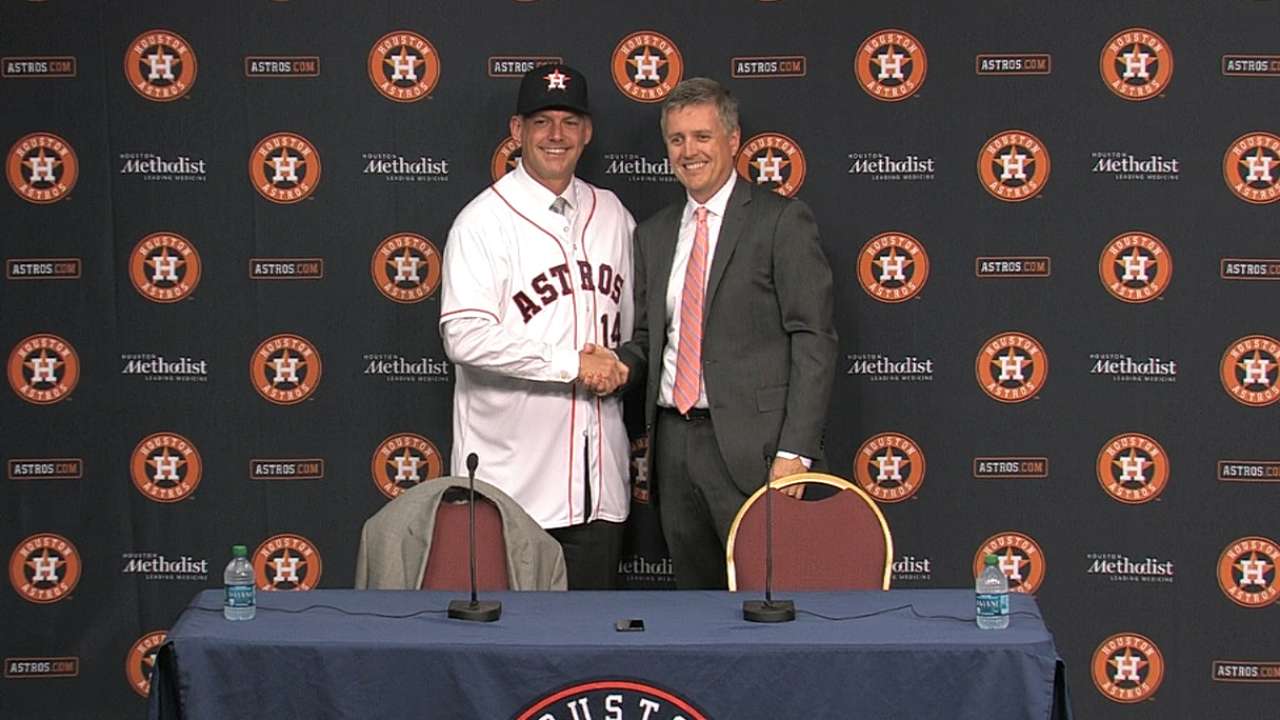 HOUSTON -- A.J. Hinch went right to work in his first day as manager of the Astros on Tuesday, a day that included a series of meetings, a tour of Minute Maid Park and a get-to-know-you session with All-Star second baseman Jose Altuve.
The work's only beginning for Hinch, who was hired Monday as the Astros' 18th manager. General manager Jeff Luhnow, speaking Tuesday night at a reception for Altuve at Union Station, said the 40-year-old Hinch certainly isn't without stamina.
"He wore me out," he said. "We talked about a lot of things. He met a lot of people, and he's coming back tomorrow morning early and he'll be here all day. I think one of the best meetings we had was when I took him down, and he spent about 15-20 minutes with Jose in the clubhouse and there was an instant connection there."
Altuve, who is coming off a season in which he won the Major League batting title by hitting .341 and set a club record with 225 hits, made a solid first impression on Hinch.
"There's such an energy about him and it looks like it's infectious," he said. "Watching him play, getting the chance to meet him, they match. What he does on the field and how he plays on the field, it's exactly what I expected in his personality.
"He's a player that wants to win, he definitely feels like an Astro. It's exciting to have him as a league-leading hitter, but also just the style and the makeup of the type of player that's fun to be around and fun to have on the team."
Hinch spent some time bouncing around the office with the baseball operations group and going through the typical first-day routine with human resources. He's going to return to his home in San Diego on Thursday before returning next week.
"I had some long meetings talking about staff, talking about the first 40 to 50 days, what we're going to try to accomplish, what I'm going to try to accomplish," Hinch said. "I met with the entire company in an all-employee meeting and just chipping away at returning texts and phone calls and getting my feet back on the ground after a great day."
Much of Hinch's focus in the coming days will be about the coaching staff, which Hinch and Luhnow will assemble. The Astros have said pitching coach Brent Strom is returning, but no other decisions have been made.
Hinch would like to announce a coaching staff sooner than later, and one of the priorities will be having a former manager on his staff. The Astros have an opening for bench coach.
"Tomorrow I'm going to start to reach out to all of the coaches and the players and say hello and have those conversations with them, and I'm going to spend next week doing that," Hinch said. "But I'm going to come back to Houston next week and try to set up some meetings."
Luhnow said he and Hinch went over some information about other teams and started talking about the current roster.
"We don't know when the staffing is going to come together because there may be people we want to speak to that are on playoff teams," Luhnow said. "The work all happens simultaneously, but having A.J. on board for less than 48 hours, the guy works really hard and he's going to, maybe not burning it too much at both ends, but he's obviously going to put a lot of time and effort into this."
Brian McTaggart is a reporter for MLB.com and writes an MLBlog, Tag's Lines. Follow @brianmctaggart on Twitter. This story was not subject to the approval of Major League Baseball or its clubs.