Accolades pouring in for hitting king Altuve
Astros second baseman's record-setting season recognized by club, CITGO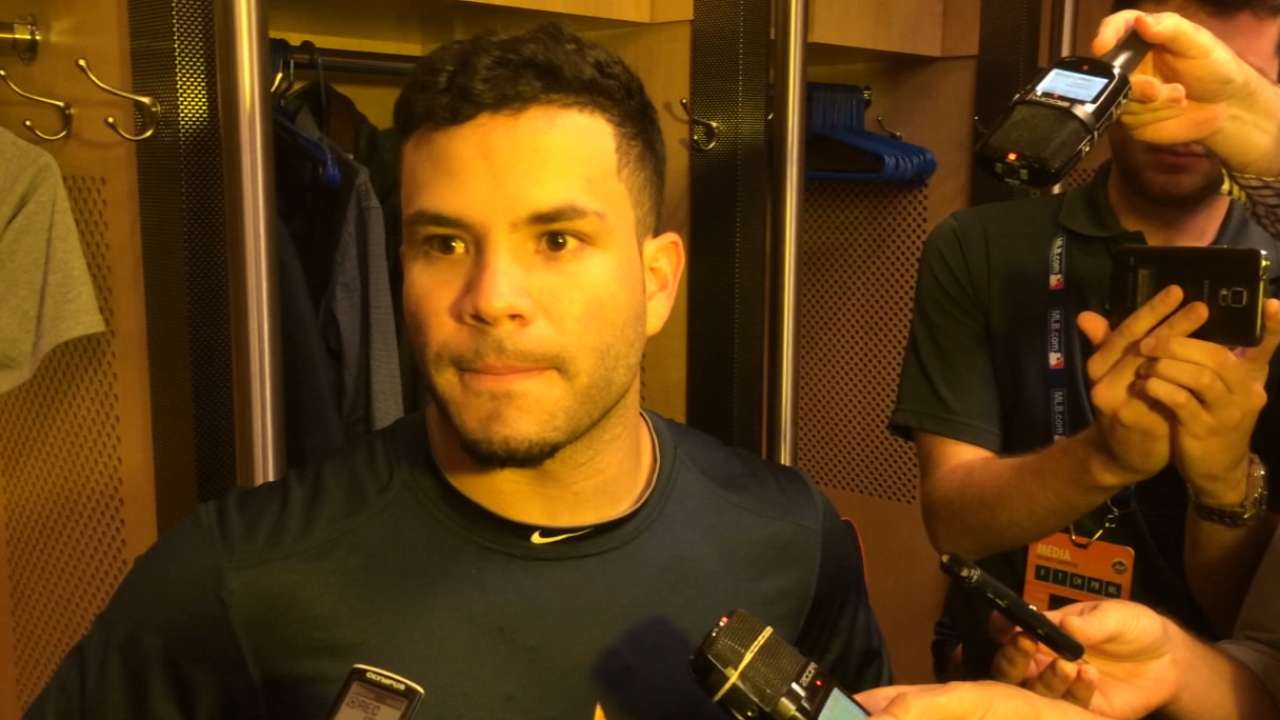 HOUSTON -- Jose Altuve, two days removed from being crowned the first batting champion in Astros history, worked out Tuesday and said he wished he could have played another game. Even though the season is over, Altuve isn't slowing down.
The All-Star second baseman was the guest of honor at a private reception Tuesday night at Union Station, where he was presented with an award by CITGO in recognition for his 2014 season. In addition to leading the Majors in batting average (.341), Altuve led the Majors and set a team record with 225 hits and led the American League in stolen bases (56).
"I feel really happy for what the organization and CITGO are doing for me today, and people from my country and people from the States," he said. "I appreciate everything they're doing for me. I'm going to have another good season to have this again."
Congratulations began rolling in Monday for Altuve, who said he's been getting a flood of love on social media. He also fielded phone calls from Tigers sluggers Miguel Cabrera and Victor Martinez, whom he edged for the batting title. He returned a call from all-world defensive tackle J.J. Watt of the NFL's Houston Texans, but hearing from his fellow Venezuelans was the highlight.
"Those two guys made my day yesterday when they called me," Altuve said.
Of course @orbitastros and Cheo are here to congratulate @josealtuve27! #Astros pic.twitter.com/51VWpwppXM

- Houston Astros (@astros) October 1, 2014
Earlier Tuesday, Altuve was able to meet new manager A.J. Hinch, who was hired Monday. Astros general manager Jeff Luhnow introduced the two in the clubhouse at Minute Maid Park, and they talked for 15-20 minutes.
"There's such an energy about him and it looks like it's infectious," Hinch said. "Watching him play, getting the chance to meet him, they match. What he does on the field and how he plays on the field, it's exactly what I expected in his personality.
"He's a player that wants to win, he definitely feels like an Astro. It's exciting to have him as a league-leading hitter, but also just the style and the makeup of the type of player that's fun to be around and fun to have on the team."
Altuve was named the Astros' nominee for the Hank Aaron Award, which has recognized the most outstanding offensive performer in each league since it was established in 1999. For the fifth consecutive year, a special panel of Hall of Fame players led by Aaron will join fans in voting for the award.
"He had one of the most impressive seasons in the history of the Houston Astros, and quite frankly in recent baseball history," Luhnow said said. "He deserves all the accolades and all the recognition for it -- 24-year-old old guy who's been able to accomplish this in his career. For us, for the Astros, we're excited what the future holds, and he means everything to this franchise right now."
When asked about his favorite Altuve memory from the season, Luhnow didn't have to reach too far back in his memory bank.
"I would say when he came back into the manager's office on Sunday and said, 'I really want to play this game,'" Luhnow said. "That was a representation of his character. We were thinking of letting him off the hook and winning [the batting title] in the dugout, and he wanted to win it on the field, and to me that speaks volumes about his character."
And Altuve's favorite moment?
"There was a lot of good moments this year, but I think when I hit the 210 hits [to tie Craig Biggio's club record] and Biggio shook my hand and said congratulations," he said. "That was the best moment in my season."
Altuve will leave Friday and head to Venezuela to spend a few weeks with his family before reporting to Arizona in early November to begin working out with the MLB All-Stars who are traveling to Japan this to play a five-game series against Japan's national team.
"It's a great recognition," Luhnow said. "When MLB asked for our permission, it was without hesitation. It's going to be a great trip for those guys. I've talked to some people who have been on that trip before, and it's a way to be an ambassador for the sport to a country that really cares about the sport."
With the season in the rearview mirror, Altuve said he already missed the fans, who have developed a love affair with the 5-foot-6 dynamo.
"I'm going to miss the season," he said. "I'm going to come back with the same attitude and try to make it happen again."
Brian McTaggart is a reporter for MLB.com and writes an MLBlog, Tag's Lines. Follow @brianmctaggart on Twitter. This story was not subject to the approval of Major League Baseball or its clubs.