MLB.com Columnist
Bill Ladson
Storen expects success in second postseason go-round
With full repertoire, Nationals closer has come a long way since 2012 NLDS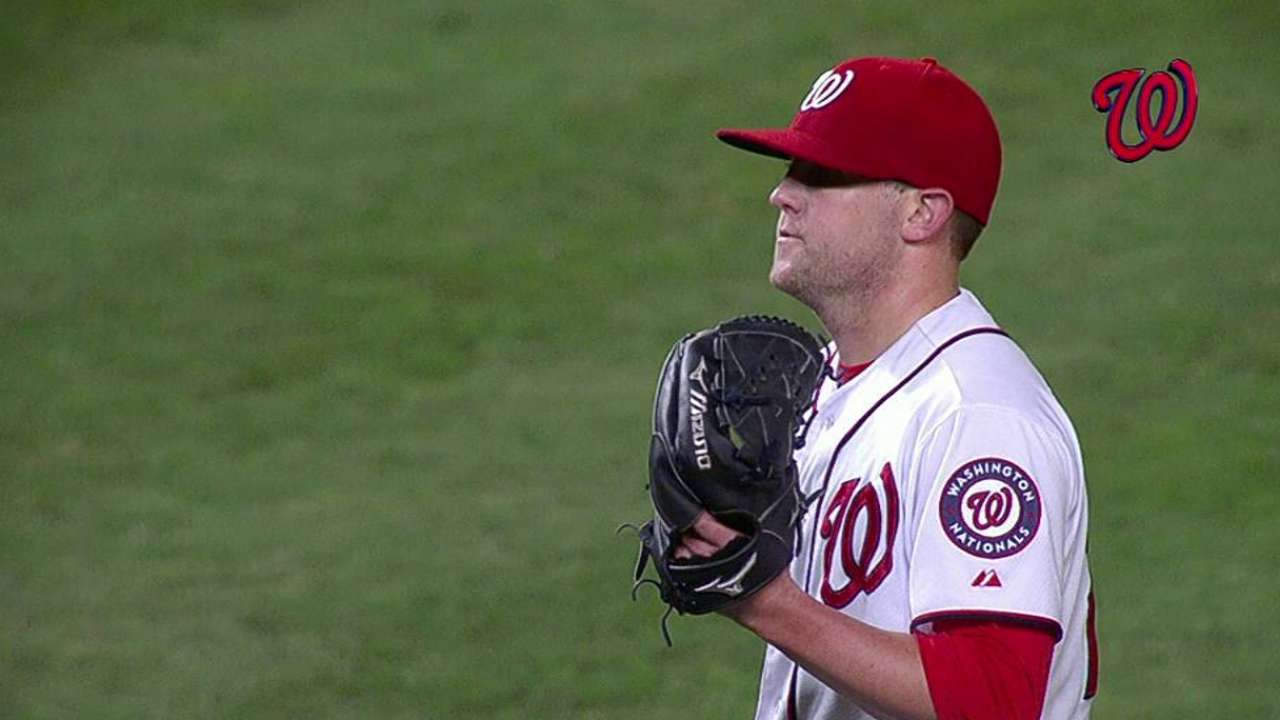 WASHINGTON -- It's safe to say that Nationals right-hander Drew Storen has been a dominant pitcher ever since manager Matt Williams gave him the closer's job on Sept. 7. It was a role that had belonged to Rafael Soriano for most of the season.
From that point to the end of the season, Storen saved 10 games without allowing a run in 10 1/3 innings, with 10 strikeouts.
"It's been fun. I think a lot of it comes down to command," Storen said. "It's so crucial to work ahead of the hitters. In the ninth inning, that's really big, especially with some of the one-run leads I've come into. You really have to work ahead of guys and keep the ball down in the zone, manipulate and make them move and try to miss some barrels."
This will be Storen's second postseason, and he hopes to be more successful than he was in 2012, when he allowed the clinching runs to score for the Cardinals in Game 5 of the National League Division Series.
Unlike that year, Storen has an arsenal of pitches: fastball, sinker, changeup and slider. The changeup has turned out to be the game-changer. It was a pitch he mastered during a brief stint in the Minor Leagues last year.
"I pitch to a different style now. I pitch a little more, too," Storen said. "I feel I locate a lot better now. The changeup is the big difference-maker for me. It's just something else to go through a hitter's head."
Saving ballgames is nothing new for Storen, who had 43 saves in 2011. But he is a better pitcher now than he was then. Back in '11, Storen was a thrower. Today, Williams views him as a pitcher.
"He knows how to pitch with good stuff," Williams said. "But he is smart about it. ... For me, Drew just does a good job of pitching to the situation, regardless of role. So he understands whether it's the seventh inning or the ninth inning, [he is] going to do everything [he] can to not let the guy beat [him] to his pull side. He understands when to throw a breaking ball, when to use a changeup. He reads swings well. He does a lot of things well."
Although he is dominating these days, Storen does not get complacent. Before games, he is by his locker working on his mechanics. Storen credits his father, Mark Patrick, for telling him to never be satisfied with his performance.
"I'm very routine oriented," Storen said. "One thing my dad always told me [is that] I have to do one thing a day to get better. He would come home from work and he would ask, 'What did you do to get better?' That's something I've always done. You are not going to create something overnight, especially in this game. Everything in this game is about process. I always think if I do one little thing today, that's going to add up over time, and things will start clicking."
One wondered if Storen would ever click again as the Nationals' closer. After the '12 season, Washington signed Soriano to a two-year deal to become its closer. Storen acknowledged that he was surprised, and the Nats said they didn't sign Soriano because of what happened to Storen in the NLDS.
"The signing of Rafael Soriano wasn't based on one inning and one game at the end of the season," general manager Mike Rizzo said back then. "[Storen] is a young closer that was thrust into the closer role as a very young man and young Major Leaguer.
"We feel we benefit having Sori on the club, not only by pitching the ninth inning, but also by mentoring a good, young potential closer in Drew Storen. We feel we have multiple closers on this club. ... One of them is going to close out the seventh inning, one will close out the eighth, one will finish the game in the ninth, and we feel pretty good about that."
But things would spiral before they got better, with Storen being sent down to Triple-A Syracuse as his struggles continued in 2013. He wasn't there long, however. After fixing his mechanics and refining his pitches, Storen was back.
Storen now says going back to Syracuse was a blessing in disguise.
"Feeling bad about that and being concerned about how things happened, I told myself, 'It doesn't do you any good,'" Storen said. "I wasn't happy last year when I was struggling. So I went back to being me. ... 'Let's just get it done, get back to being you, come back and end the season on a good note.'"
Rizzo said it helped that Storen had a great attitude when he was sent down. Storen worked on his delivery, while getting to the plate more quickly, controlling the running game and working on fastball command.
"The player-development guys down there did a great job with him, and they made him more athletic on the mound," Rizzo said. "It takes a special guy to swallow hard to go to the Minor Leagues with the right attitude, which he had. He learned his craft and got back to the big leagues."
Storen has been dominant since his return to the big leagues on Aug. 15 of last year, going 3-1 with a 1.19 ERA, 12 saves and 15 holds.
Now Soriano is trying to fix his mechanics, but it's doubtful he will be a closer again for the Nationals. He will be a free agent after the postseason and is not expected to re-sign with Washington next year. Look for Storen to be the guy for a while.
"It's just a matter of consistency. I try to stay away from goals. I try to stay a day at a time and stay in my lane," Storen said. "If I stay consistent and healthy, I'm going to be happy no matter what."
Bill Ladson is a reporter for MLB.com and writes an MLBlog, All Nats All the Time. He also can be found on Twitter @WashingNats. This story was not subject to the approval of Major League Baseball or its clubs.